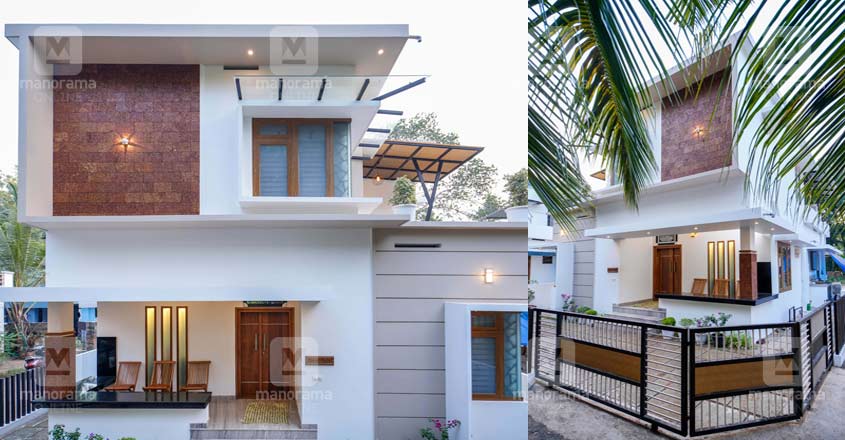 Ranees had no second thoughts when he decided to build his dream home at his mere 6 cents plot in Beypore in Kozhikode, Kerala. The family wished for a space-efficient house with all the required facilities. Besides, they preferred a cost-effective abode as well that suited their moderate budget. The plot is partially square shaped and doesn't have a proper structure towards the front side. The structure has been designed by including facilities to park cars as well.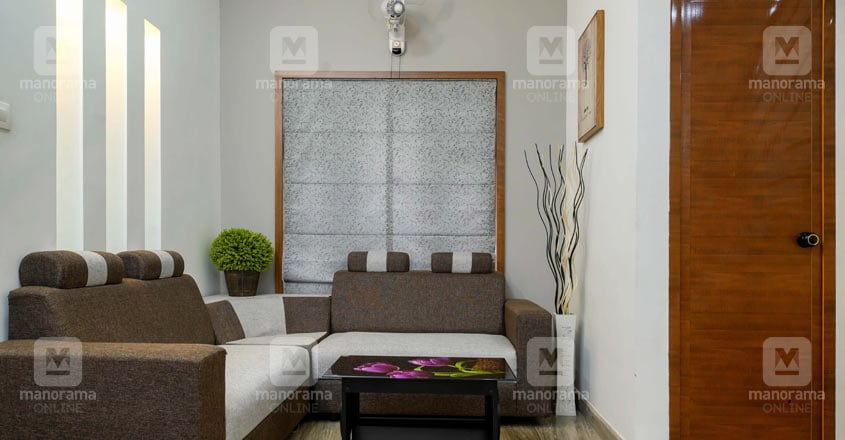 The interesting design of the gate is what grabs instant attention. The sliding gate on the sides could be opened for the vehicles to enter. Meanwhile, there is a double door gate in front for regular use.
The elevation features flat roof with striking box designs to overcome the space constrains. The show wall designed with laterite cladding is the highlight of the exteriors. This beautiful house, arranged in 1800 sq ft, has a sit-out, living and dining areas, four bedrooms, kitchen with an adjacent work area and an upper living area. A utility space too has been arranged in the top floor by installing polycarbonate truss roofing.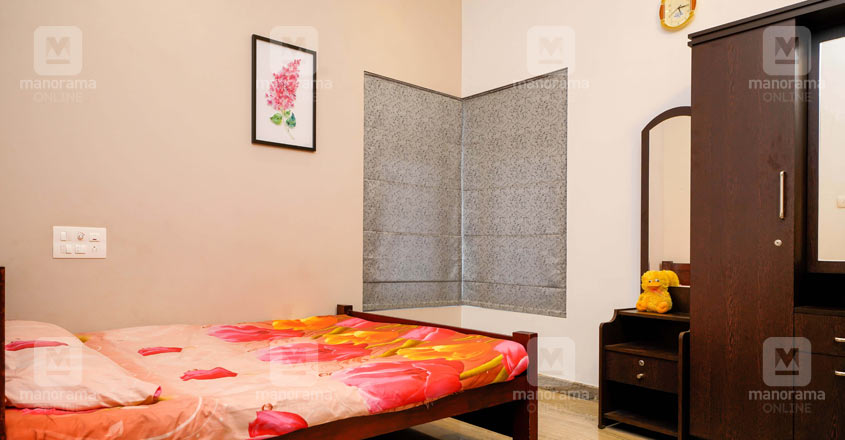 The interiors are designed in the open theme that makes the spaces look vaster. Vitrified tiles are paved on the floor. The handrails of the stairway are done in stainless steel. The double-heighted wall beside the stairway is highlighted using attractive wall paper. Meanwhile, the light points are installed directly without false ceiling.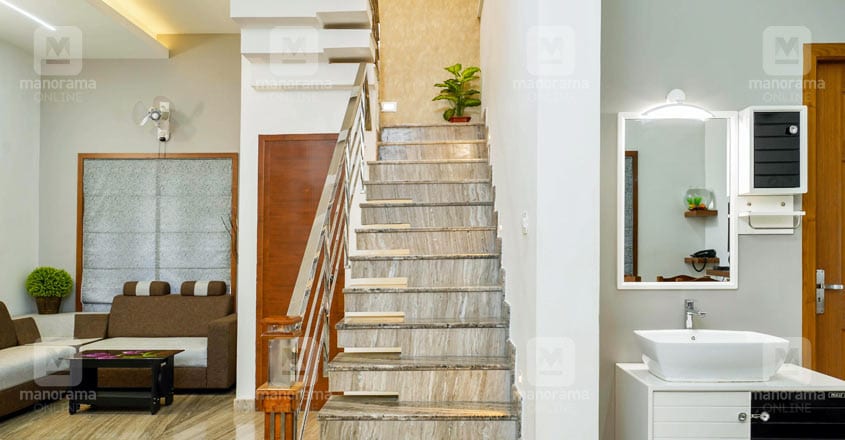 The bedrooms are simple yet comfortable. Three bedrooms are bath-attached and there is a common bathroom as well.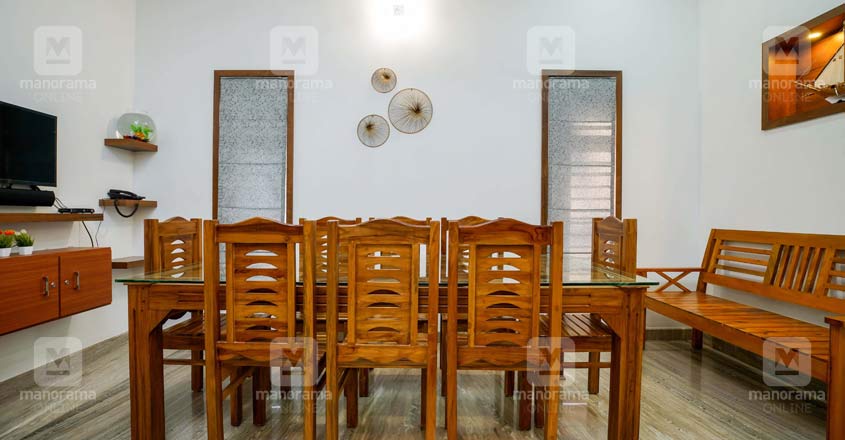 The kitchen and the adjacent work area have all the required facilities. The cupboards here are done in aluminium fabrication.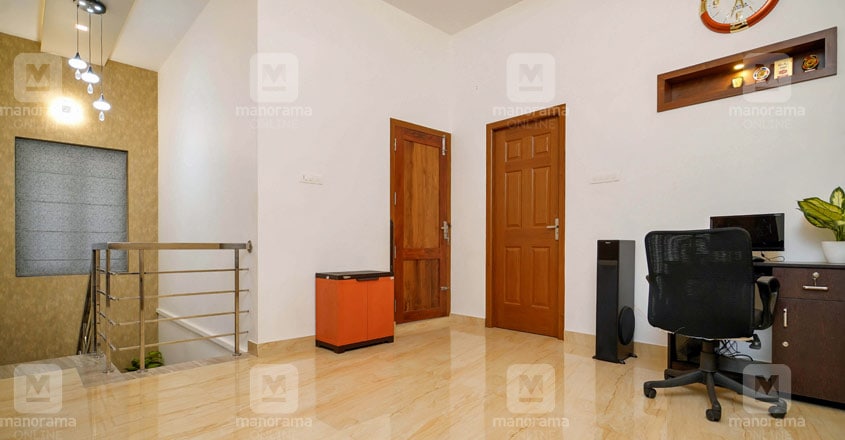 The construction of the house, including the structure, furnishing and the well, was completed on a reasonable budget of Rs 29 lakh.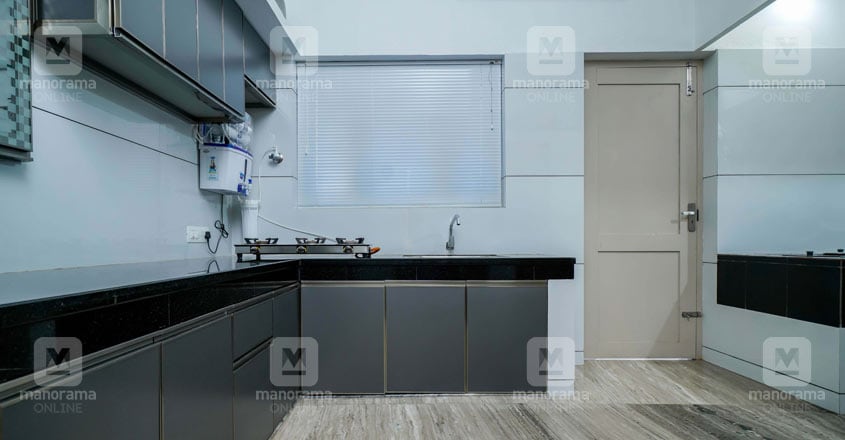 There are factors that played a major role in keeping a check on the expenses. They include prime importance being given to making the house space-efficient by reducing the area in square feet, aluminium fabrication done on the wardrobes and the kitchen cupboards, the limited use of timber and the use of particle boards for furnishing and so on. The building and furnishing materials were handpicked by the owner after bargaining, which saved him a significant amount of money. In the meantime, he also ensured that the materials are of high quality and are durable as well.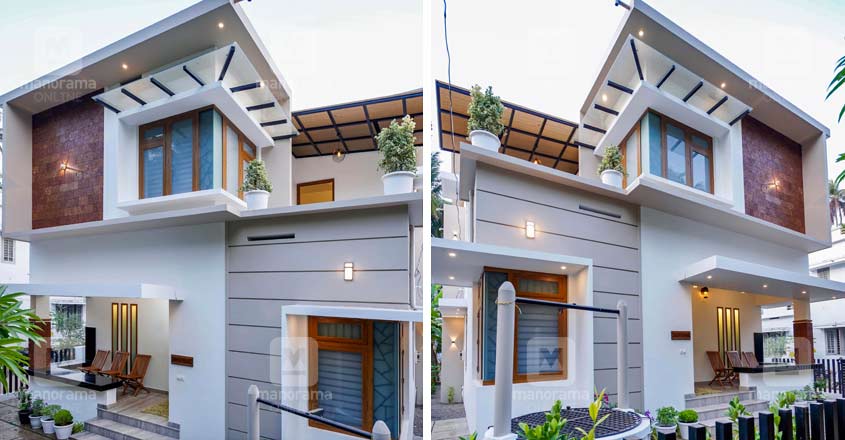 Project Facts
Location – Beypore, Calicut
Area – 1800 SFT
Plot – 6 cents
Designer – Shafi Maliyekkal
Mob – 9847292992
Budget – Rs 29 lakhs
House completed in January 2020
Picture courtesy – Ajeeb Komachy