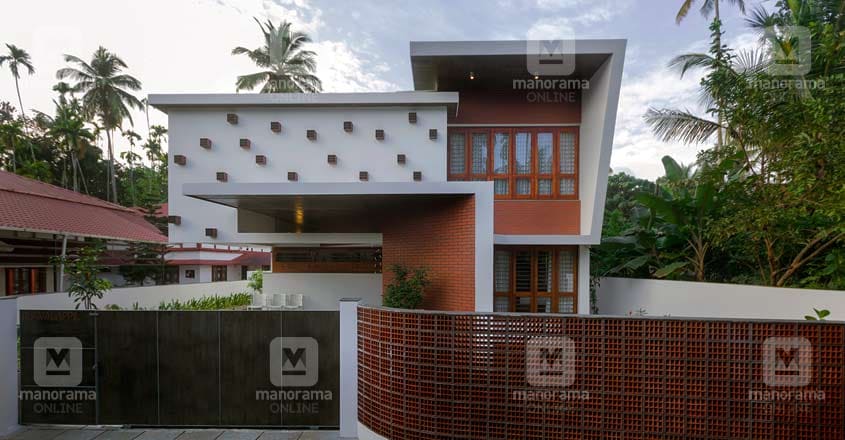 Sandeep Babu's brand new house at Kolazhy in Thrissur district is quite special in many ways. The house that stands on a small plot grabs attention for its stylish designs and myriad facilities. The vast and spacious interiors are the highlight of this fabulous dwelling.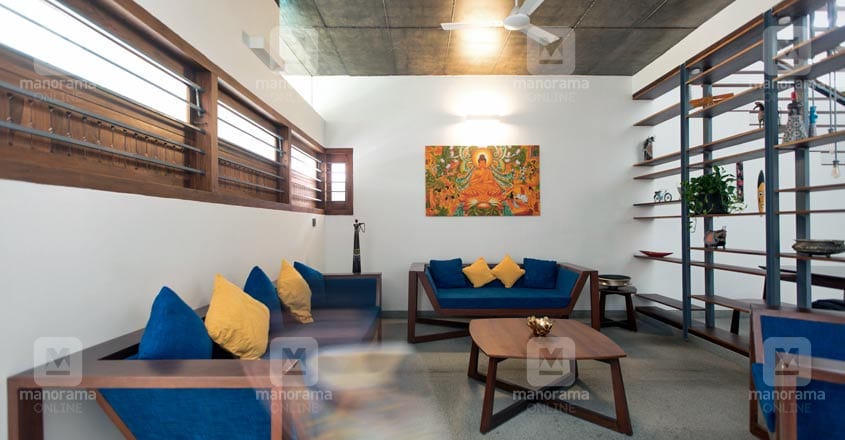 Show walls clad with terracotta hollow bricks on the elevation are truly eye-catching. The unique design is continued on the compound wall as well which is built using hollow bricks. However, mesh has been installed on the compound wall for additional security. Designed in 2650 sqft area, this beautiful abode has a car porch, sit-out, formal and family living areas, dining space, kitchen with work area and four bedrooms.
The house is designed giving prime importance to excellent cross ventilation and abundant supply of natural light in the interiors. Breathing walls and pergola skylights make the interior spaces extremely pleasant and comfortable. The interiors don the classy charm of the rustic finish. The ceilings in the formal and family living areas aren't painted and stand out for its exposed concrete finish.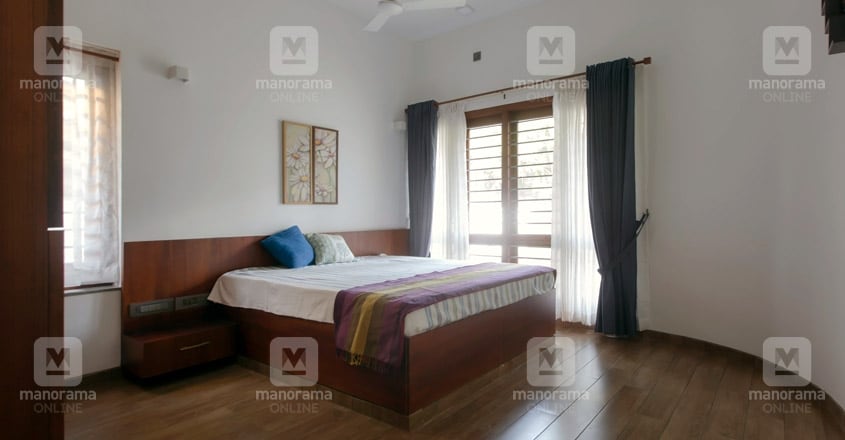 Customized furniture with blue fabric finish adds a pop of colour in the living areas. The incredible Buddha painting which is the focal point here fills the house with positive vibes as well. A curio shelf is what separates the formal living area and the dining space.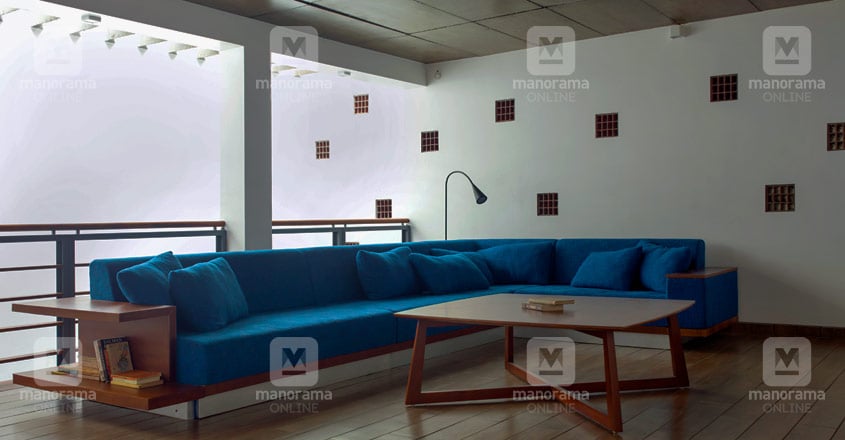 The dining area is designed in double height which makes it look vaster. Meanwhile, the dining table has a bench on one side. The stairway features the classic combination of solid wood and mild steel.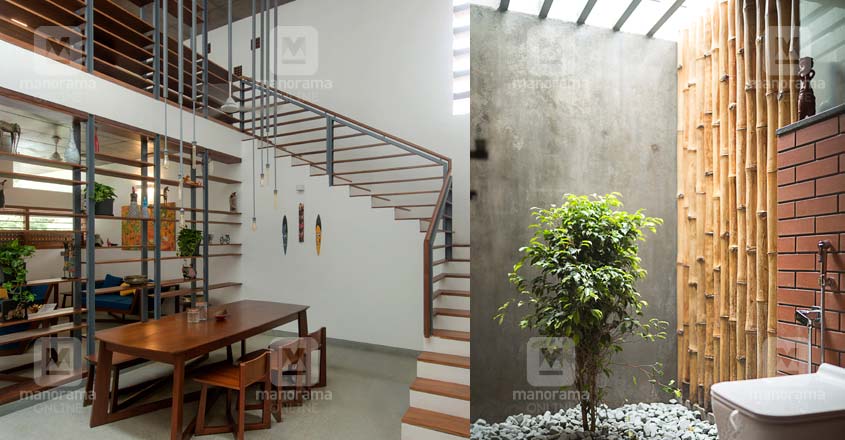 All the windows and the doors inside the house are made of vaaka timber (fabaceae) that isn't too expensive. Leather finished granite and vitrified tiles with wooden finish are used for flooring in this house.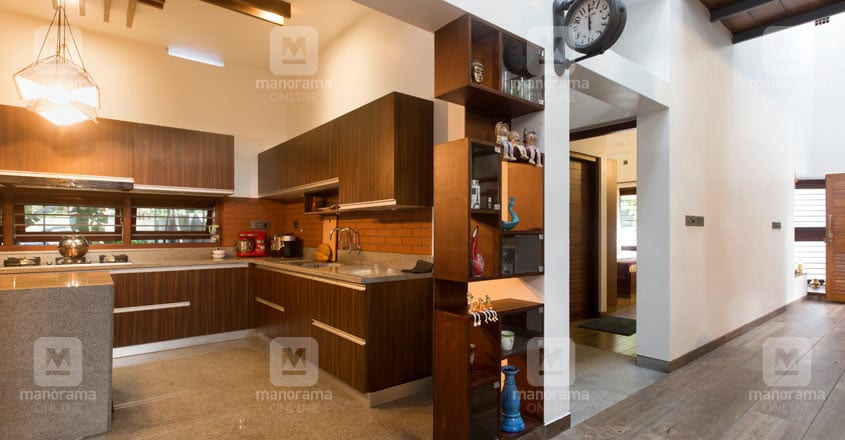 The bedrooms are designed minimally. Vitrified tiles on wood finish are paved on the floor here. One of the bathrooms is elaborately designed with a courtyard, indoor plants and pergola skylight.
The island kitchen is open and the cabinets are done in plywood with laminate finish. Meanwhile, granite is paved on the counter top which could also be used as a breakfast table.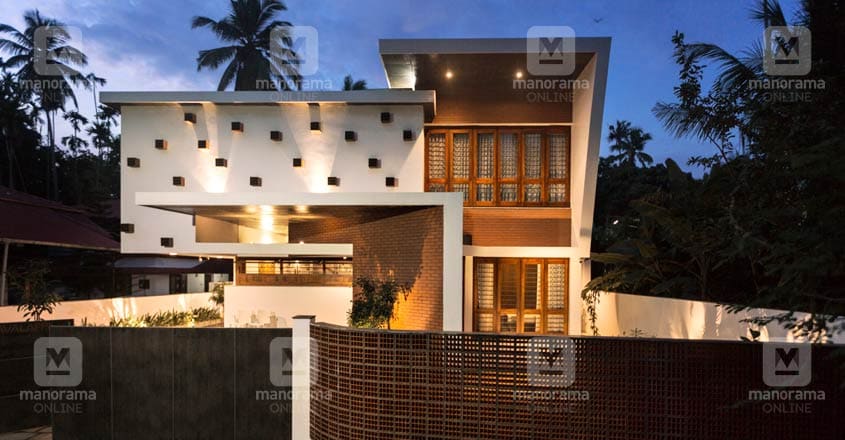 Beautiful designs, amazing facilities and excellent planning has made this stunning house, built on 7 cents, an absolute winner. The highlighter lights project the splendid features of the exteriors at night.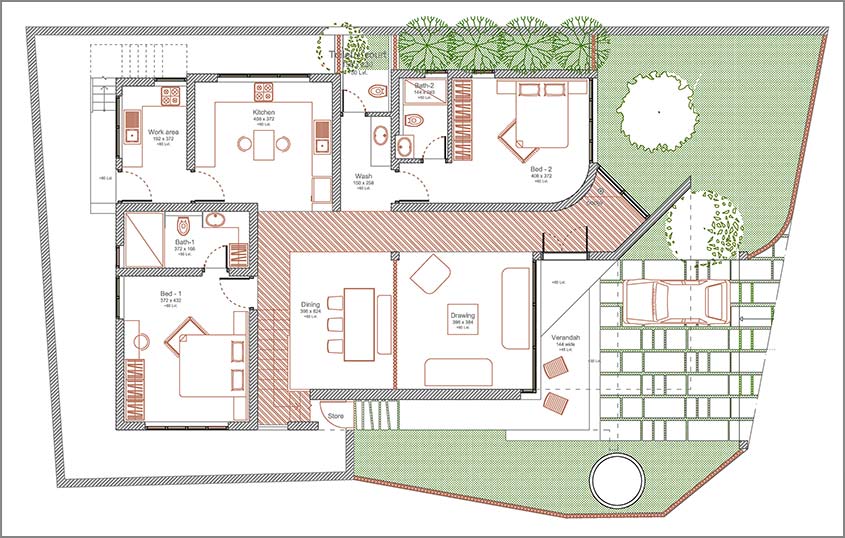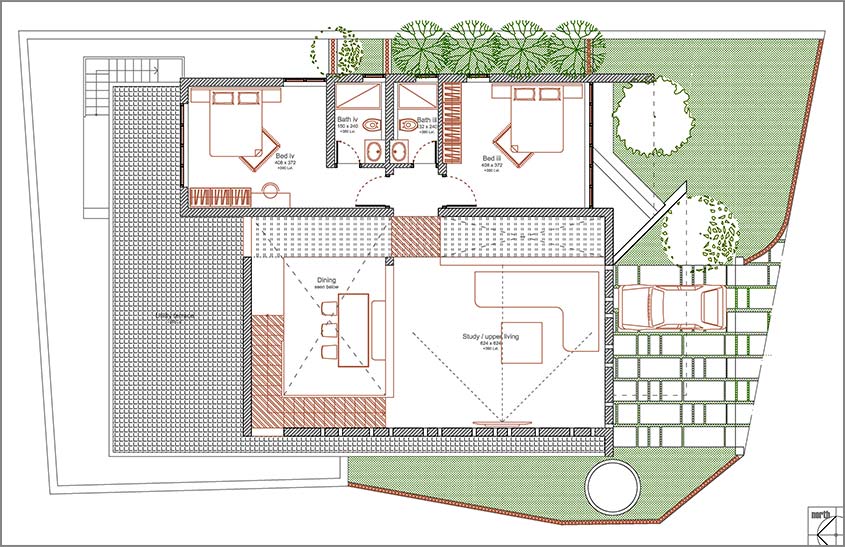 Project Facts
Location – Kolazhy, Thrissur
Plot – 7 cents
Area – 2650 SFT
Owner – Sandeep Babu
Architect – Anoop K Nair
Art on Architecture, Palakkad
Mob – 9946447676
Completion year – 2019
Picture courtesy – Architect Divya Rajesh