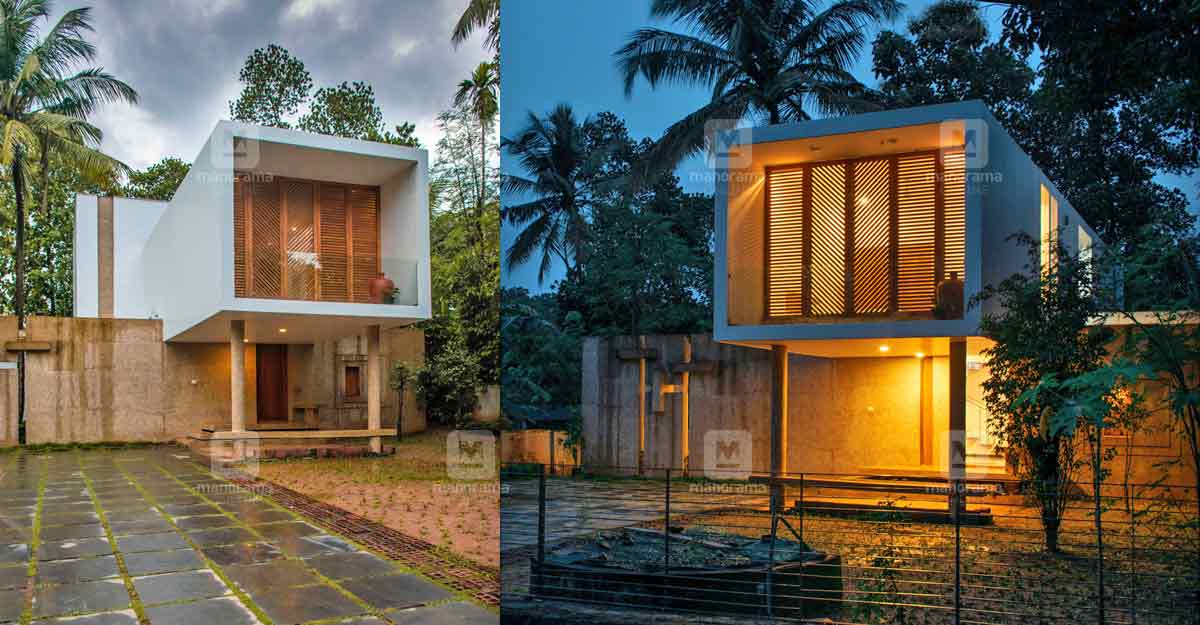 Anas Babu and his family wanted their brand new house to be a wonderful spot that spreads happiness and positive vibes all around. The stylish design of the house in Nilambur in Kerala is truly marvellous. Though this house looks like a box from the outside, it has spacious interiors with incredible facilities as well. Vast spaces hide behind eye-catching show walls. The exteriors are designed in solid box shapes. Only the sit-out has been arranged beneath this box-structure. Besides, it dons wooden window panes in stunning jali works that highlights the elegance of the box structure. Lots of cool breeze and natural light enter through these windows, making the interiors cool and comfortable.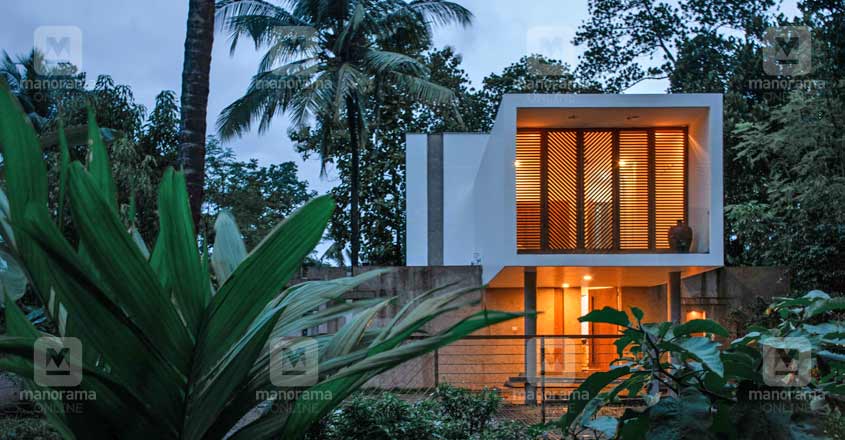 This fabulous abode, designed in 2500 sq ft area, has formal and family living areas, dining space, patio, kitchen, four bedrooms and a balcony. The elegance, charm and simplicity is palpable all over the place. The ceiling designed in exposed concrete finish lends a rustic charm to the interiors. Moreover, vitrified tiles in rustic finish are paved on the floor as well.
The entrance door opens to a spacious hall where the formal living area is arranged. Simple furniture designed by paving wood on GI frames enhances the elegance of this area. One could get to the patio through a sliding glass door here. The family living area too is designed closer to the formal living space. Meanwhile, a shoe rack acts as a partition between the two spaces.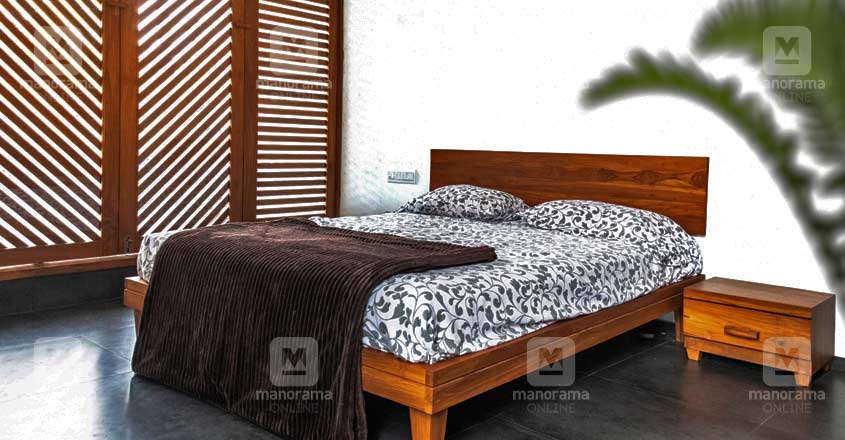 The dining space is designed in double height which makes the spaces look vaster. The dining table, meanwhile, features the unique bench concept. A designer element featuring beautiful jali work using hollow bricks is the highlight here. Moreover, it acts as a breathing wall as well.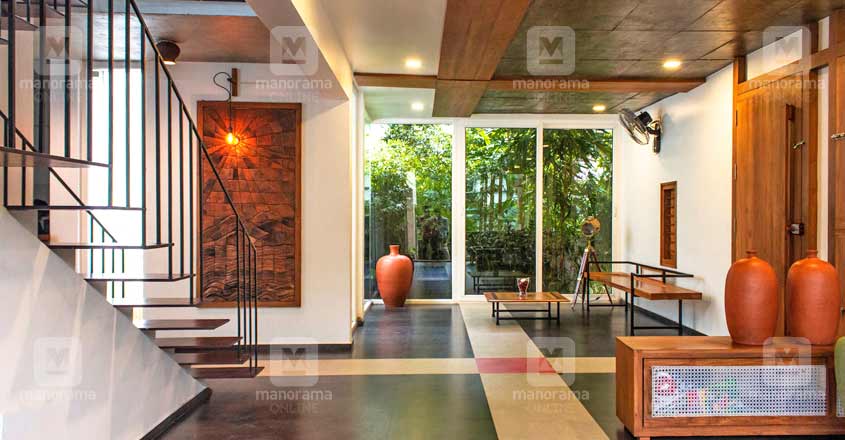 The simple open kitchen is just beside the dining area. The cabinets are made using solid wood. A small breakfast counter completes the kitchen area.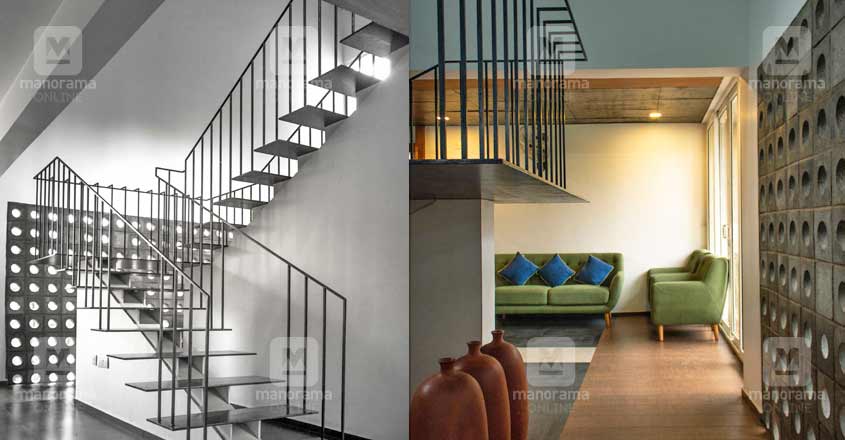 The stairway in this house exudes the mesmerizing charm of minimalism. The steps of the stairway designed in the floating style are made of steel planks. Meanwhile, the handrails are done in mild steel.
The windows that are visible from the outside are actually part of the bedroom in the upper storey. All the bedrooms are simple and do not feature over the top decorative features like designer ceilings. The bath-attached bedrooms have in-built wardrobes for storage.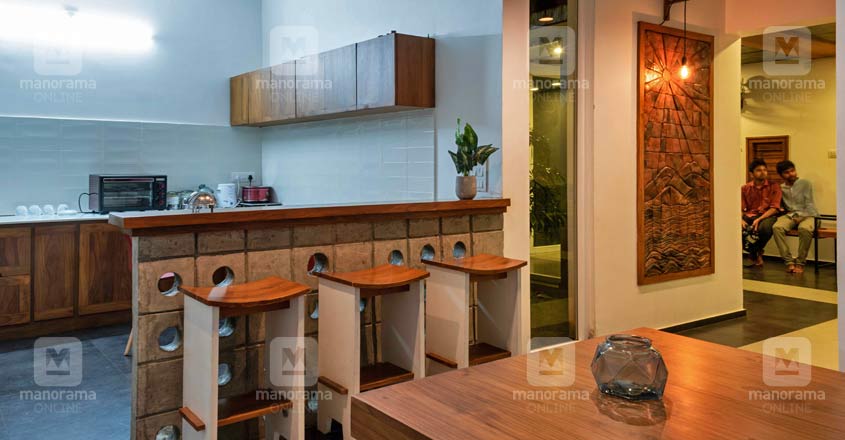 The front yard is not paved with interlocking bricks. Instead, the natural beauty of it has been retained. Only the drive way has been paved with kadappa stones that allow the rain water to seep into the earth.
The family vows that their dream dwelling is the perfect place to relax and unwind after a day's hard work.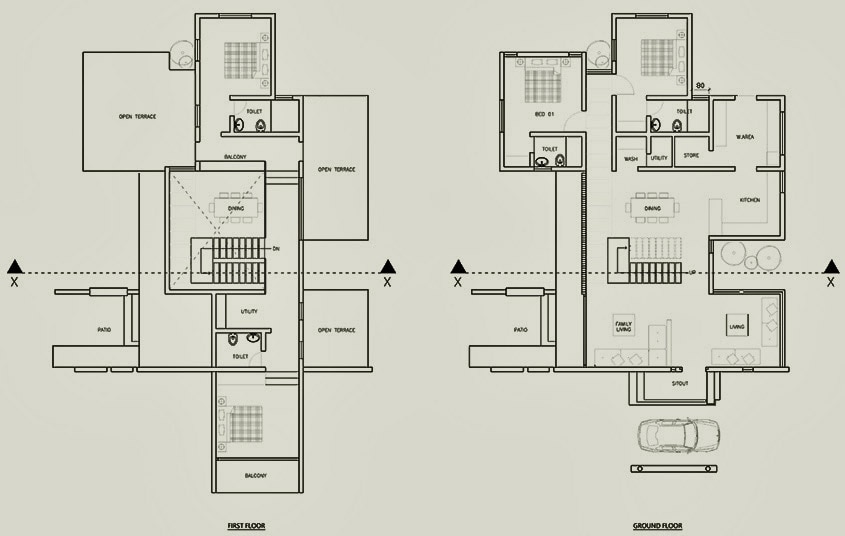 Project Facts
Location – Nilambur
Area – 2500 SFT
Owner – Anas Babu
Architects – Ahmad Thaneem, Muhammad Naseem, Muhammed Jiyad
3 Dor Concepts, Kannur
Mob – 8089616280, 904888824
Completion year - 2019