This is the tale of a marvellous abode that looks and feels luxurious, but is built on a moderate budget. Krishnankutty, native of Nilambur, Kerala, didn't want an enormous structure that took up most of the space in the plot. Instead, he desired a quaint house that looks classy and has all the facilities. Designer Prasad, who is also his relative, made sure to draw the plan by catering to the likes and interests of the family members.
The sloped roofs in multiple levels and the box-shaped projections around the windows are key factors that make the house look huge. Polycarbonate glass is installed on the pergola roof in the front balcony.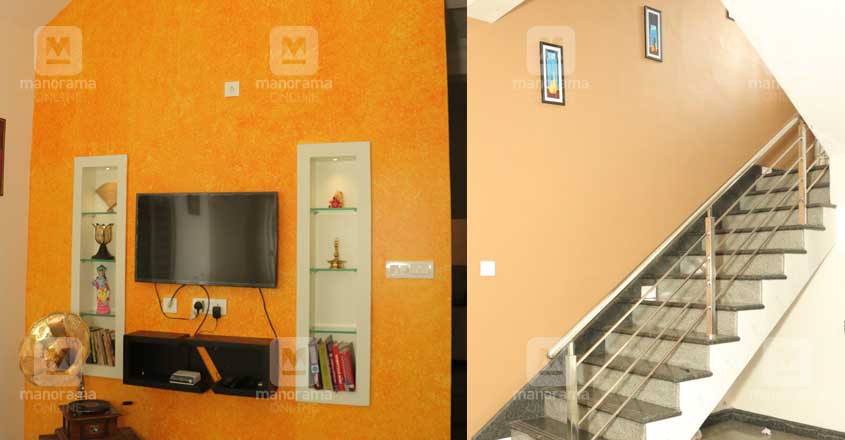 This beautiful dwelling, designed in 1700 sq ft area, has a car porch, sit-out, living area, dining space, four bedrooms, and kitchen with a work area, balcony and an open terrace. A wall in the living area is highlighted with bright orange texture paint which is delightful to the eyes. This wall has been turned into a TV unit as well.
The dining space is part of the open hall. This feature makes the interiors look incredibly vast. Windows on the wall opposite the dining area beckon natural sun light into the interiors. Meanwhile, niches are created on the wall where glass shelves have been arranged. Another wall is highlighted to arrange the prayer space.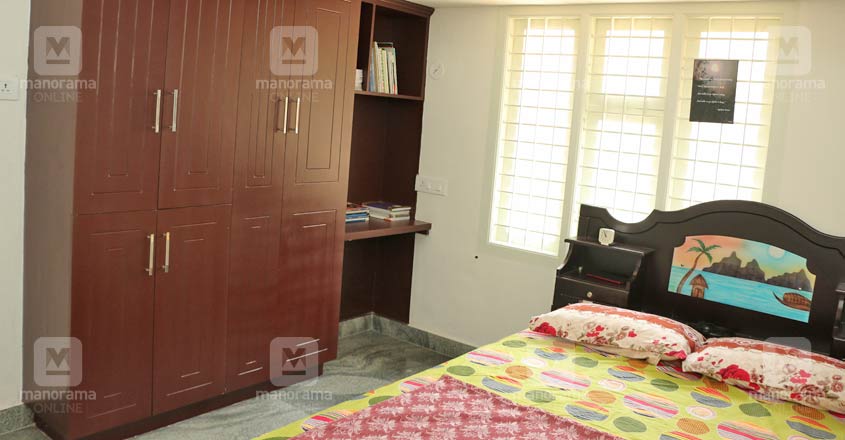 The stairway is just beside the dining area. Arranging the common bathroom beneath the stairway is a fine example of excellent space management. The handrails of the stairway are done in standard stainless steel. The wall beside the stair area too is highlighted with attractive shades.
Storage facilities and space utilization have been given prime importance while furnishing the kitchen. There are loads of overhead cabinets which increases the utility of the kitchen. The serene white hue and the multiple windows for ventilation are eye-catching features here. A traditional wood fire stove too has been installed in the adjacent work area.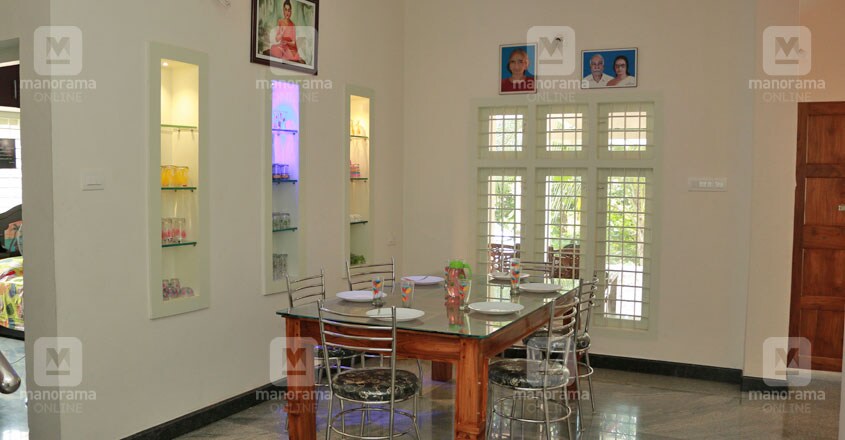 The bedrooms are simple and elegant; only the master bedroom is bath-attached. The most amazing fact about this splendid house is that its construction, including the structure and furnishing, was completed on a very pocket friendly budget of Rs 22 lakh.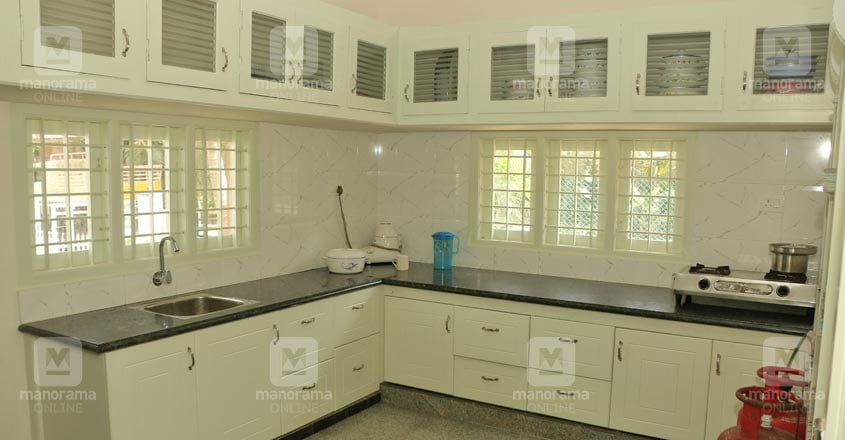 Among the various factors that helped in keeping the expenses low, efficient space management by reducing the area in square feet, played a vital role. The timber from the old house is reused here. Similarly, old roofing tiles too have been reused. Light points are directly installed by avoiding false ceiling. The window panes are made using concrete instead of expensive timber.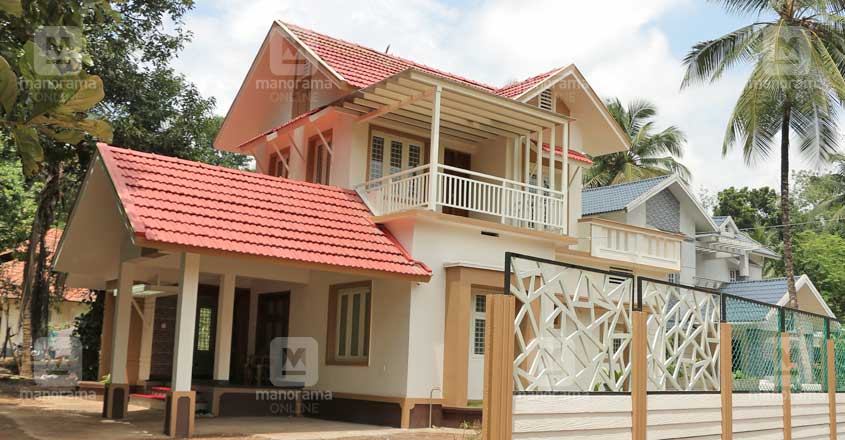 Project Facts
Location – Edakkara, Nilambur
Area – 1700 SFT
Budget – 22 lakhs
Owner – Krishnankutty
Designer – Prasad K
ARC Builders, Edakkara
Mob – 95391 60555