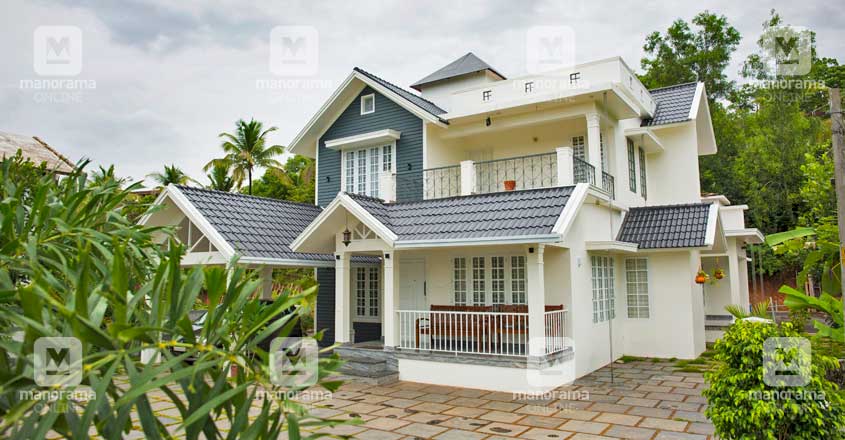 Shibin's brand new house at Patterkulam in Manjeri, Kerala, has been drawing attention for its beautiful blend of contemporary and colonial architectural styles. The classic sloped roofs and the stunning colour combinations are eye-catching highlights of the exteriors. The concrete tiles paved on the RCC roof add texture and finish to it. The shutter cutting technique has added oodles of charm and perfection to the outer walls that don the classy beige hue.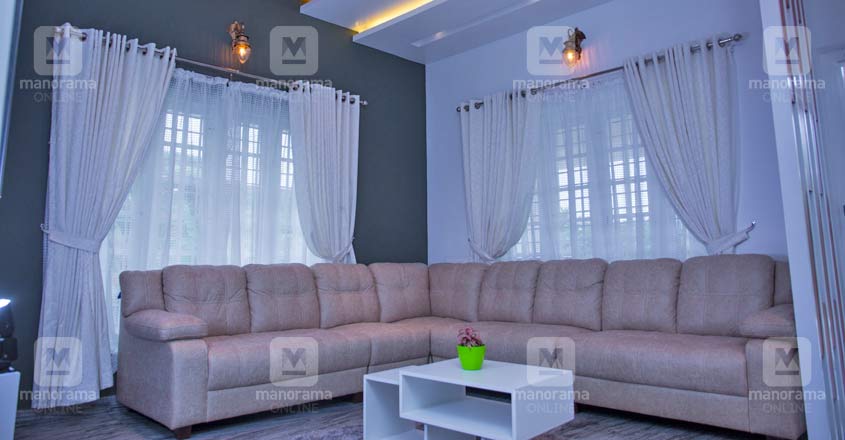 This fabulous abode, designed in 2600 sq ft of area, has a car porch, sit-out, living and dining areas, kitchen with work area, four bedrooms, courtyard, pooja space, upper living area and a balcony. The interiors are designed in the open style which makes the spaces look incredibly vast. Besides, these vaster spaces exude positive vibes that inspire the family members as well.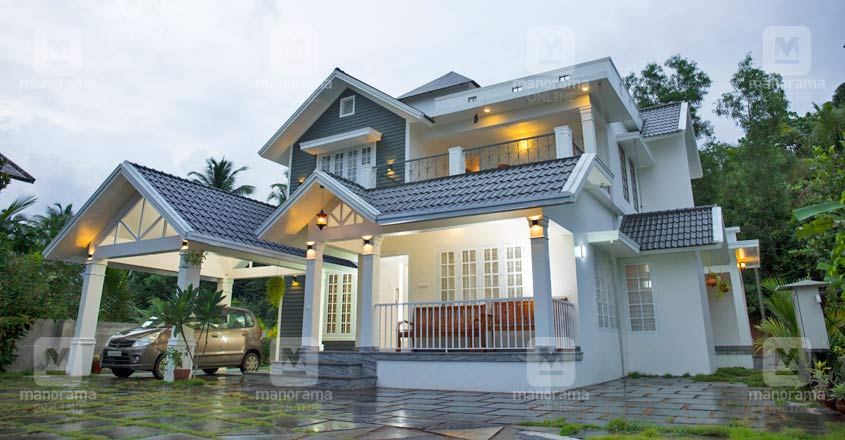 A stylish C-shaped couch adorns the formal living area. The white curtain fittings enhance the elegant look of the area. Meanwhile, the furnishing in the interiors is done in mica, plywood and veneer finish. Granite which isn't too slippery is paved on the floor as Shibin's aged parents too stay here.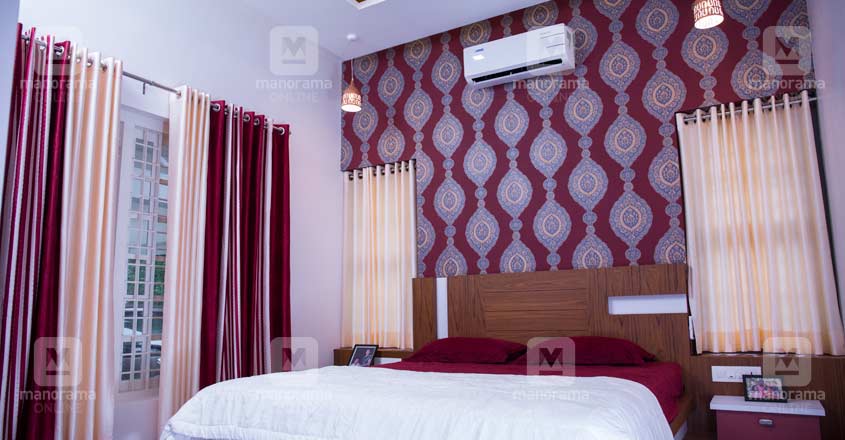 The wall beside the stairway is designed in double height. The pergola skylight here brings in lots of natural sunshine and fresh air into the house. The courtyard too is well arraged. Synthetic grass is paved on the floor and arrangements to sit and recline have been made. The concealed pooja space is just beside the stair area. Thus, the area beneath the stairway has been smartly utilized without wasting any spaces.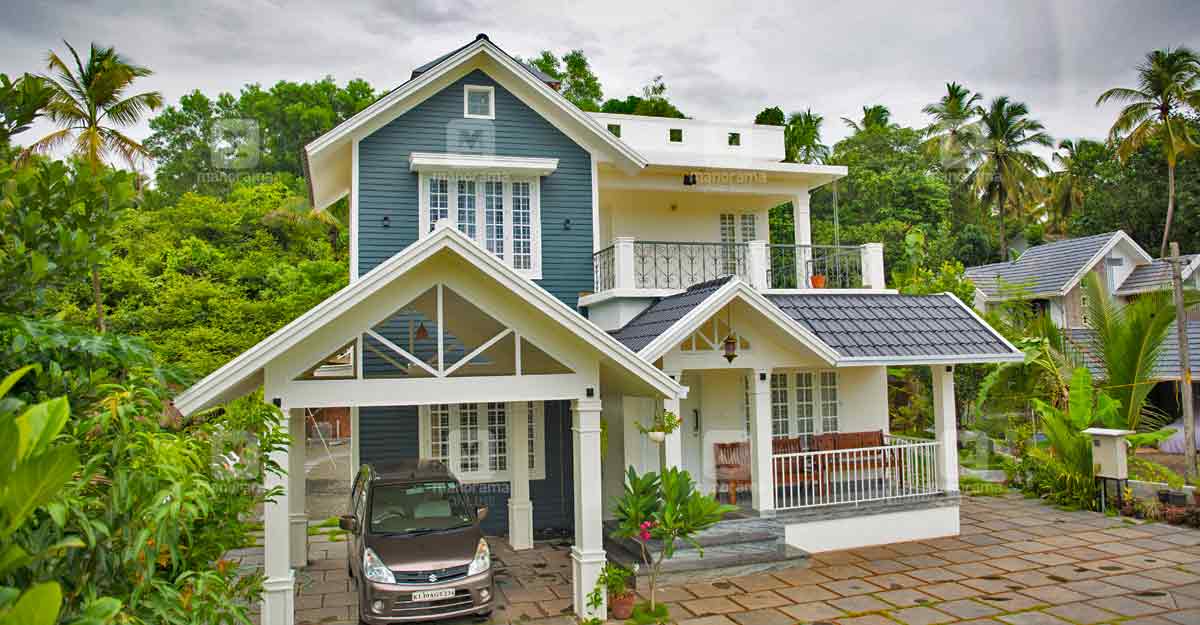 The dining table is arranged beside the stairway. There is a door here through which one could get to the patio. Moreover, natural light and cool breeze rush into the house if this door is opened.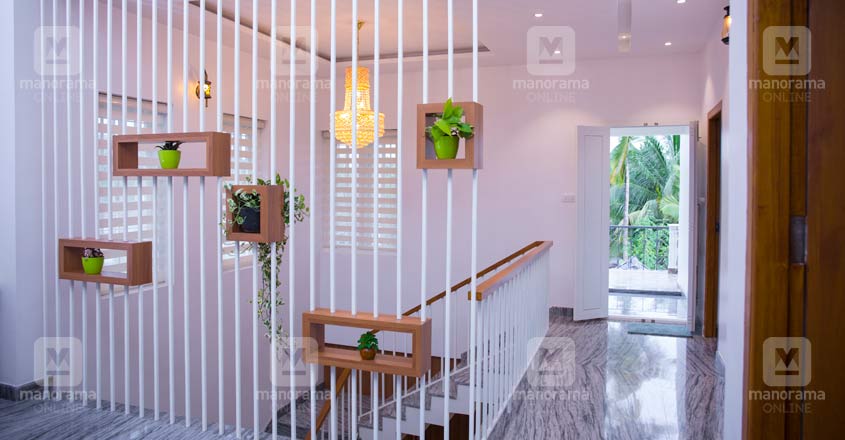 The handrails of the stairway are done in GI square tubes. Apart from granting a unique look to the stairway, this has actually helped reduce the expenses as well.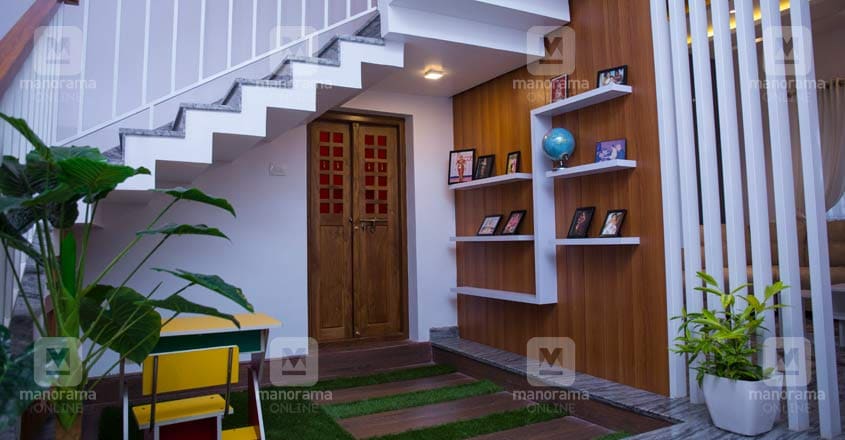 The bedrooms are designed stylishly in unique themes. The head side wall of the master bedroom is decorated with attractive wall paper.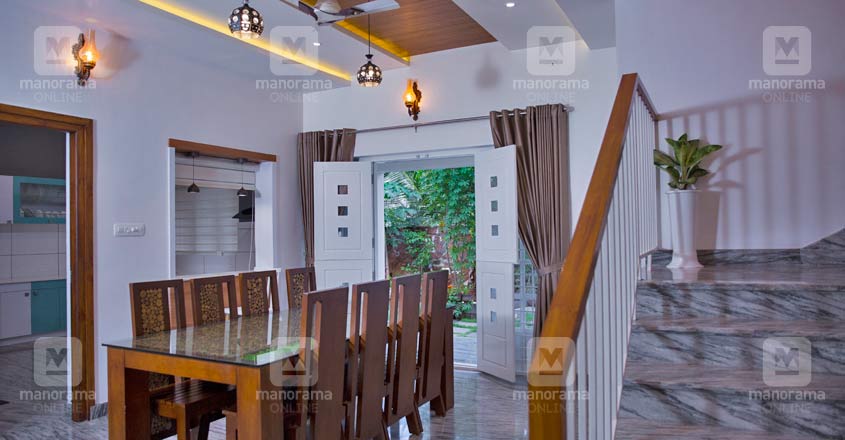 The kitchen cabinets are made of multi-wood materials. Meanwhile, the counter top has been paved with nano white. An adjacent work area completes the kitchen space.
Natural stones and grass are paved in alternate layers in the spacious front yard. This allows the rain water to seep underground easily. Lots of shading trees and lush green plants make the surroundings extremely enchanting.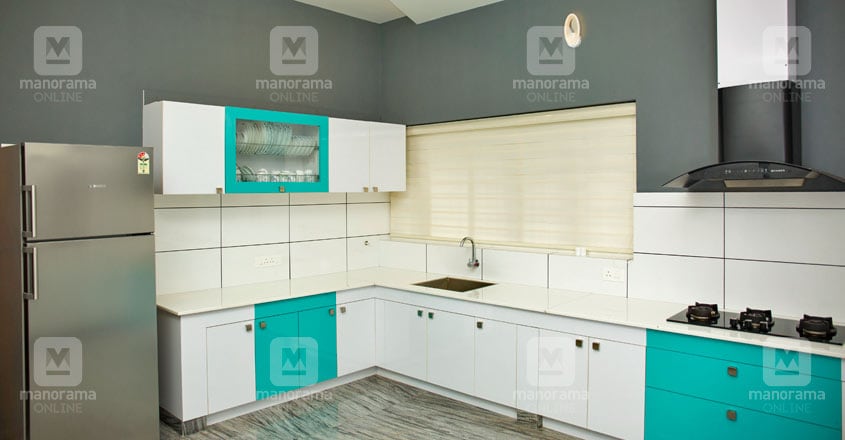 The family had planned to celebrate the housewarming ceremony in March this year. However, their plan fell apart when the nationwide lockdown was announced due to the Covid 19 outbreak. Shibin says they couldn't make the necessary purchases for the last minute touch up. Finally, after waiting for two months, the family celebrated the ceremony on June 3 and happily moved into their dream dwelling.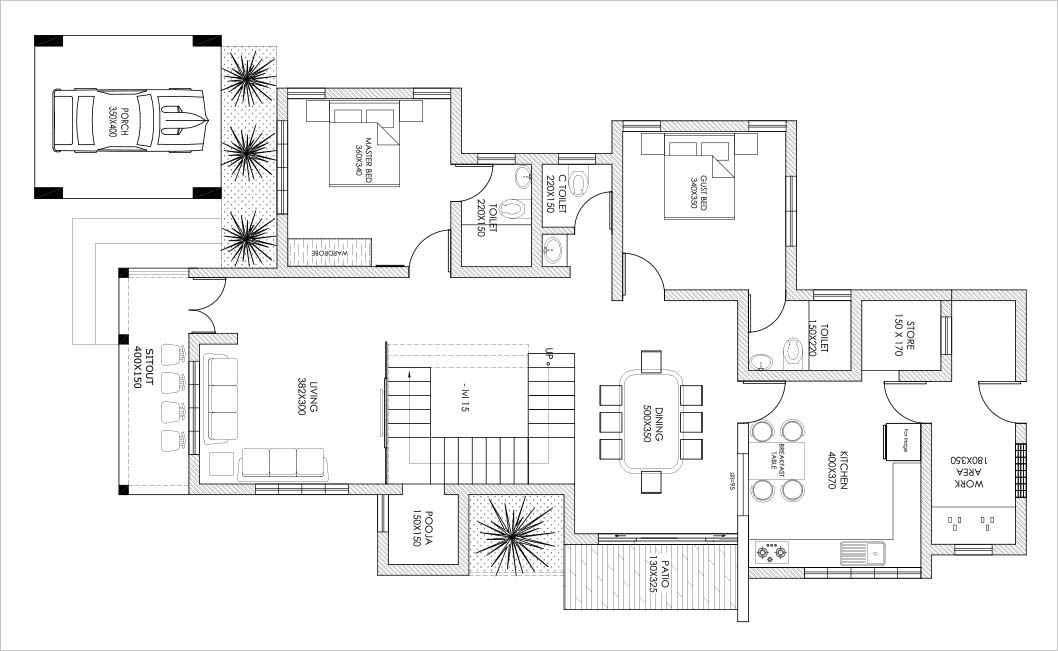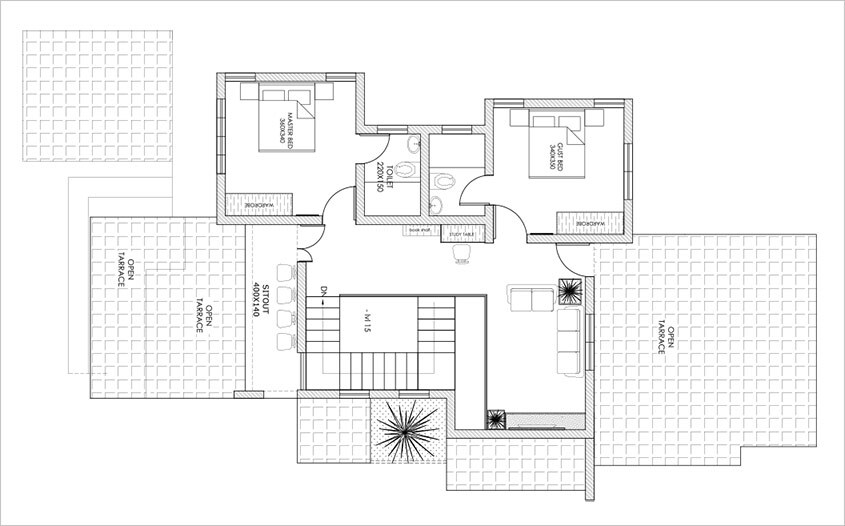 Project Facts
Location – Patterkulam, Manjeri
Plot – 16 cents
Area – 2600 SFT
Owner – Shibin Sandeep
Structure – Concetto Designs
Design and supervision – Jaseer CK
Grado Home of Architecture, Manjeri
Mob – 9633434914
Year of completion – June 2020