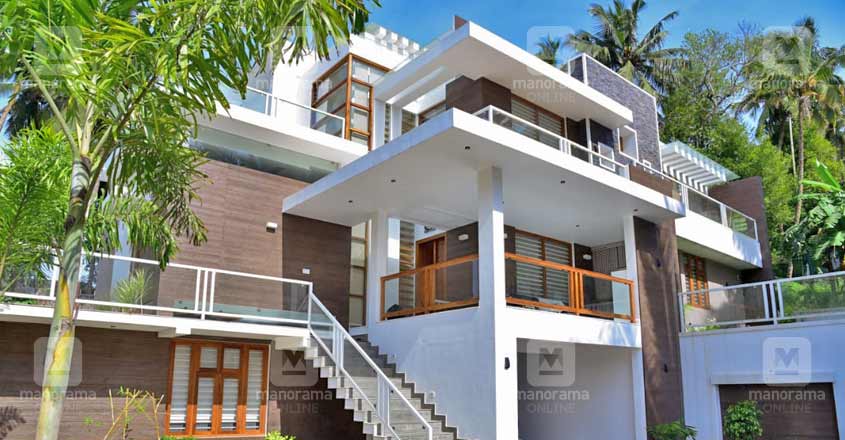 A fine example of brilliant architecture, Thahir's new house in Mahe has been the talk of the town since it was constructed. The 18 cents plot lies in three levels and has significantly inspired the design of the house. Interestingly, the structure is built by retaining the natural layout of the plot. So, the house too is sprawled in multiple levels. The brown cladding adds the perfect contrast against the white hue in the exteriors. Natural stones and grass are paved in alternate layers in the front yard. Shading tress and varieties of plants and shrubs make the garden extremely attractive.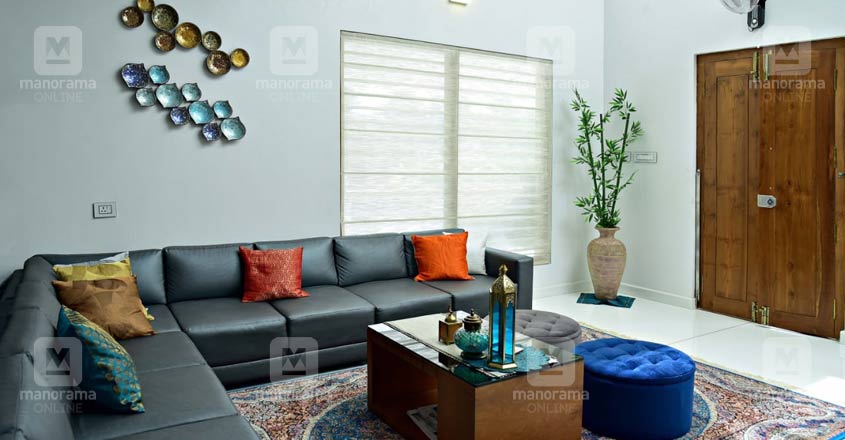 Though the house is double storey, it has features close to a four-storey building. The car porch, sit-out and family living area are arranged in the basement. Meanwhile, the formal living area, dining space, courtyard, kitchen and three bedrooms are on the ground floor. The first floor has two bedrooms, upper living area, balcony and an open terrace as well. The stairway and the open terrace take up the second floor.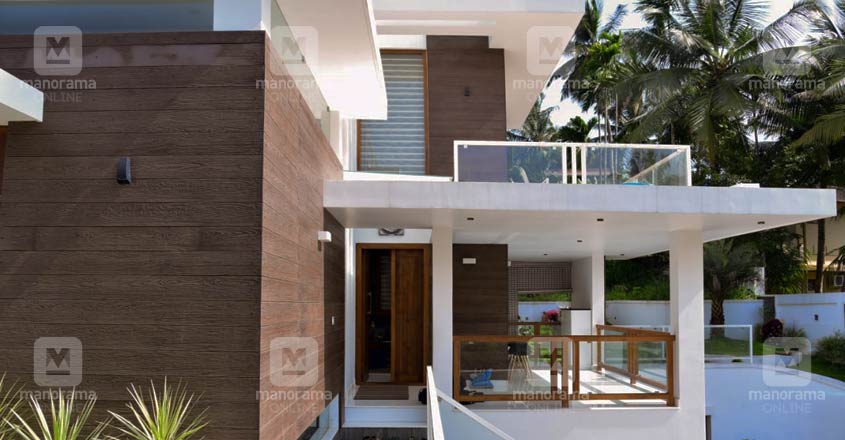 The breathing walls and the skylights make sure that all the floors receive ample amount of natural sunshine and cool breeze. Nano white marble is paved on the floor in the house.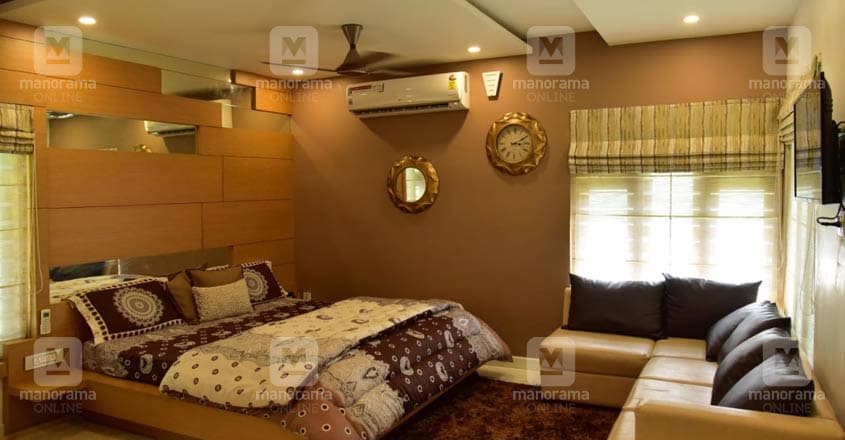 The brown wall texture highlights in the formal living area adds a chic look to this space. A wooden semi-partition with beautiful jali works separates the family living area. The dining space, meanwhile, is designed in double height which makes the interiors look incredibly vaster.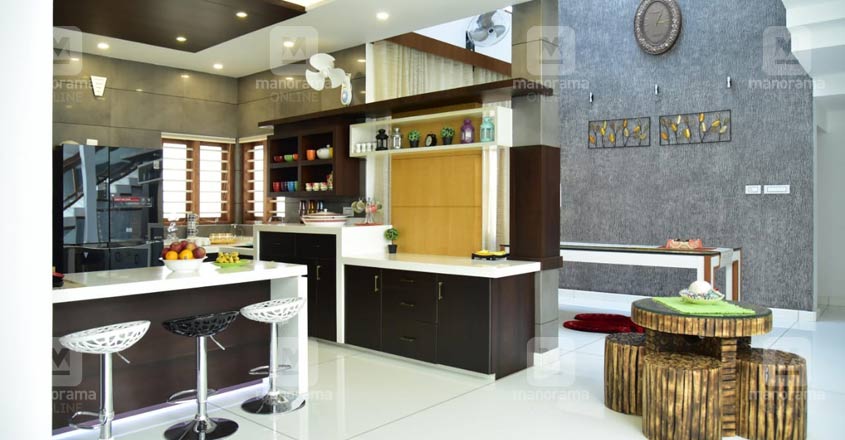 All the bedrooms are spacious. The head side walls of the bedrooms are decorated with amazing wooden panelling. The bath-attached bedrooms have in built wardrobes and sitting spaces too.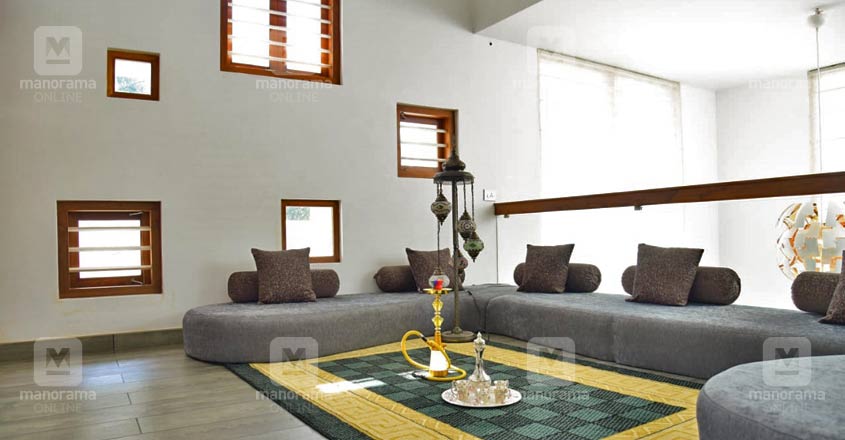 The upper living area is designed like a stunning Arabian majis.
The kitchen cupboards are done in plywood and laminate finish. Meanwhile, the counter top has been paved with glossy Korean stone. A mini breakfast counter too is part of the kitchen area.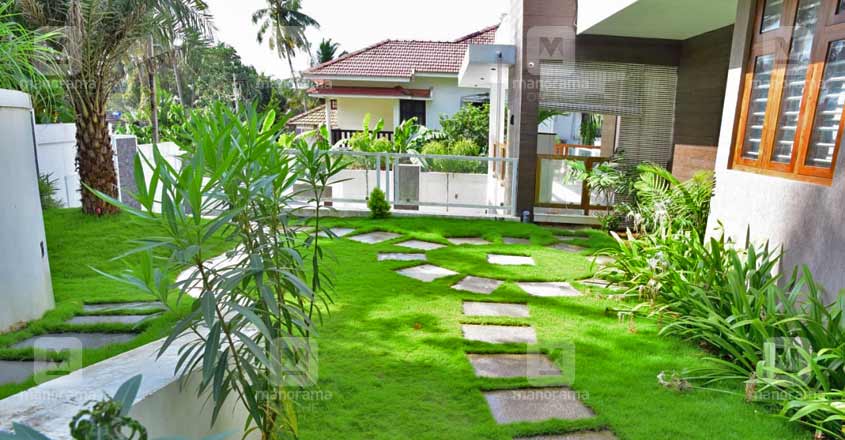 This spectacular house has amazingly turned the challenges posed by the uneven plot to its advantage.
Project Facts
Location – Mahe
Plot – 18 cents
Area – 4811 SFT
Owner – Thahir
Architect – Abdul Jabbar
AJ Architects, Thalassery
Mob – 9846766166
Interior design – i4 Interiors
Year of completion - 2018