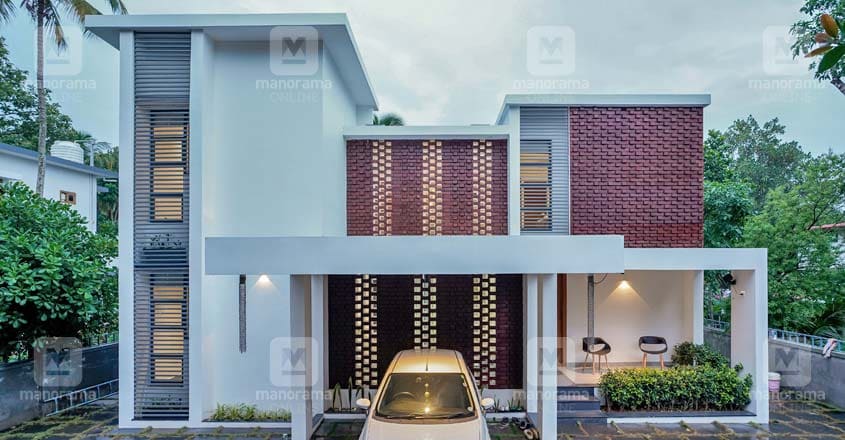 Ajmal's brand new house at his hometown in Puthanathani in Kottakal, Malappuram is a luxury abode in just 7 cents. The family wanted a beautiful and spacious house with all the facilities in this rectangular plot. The talented architects at the A team Associates have designed this amazing house by catering to the likes and preferences of the family members.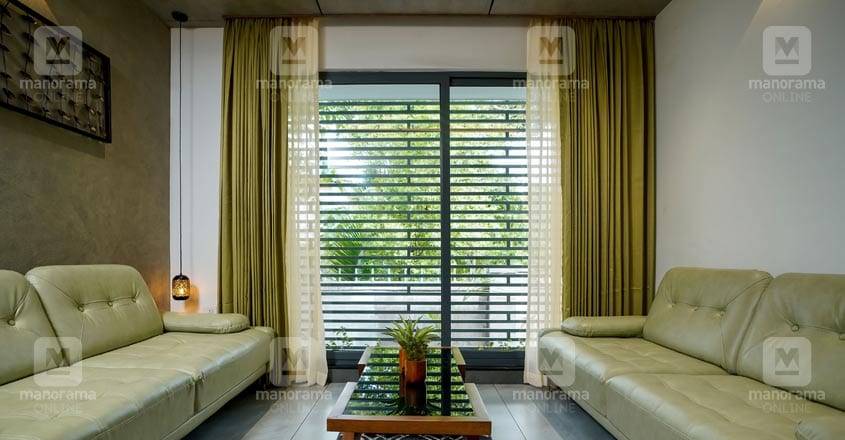 Built in 1800 sq ft area, this fabulous abode has a car porch, sit out, living and dining areas, kitchen, four bedrooms and an open terrace. The elevation features the classy box style to utilize maximum space. The breathing wall made in the exposed brick design is the highlight of the exteriors. Besides, a double height window grill too has been installed to facilitate excellent ventilation inside the house.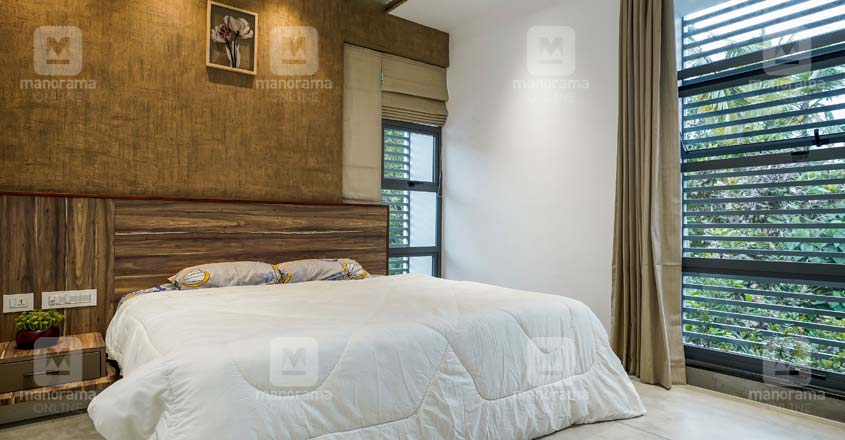 Natural stones and grass are paved in alternate layers on the front yard. The small car porch projects from the façade. The quaint sit out too is elegant and is decorated with plants.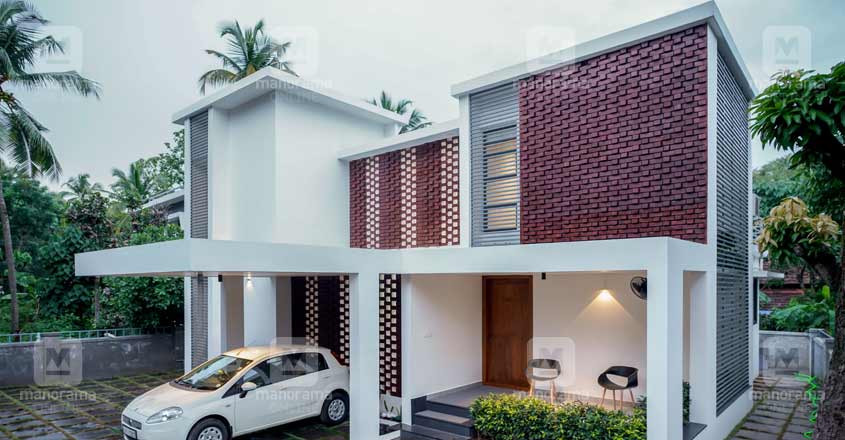 The interiors are designed in the semi open style to make the spaces look vaster. The double height grill in the exteriors that attracts attention is actually in the formal living area. The interiors become airy and comfortable when this grill is opened.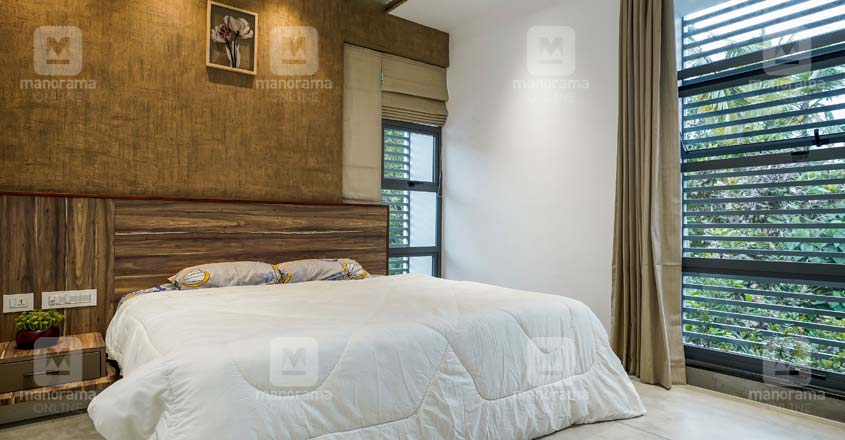 A semi partition cum TV wall is what separates the living and the dining areas. Meanwhile, vitrified tiles are used for flooring in this house. The classy charm of teak wood and the stylish designs in plywood furnishing enhances the fabulous look of the interiors.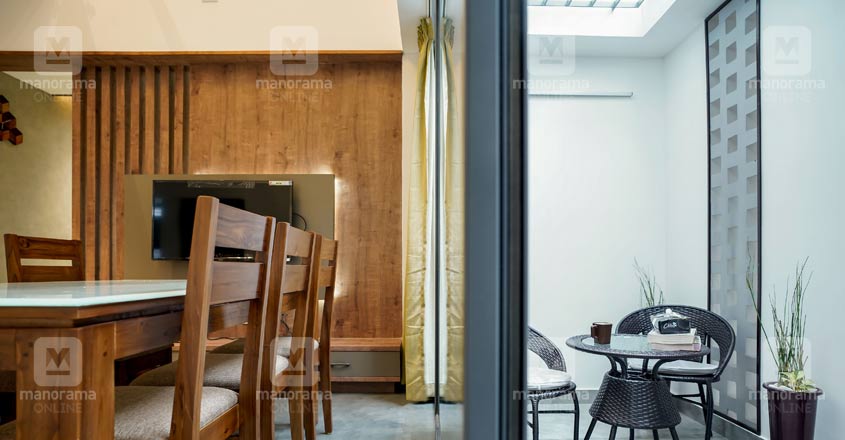 From the dining area, one could get to the small closed courtyard. Besides a sliding glass door, a rolling shutter too has been installed here for added security. The sun light that comes through the ceiling skylight amazingly illuminates the interiors. A sitting space too is arranged in the courtyard.
There are two bedrooms each in both the floors. The spacious bedrooms are bath attached and have in built wardrobes for storage and separate dressing spaces as well.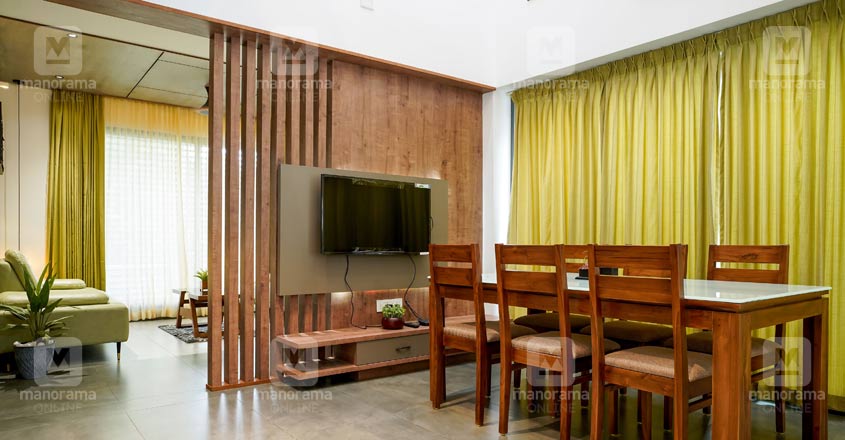 The kitchen cabinets are done in the plywood ad mica finish. Meanwhile, the counter top has been paved with granite.
Just as the family had wished, this spectacular abode is a haven of luxury in a small plot. Smart designs and excellent planning have helped the designers overcome the spatial limitations. The interiors are always filled with lots of natural sunshine and cool breeze. Meanwhile, the construction of the house, including the structure and the furnishing, was completed on a budget of Rs 48 lakh. The family didn't compromise on the furnishing and had used high quality materials for decorating the house. This is what made the budget rise a bit. However, the family is elated about their dream dwelling as they didn't mind spending some extra money to furnish their house in the most splendid way.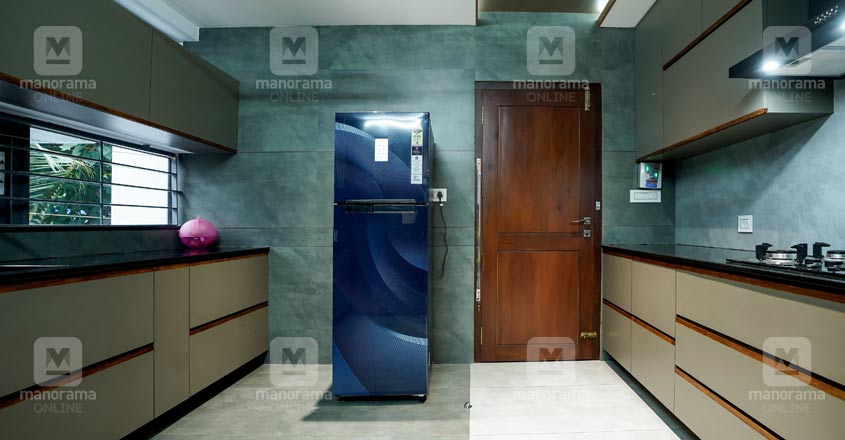 Project Facts
Location – Kottakal, Malappuram
Plot – 7 cents
Area – 1800 SFT
Owner – Ajmal
Design – Atreum Associates, Kottakal
Mob – 7510666801, 8547440077
Year of completion – 2020
Picture courtesy – Akhil Komachy