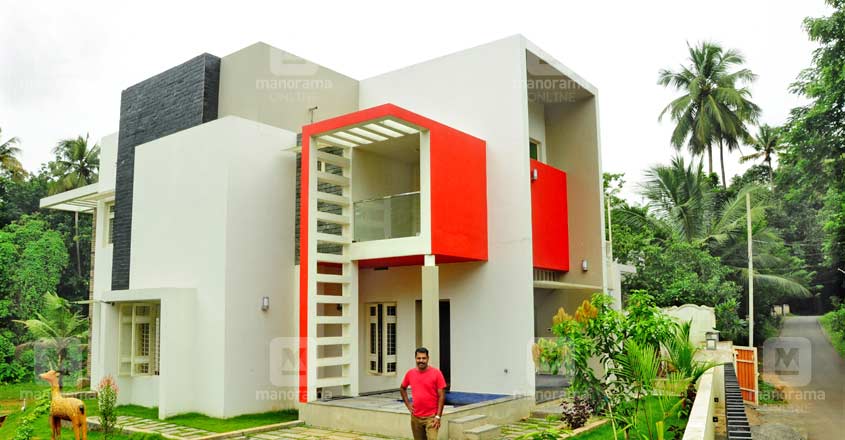 Sunny who is settled abroad had always dreamed of building a house of his own at the bucolic village in the Malayattoor forest division in Kerala. The family desired a beautiful and comfortable house where they could enjoy the vacation in the company of spectacular nature. They had to overcome many challenges including the uneven layout of the plot to finally build their dream dwelling.
The exteriors feature the stylish box design with pergola and designer slits. The red highlighter walls are absolutely terrific and instantly grab attention. The lush greenery of the aesthetically designed landscape adds the perfect contrast here.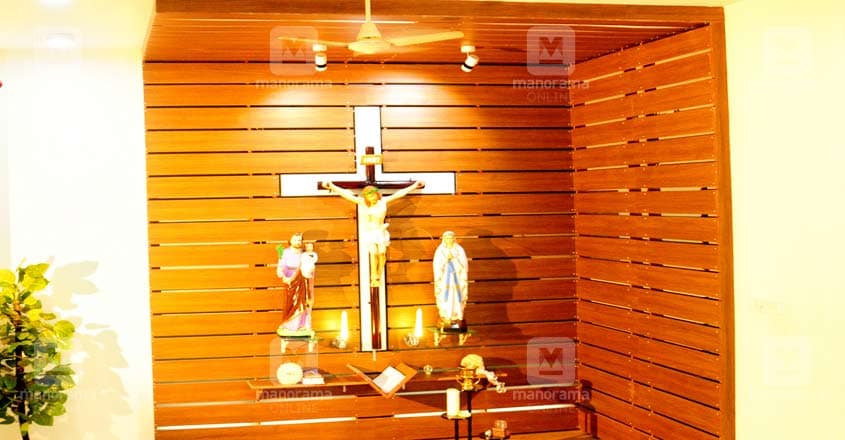 This incredible mansion, designed elaborately in 4116 sq ft area, has a car porch, sit-out, formal and family living areas, dining space, courtyard, prayer area, kitchen with an adjacent work area, four bedrooms, home theatre and a balcony.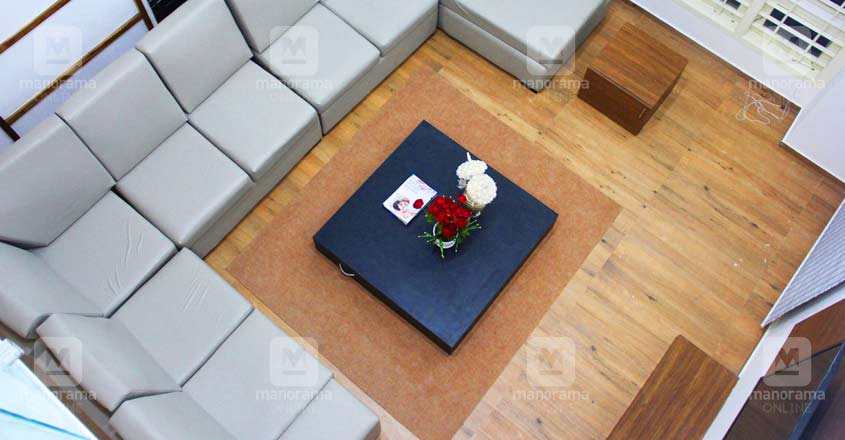 The custom-made U-shaped couch lends a regal charm to the formal living area. Elegant wooden flooring is what separates this area. Meanwhile, vitrified tiles are used for flooring in the rest of the house. The prayer space is just opposite the family living area. This area has been arranged by highlighting a wall with grove patterns in MDF and stylish LED lights.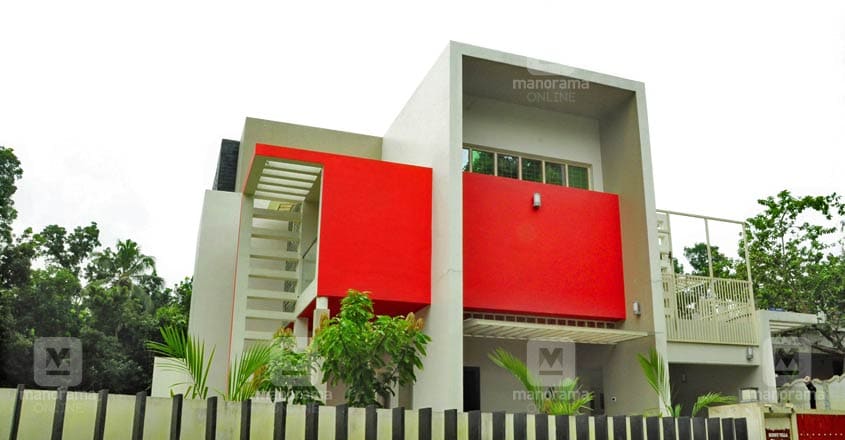 The dining area is simple yet elegant. Meanwhile, the highlight in the house is the stairway in the cantilever style. The hand railings in thin GI tubes extend to the upper floor as well. The courtyard that is decorated with shiny pebbles and indoor plants is just beside the stairway. The skylight glass ceiling welcomes lots of natural sunshine into the house.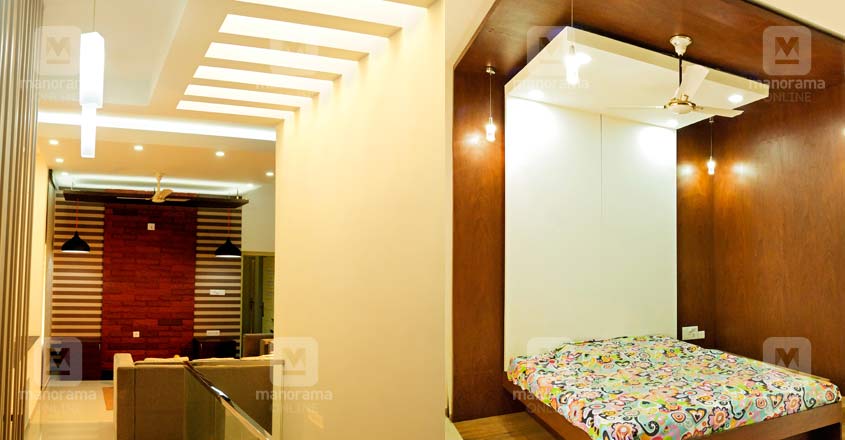 The kitchen dons the classy combination of white and grey. The cabinets are done in plywood with laminate finish. Meanwhile, the counter top has been paved with granite. An adjacent work area completes the kitchen.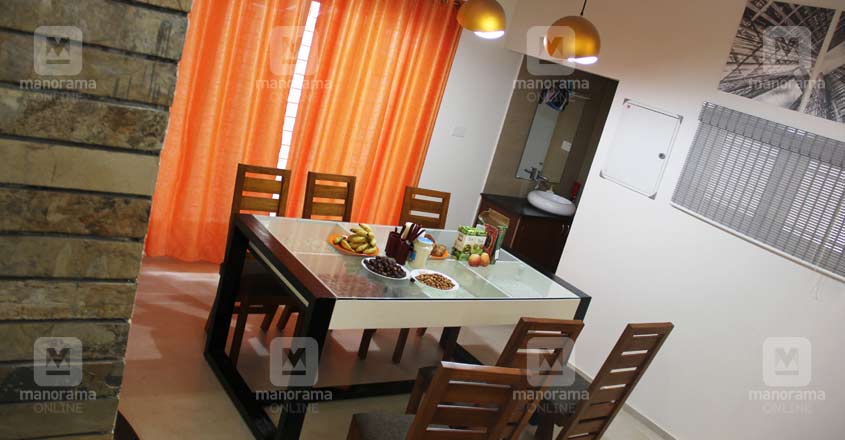 The bedrooms are designed in unique themes. The head side walls are highlighted with attractive panelling. The bath attached bedrooms have in built wardrobes for storage as well.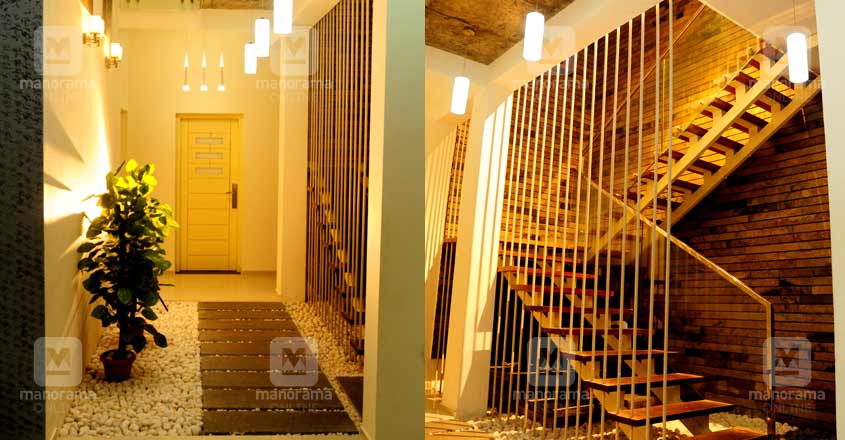 The family is thrilled that their brand new house is a haven of mesmerizing beauty that blends amazingly with the surrounding nature.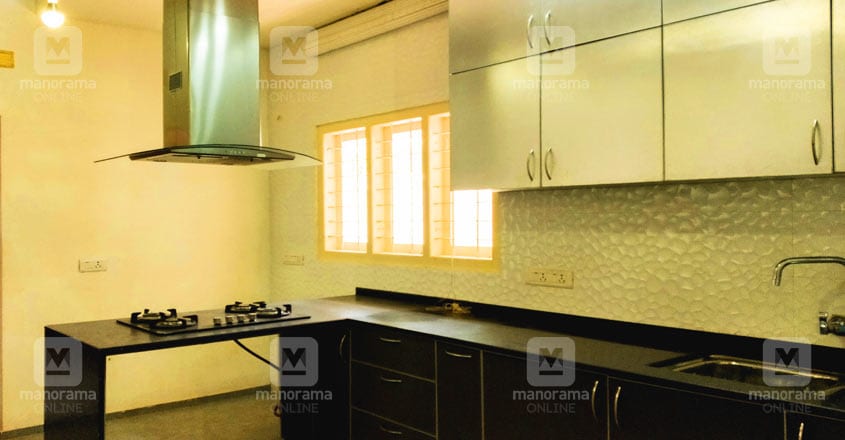 Project Facts
Location – Malayattoor
Plot – 15 cents
Area – 4116 SFT
Owner – Sunny Devassy
Architect – Madhu KV
Architects Eye, Kochi
Mob – 9400032011