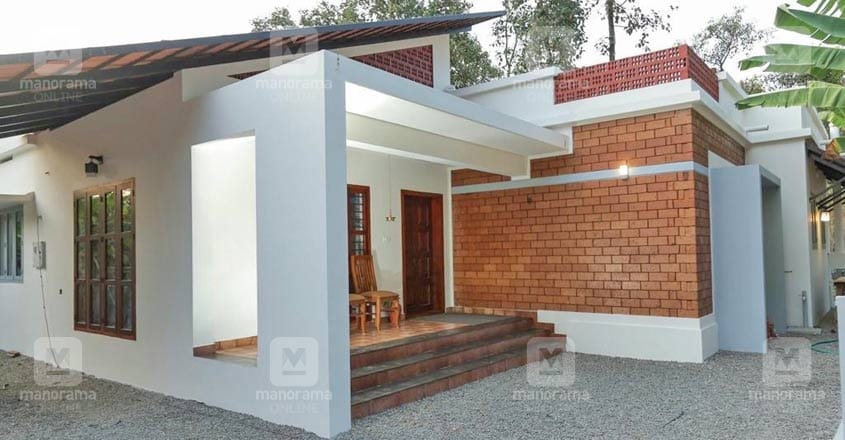 Sandeep and family are thrilled that they could move into their brand new house in Changanassery, near Kottayam in Kerala, at the beginning of this year. They wanted a simple yet beautiful house with four bedrooms, on a medium budget.
The natural charm of the traditional bricks adds a rustic feel to this house. The exposed brick wall is the highlight of the exteriors. Meanwhile, a part of the roof above the sit-out has been paved with exclusive Mangalore tiles on MS frame. This not only acts as a designer feature but also helps in reducing the heat inside the house.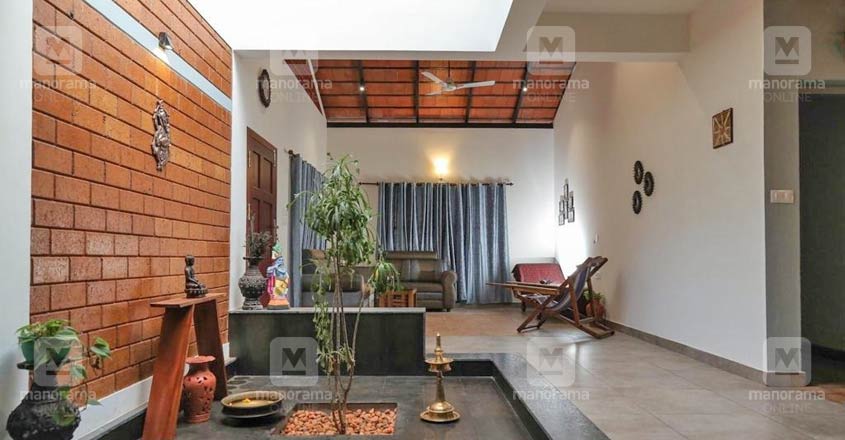 Built on a 1800 sqft area, this amazing abode has a sit-out, living area, dining space, and courtyard, kitchen with an adjacent work area, four bedrooms and bathrooms. From the sit-out, one could enter the beautiful living area that has been furnished in the ethnic style. Besides the roofing tiles, a layer of hurudees blocks too has been paved under the truss ceiling, lending charm to the interiors. The terracotta and ceramic tiles on the floor plays a pivotal role in elevating the ethnic charm of the area.
The stunning courtyard is the focal point in the interiors of this house. The double height space has a polycarbonate ceiling. The rustic Kadappa stones add an earthy charm here. The wall, meanwhile, is highlighted with exposed brick cladding. A study space-cum-library has been arranged close to the courtyard. A book rack and storage shelves complete this area.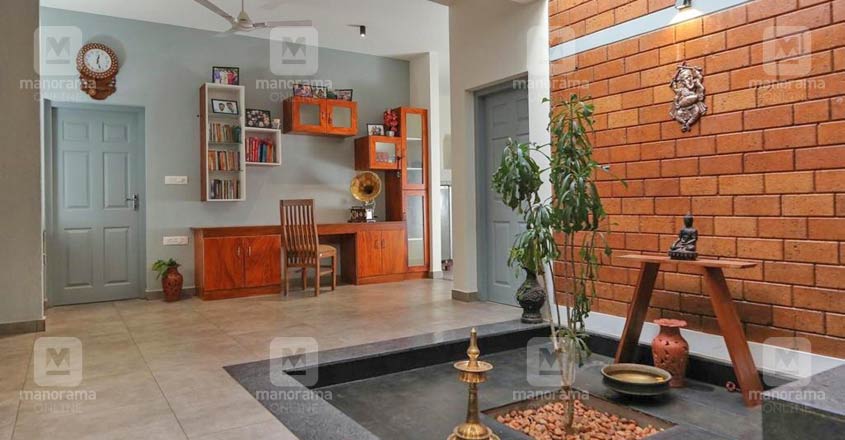 The dining space is simple with a regular six-seater dining table. Interestingly, the ceiling here feature a classy wooden finish. From here, one could enjoy the mesmerizing beauty of the courtyard as well.
Simplicity is the highlight of the bedrooms. The bath-attached bedrooms have in-built wardrobes as well. The house is designed giving importance to elegantly furnished common spaces.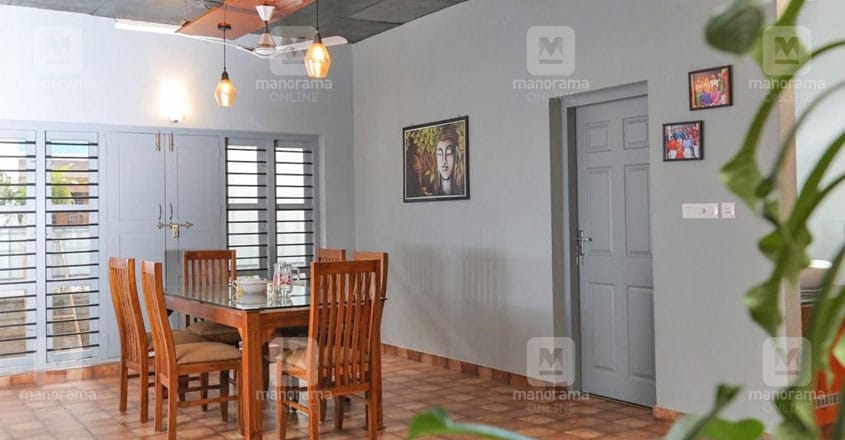 The C-shaped kitchen has cabinets done in marine plywood. Meanwhile, the counter top has been paved with granite. There is an adjacent work area as well.
The construction of the house, including the structure and the furnishing, was completed on a moderate budget of Rs 38 lakh. The talented architect deserves applause for designing a splendid single storied abode, with all the required facilities, well within the approved budget.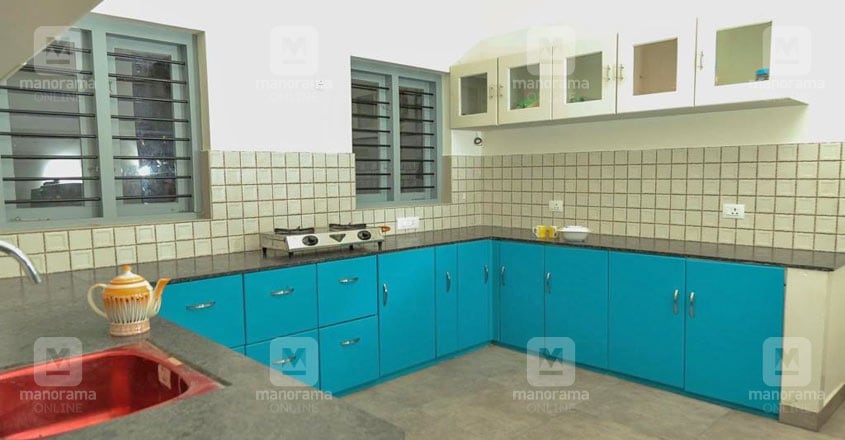 Project Facts
Location – Chanaganassery
Plot – 9.5 cents
Area – 1800 SFT
Owner – Sandeep
Design – Anoop Kumar CA
Planet Architecture, Chanaganassery
Mob – 9961245604
Year of completion - 2020