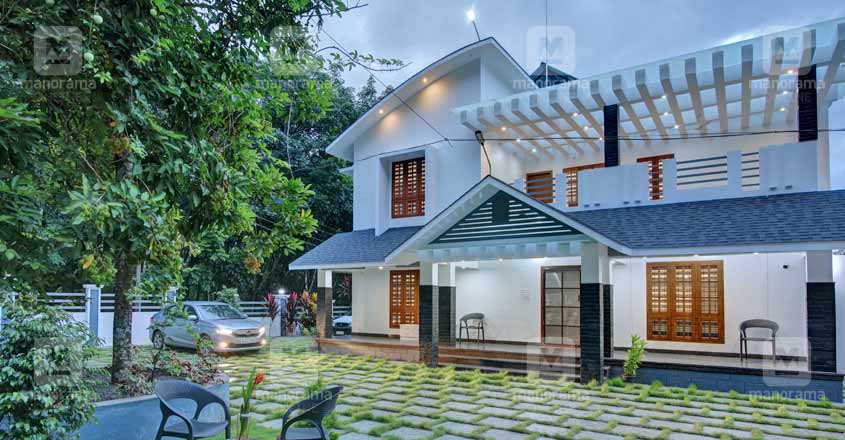 Ajo Mathew is elated about his brand new house that he built closer to his ancestral home in Aanappilly in Adoor, Kerala. The plot is away from the busy main road and is surrounded by beautiful greenery that adds oodles of charm to the modern house.
Though the elevation features a chic style of the contemporary architecture, the long verandah in the sit-out and the slope roof of the car porch reflect the elegant charm of the traditional style. Meanwhile, the long balcony and the pergola ceiling of concrete and toughened glass are quite eye-catching.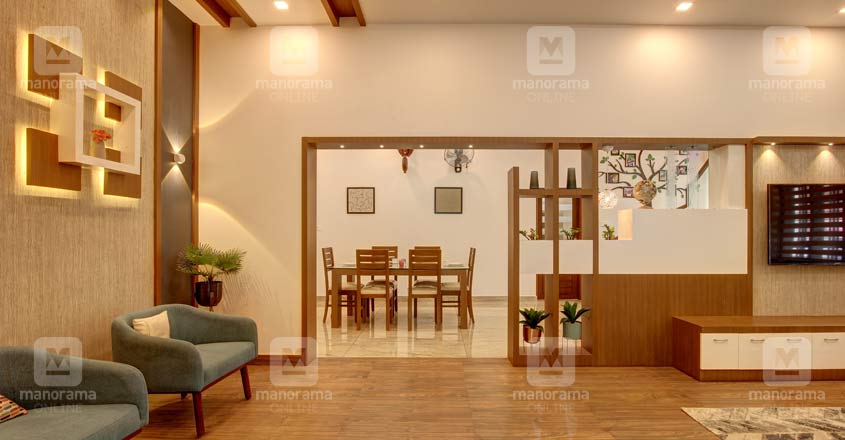 From the spacious sit-out, one could enter the elegantly furnished formal living area. A prayer area too has been arranged here. The wooden flooring grants a regal touch to this area. The comfortable couch, classy arm chair and the central table here were made at the site itself.
The partition wall-cum-TV unit, done in veneer with PU paint finish, is what separates the living and the dining areas.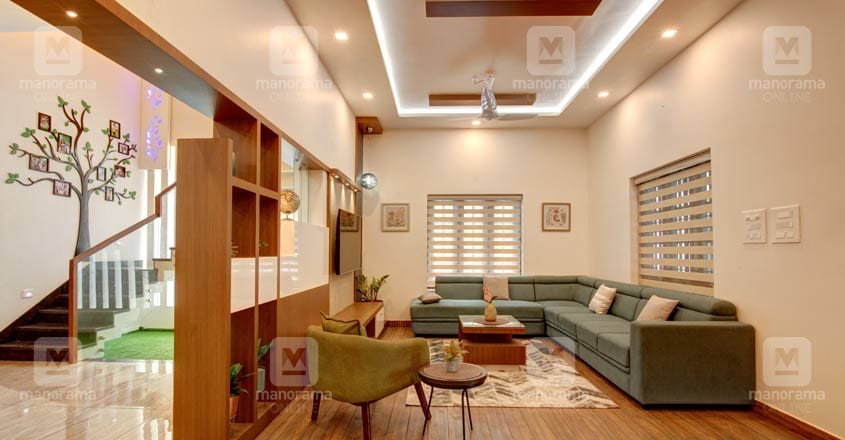 Meanwhile, the dining-cum-stair area designed in the vertical form is the highlight of the interiors. A courtyard which is also used as a reading space is arranged beneath the stairway. The wall near the courtyard features a vertical pergola with toughened glass. This invites lots of sun shine into the house that illuminates the interiors. The hand rails of the stairway don a classic combination of wood and toughened glass. Granite has been paved on the steps of the stairway.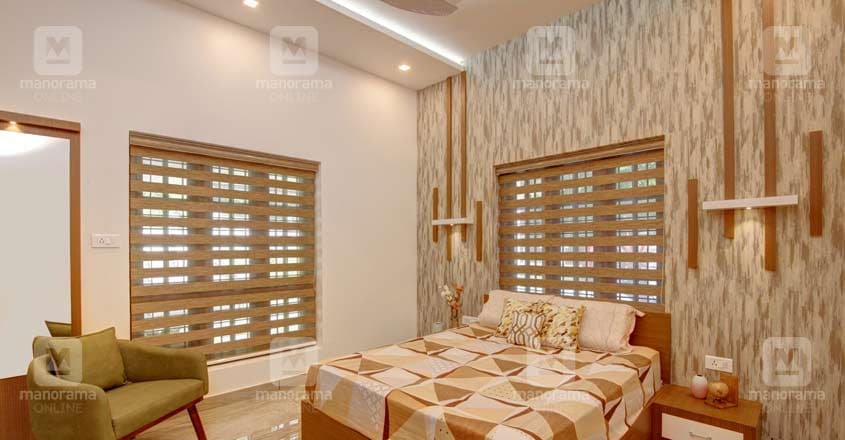 The family wanted the dining space to be designed in double height. There are bedrooms on both sides of the long corridor in the upper floor. This actually enables amazing communication between both the floors.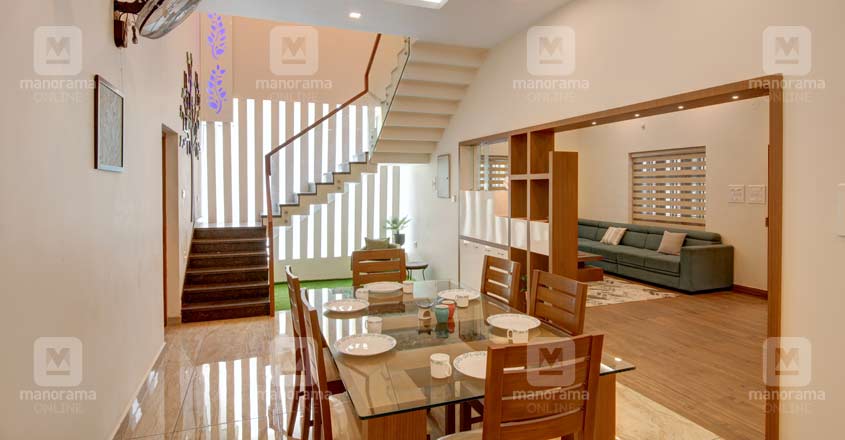 The master bedroom and the parents' bedroom are in the ground floor. Besides, there are two more bedrooms in the upper storey. The bedrooms are simple with the head side walls decorated in attractive wall papers. There are in-built wardrobes, separate dressing spaces and side tables as well in the bedrooms.
The spacious kitchen has cabinets made using multi wood with PU coating. Interestingly, the granite paved counter top is designed as a continuation of the breakfast counter.
Vast and amazingly furnished spaces that compliment each other make this fabulous abode extraordinary. The guests too are impressed by the beautiful interiors that have all the modern facilities.
Project Facts
Location – Aanappilly, Adoor
Plot – 20 cents
Area – 2850 SFT
Owner – Ajo Mathew
Design – Woodnest Interiors, Chalakudy
Mob – 7025936666
Year of completion - 2020