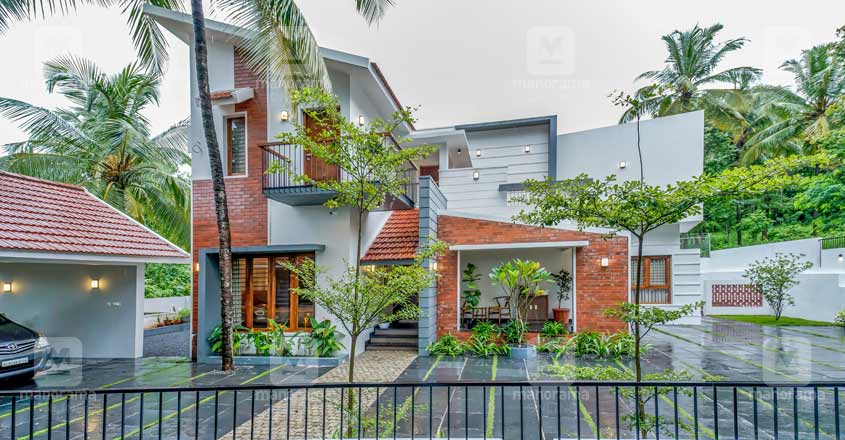 It's only been two months since Kunjumarakkar and his family moved into their brand new house in Manjeri, Malappuram, Kerala. Earlier, the family had stayed in a house in the town. So, they wanted to build their dream dwelling at a serene spot that is away from the bustle of the city.
The house is a perfect blend of contemporary and traditional architectural styles. The walls are built using mud bricks. The exposed mud brick cladding is the highlight on the exteriors. Clay roofing tiles have been paved on the slope roof. The aesthetically designed landscape is paved with exclusive Kadappa and cobble stones. The verdant lawns and the beautiful garden are extremely enchanting.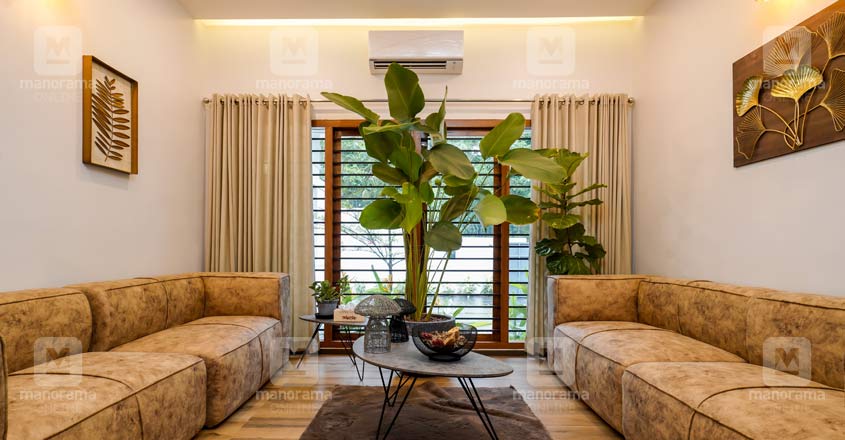 Designed on a 4000 sq ft area, this stunning mansion has a car porch, sit-out, formal and family living areas, dining space, kitchen with work area, five bedrooms, upper living area and a balcony. The interiors are designed giving prime importance to amazing ventilation and natural lighting. Doors are installed on all sides of the house to get to the yard. Thus, the elegant beauty of the landscape could be enjoyed from the interiors as well.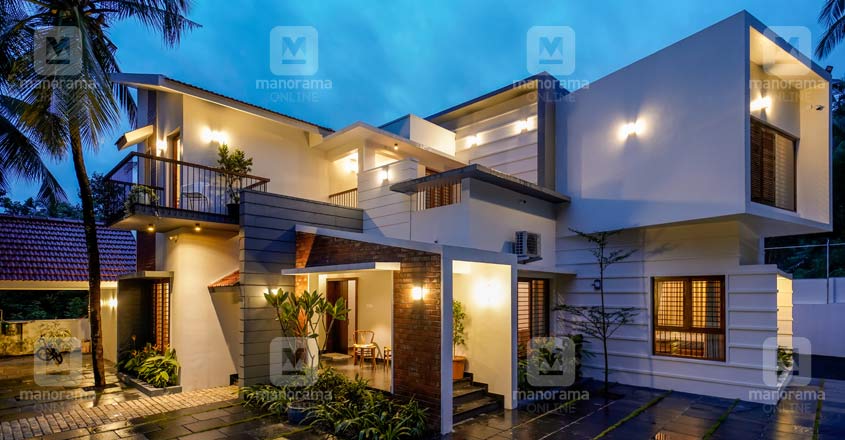 The customized leather finish couch adds a regal charm to the formal living area. Huge glass windows are installed here to ensure excellent cross ventilation. The family was open to experimenting with flooring and has tried a variety of flooring materials in the house. Vitrified tiles are paved on the floor in the common areas. Meanwhile, the elegance of wooden flooring could be seen in the bedrooms. Lapotra finish tiles are used on the stairway and the balcony as well.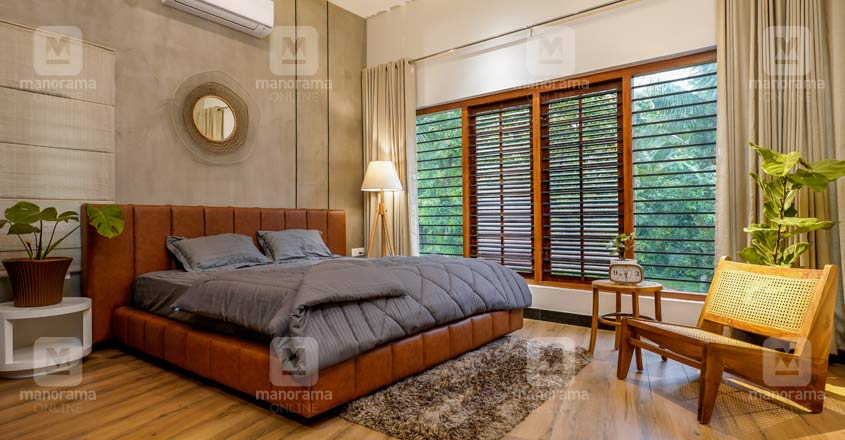 The simple dining table can easily accommodate up to eight persons. The wall beside the dining area is highlighted with laterite stones. The wash area too is arranged closer to this area. The indoor plants add a hint of greenery here.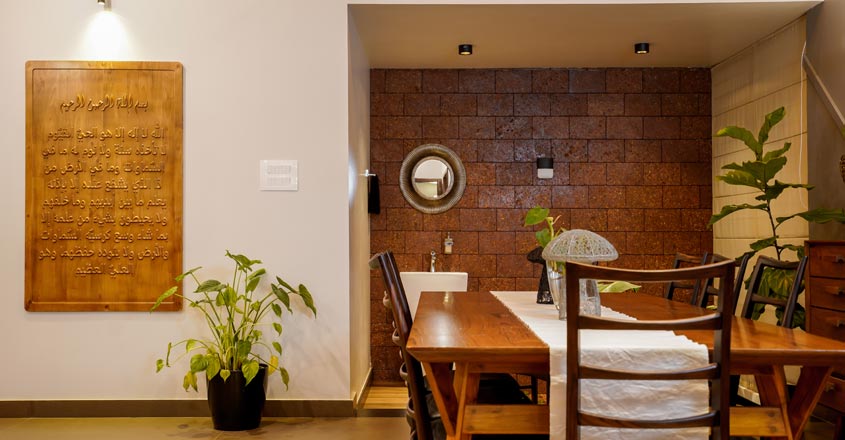 A study space and an office room have been arranged in the upper storey. The beautiful hanging lights enhance the stylish look of the stair area.
The kitchen cabinets are done in multi-wood with mica finish. An adjacent work area completes the kitchen space.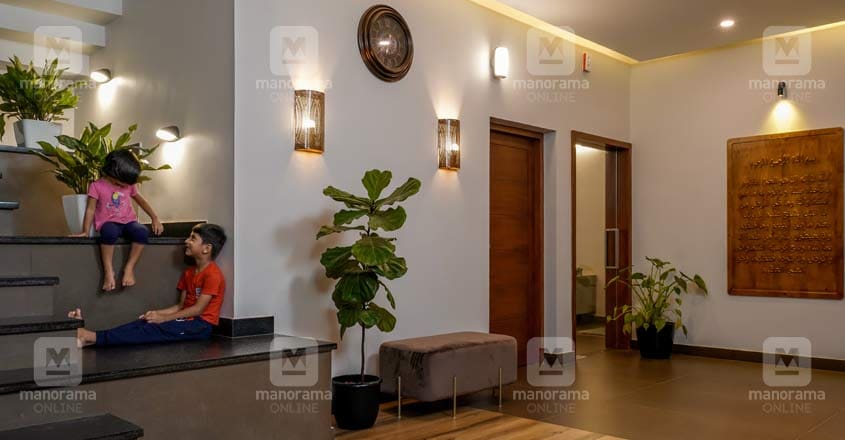 The cots and the wardrobes in the bedrooms are made of plywood in veneer finish.
The spot lights on the outer walls and in the garden project the unique features of the house during the twilight. Besides, these lights illuminate the house at the right spots and make the surroundings look extremely serene and comfortable. The family is thrilled to move into this tranquil and calm home just as they had dreamed.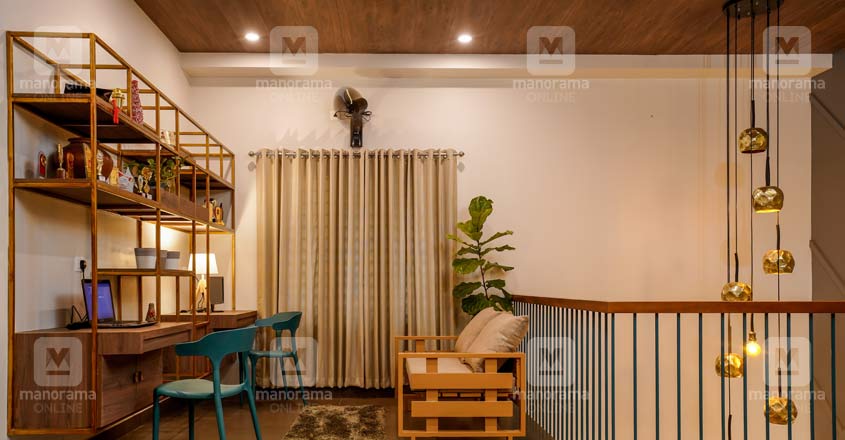 Project Facts
Location – Manjeri
Plot – 18 cents
Area – 4000 SFT
Owner – Kunjumarakkar
Design – Risiyas Farsa
Farsa Buildesign, Manjeri
Mob – 8943558505
Year of completion – 2020 May
Picture courtesy – Akhil Komachy