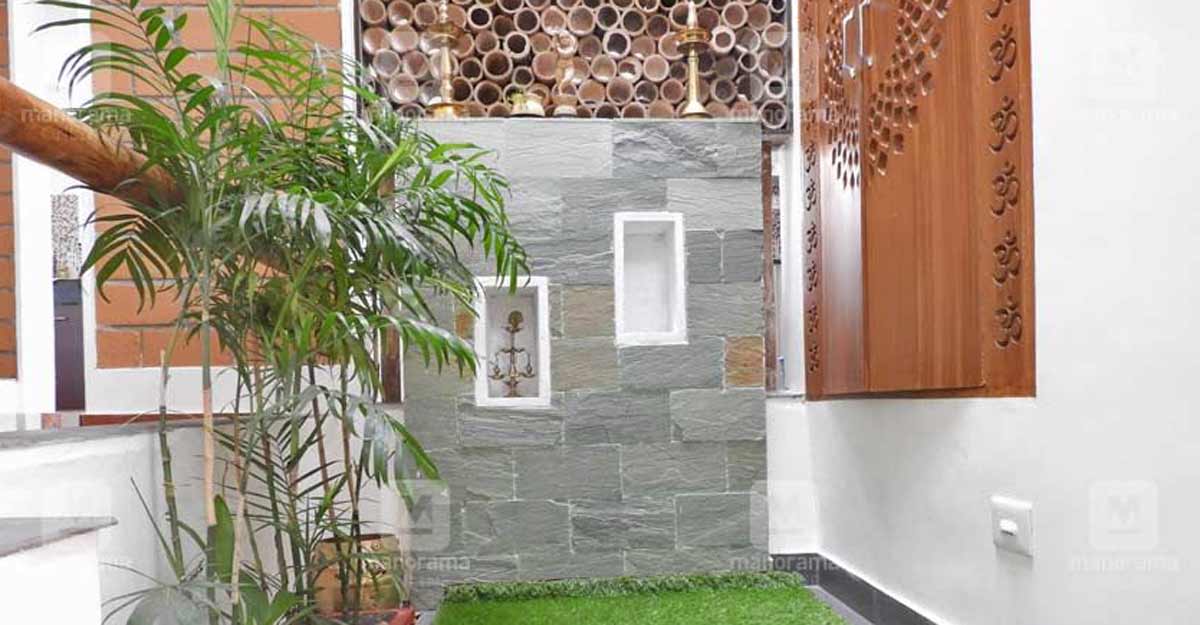 The name Gulmohar suits this stunning house in Thiruvananthapuram, Kerala, that stands surrounded by lush greenery and pristine nature. The family wanted a beautiful abode that is in sync with nature. Noted architect G Sankar of the Habitat Technology Group designed the splendid eco-friendly house by catering to the likes and interests of the family members.
The natural slope of the plot has been retained and the house has been built accordingly. So, the interiors of this house are arranged in multiple levels. Soil has been used as a prominent building material here. The rustic charm of the exposed brick works is the highlight of this house. The grey natural stone cladding on the show wall breaks the evenness of the earthy tone on the exteriors.
Designed in 2000 sq ft area, this enchanting house has a sit-out, living and dining areas, courtyard, three bedrooms, kitchen with a work area, upper living area and a balcony. The filler slab technology has been used to build the roof that is paved with traditional mud tiles. This helps in reducing the heat inside the house. Old timber has been reused to make the doors and windows.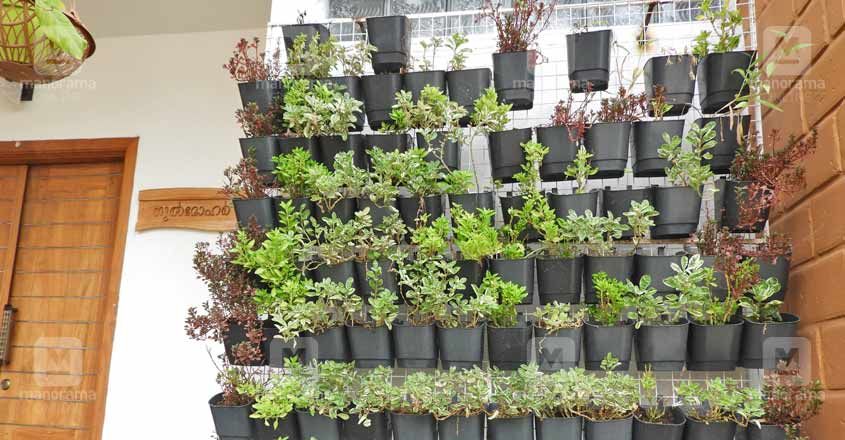 A beautiful vertical garden in the sit-out is what welcomes the guests into the house. A multi-purpose shoe rack that could be used as a sitting space too has been arranged here.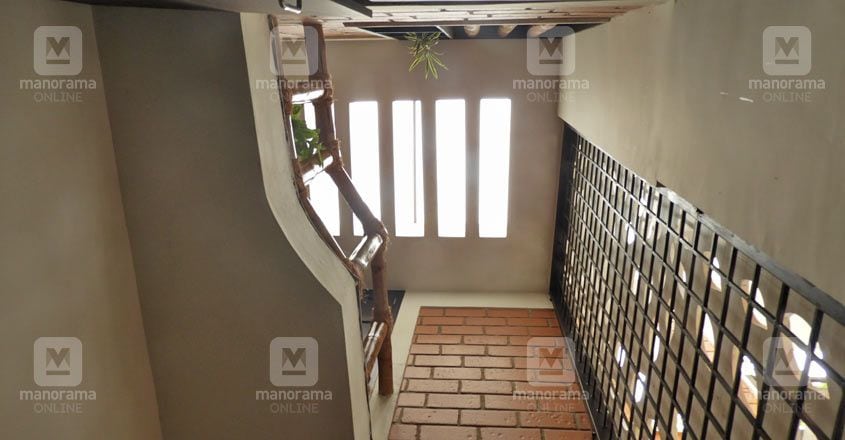 The well furnished formal living area is to the left side of the main door. Meanwhile, there is a courtyard, designed in double height, to the right. The skylight on the ceiling brings in lots of natural sunshine into the house. Organic jali work using bamboo adorns the walls in the courtyard.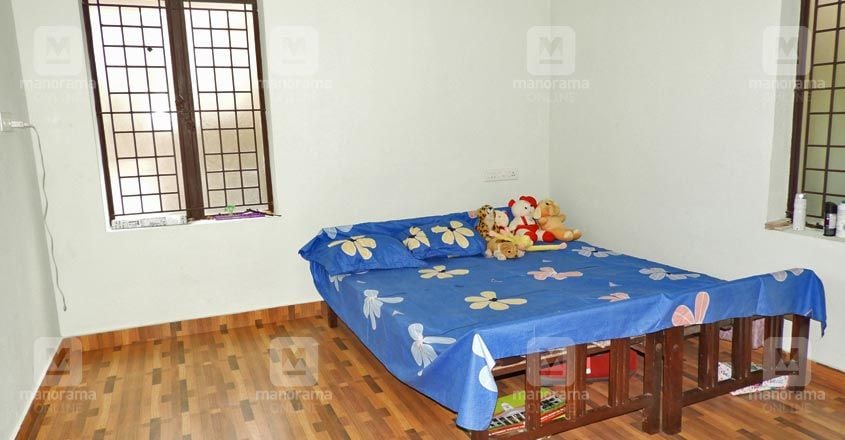 The dining area is just two feet above this space. There is a glass door here which opens to the small patio. The interiors would be filled with fresh air and bright sun shine if this door is opened.
Treated bamboo has been used on the handrails of the stairway. A library space is arranged on the first landing. The skylight ceiling above the stairway too invites sunshine into the house.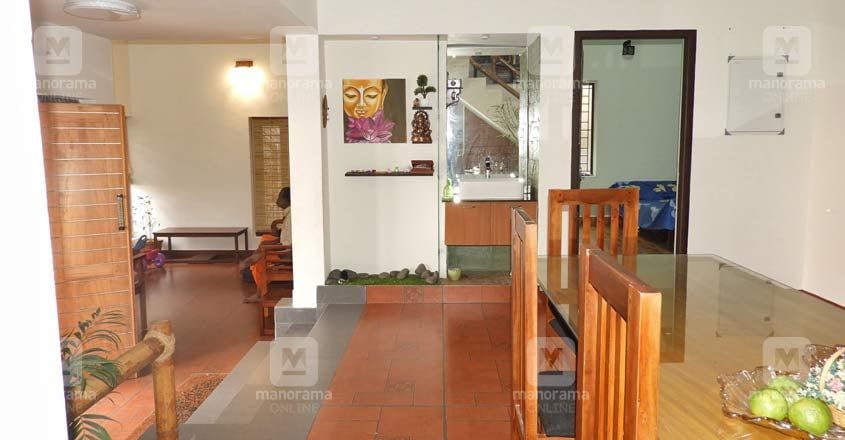 A beautiful Buddha painting adorns the exposed brick wall in the upper storey. A cozy study space too has been arranged on this floor.
There is one bedroom on the ground floor and two more on the first floor. The bedrooms have huge windows to fill them with natural light and air. The bath-attached bedrooms have in-built wardrobes for storage as well.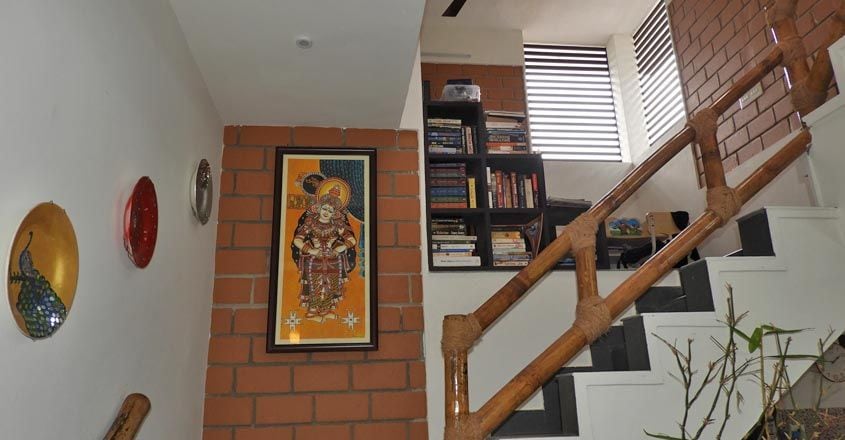 The kitchen is simple and efficient. There are lots of cabinets here for storage. An adjacent work area completes the kitchen space.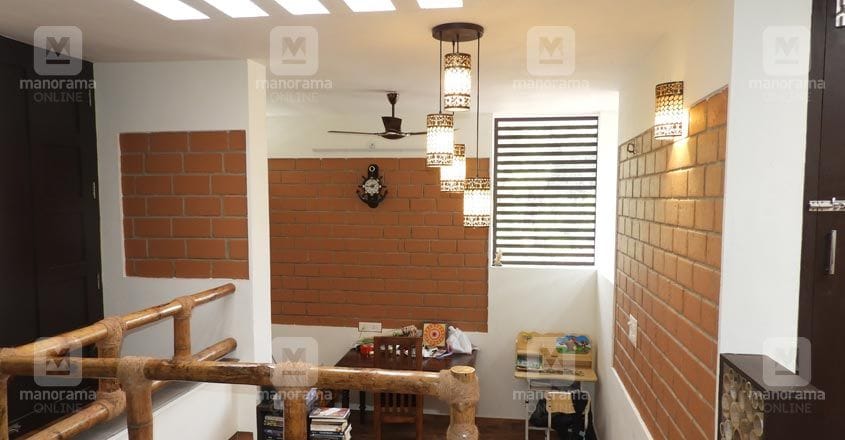 There is no need to switch on the lights and fans during the day time as the house has been designed ensuring excellent cross-ventilation and amazing natural light settings.
Gulmohar is a fabulous abode that treats nature with respect without compromising on modern features and design.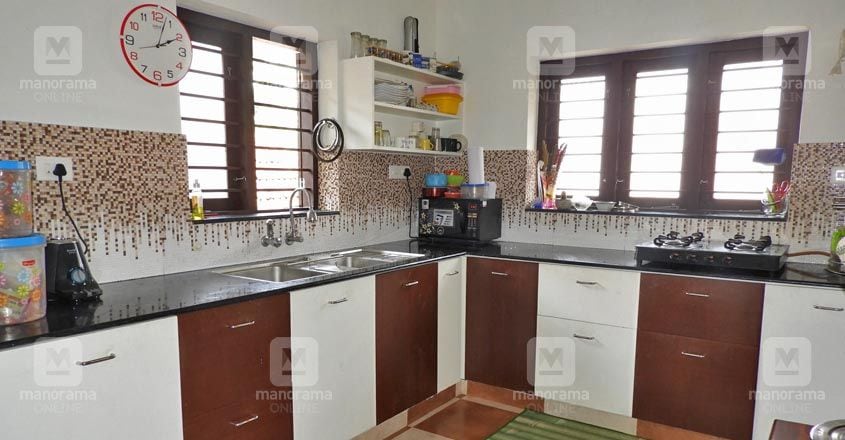 Project Facts
Location – Thiruvananthapuram
Area – 2000 SFT
Architect – G Sankar
Habitat Technology Group
Ph – 0471 234 4904
Pictures and video credits – Ajith Thomas