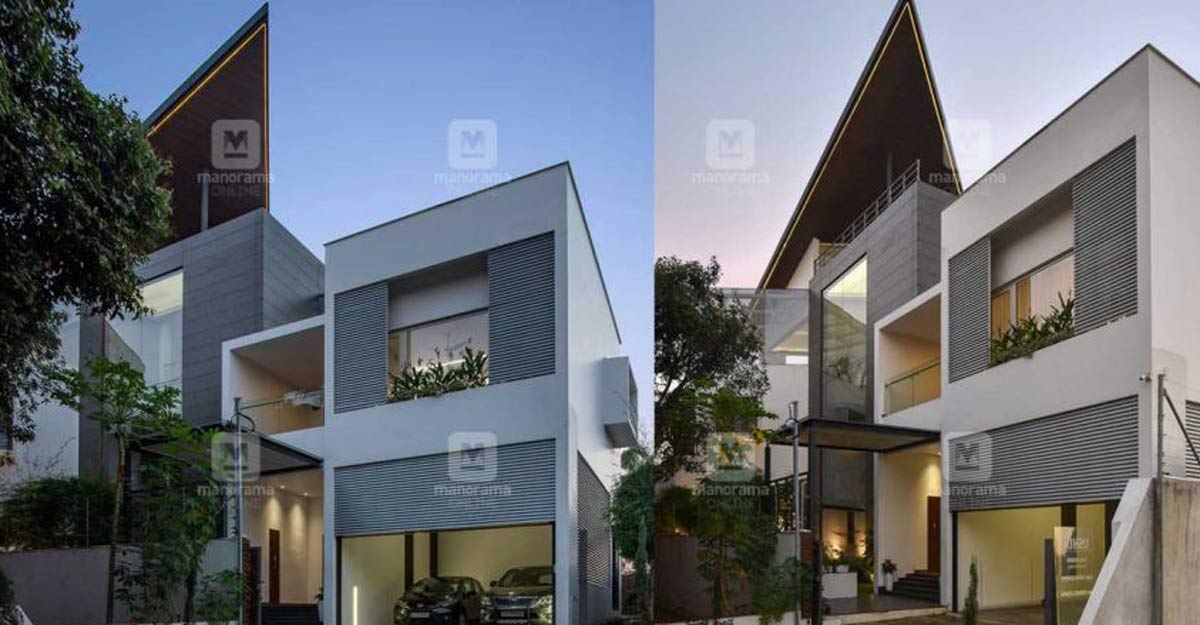 Joseph's brand new house at Palachuvadu in Kakkandad, Kerala, attracts instant attention for its unique elevation and sheer design brilliance. Both his sons work as captains in a ship and the elevation of this fabulous mansion therefore resembles a docked vessel. The house which boasts of enormous features has been built to fulfil Joseph's dream of having both his sons and their families under the same roof. He wanted a spacious house with open areas and four bedrooms for his sons. This house, built in two blocks, actually looks like a three-storey structure and has all the modern facilities that suit the family's lifestyle.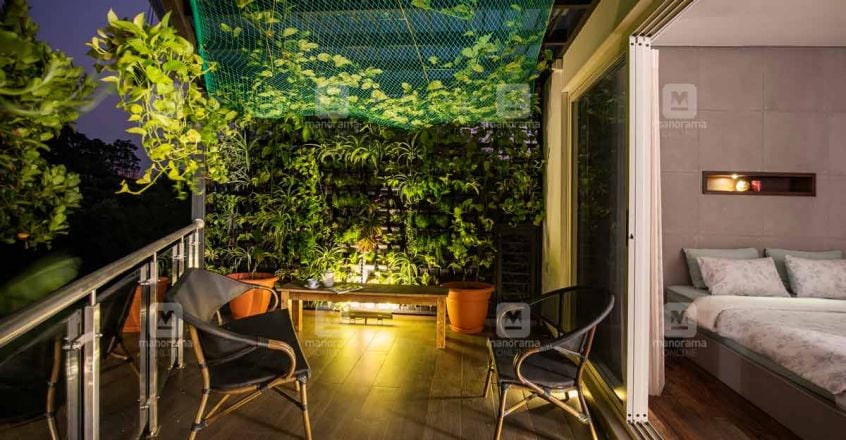 The triangular roofing, the aluminuim composite panel and the highlighter LED lights create a beautiful dramatic effect on the elevation. The aluminium louveres on the car porch and the upper balcony too are highlights of the exteriors.
The palatial house has a car porch, sit-out, foyer, living area, courtyard, driver's room, elevator and a bedroom in the lower block. Meanwhile, there is a family living area, dining space, kitchen, home theatre, two bedrooms and a gym on the upper block.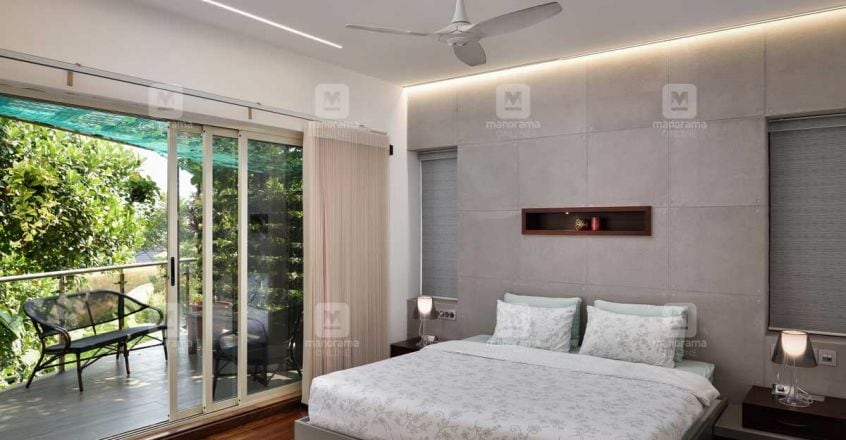 Pleasant greenery and the classy charm of glass are the highlights of the interiors. Toughened glass that can effectively reduce heat has been used inside the house. The interiors, designed in double height, are incredibly spacious. The open spaces are vaster and airy as well.
The open courtyard exudes elegant charm. Moreover, the refreshing sight of the swimming pool could be enjoyed from all the corners of the house.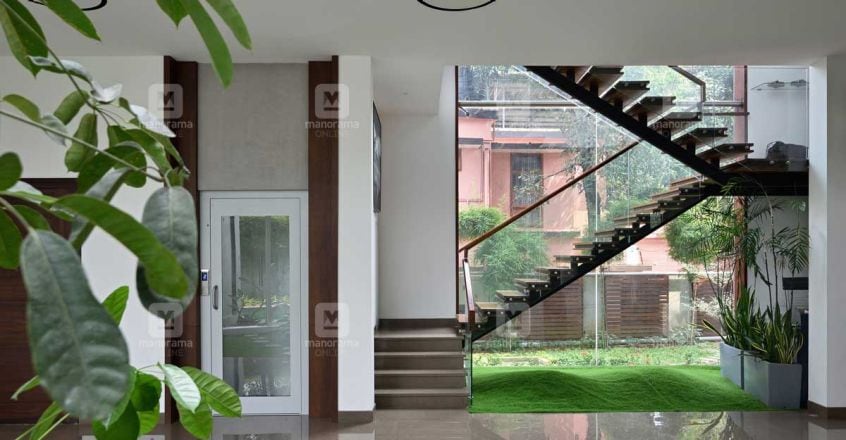 From the sit-out, one could enter the foyer which leads to the living area designed in double height. The classic wooden flooring perfectly highlights this area. Meanwhile, the walls don the beautiful colour combination of white and grey.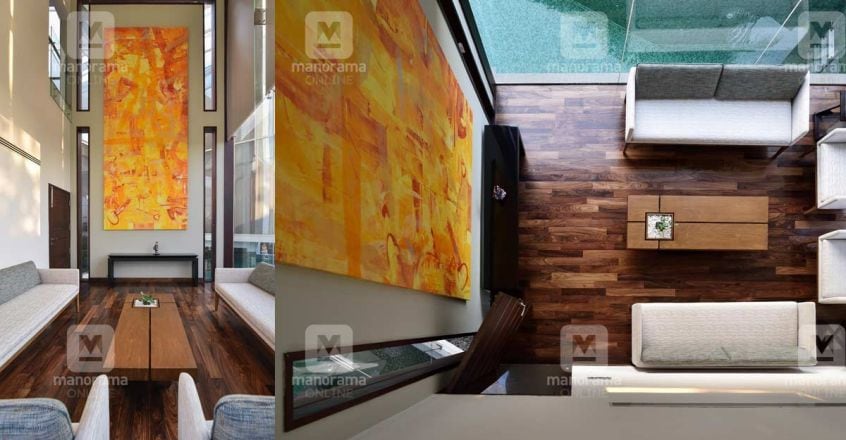 The vertical garden adds a hint of greenery in the living and dining-cum-kitchen space. The stairway and its handrails too follow the transparent glass theme and feature the classic combination of toughened glass and wood.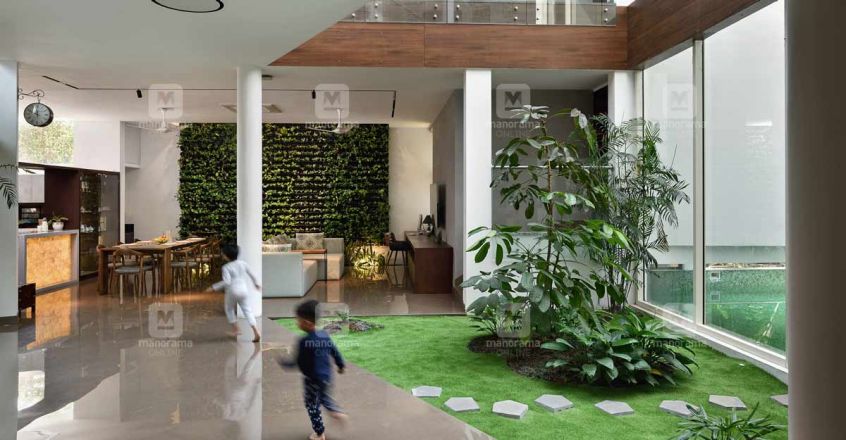 There is one bedroom in the lower block and three in the upper storey. The bedrooms are spacious with walk in wardrobes, separate dressing units and side tables as well. The elegance of wooden flooring adds to the amazing look of the well furnished bedrooms. One of the bedrooms in the upper floor has an open balcony that opens to the splendid greenery outside.
The island kitchen is elegantly furnished and has all the modern facilities. The cabinets are done in marine plywood. Meanwhile, Korean stone in white colour has been paved on the counter top here. The beautiful teak wood panelling and the stylish LED lighting elevates the amazing ambience of the kitchen.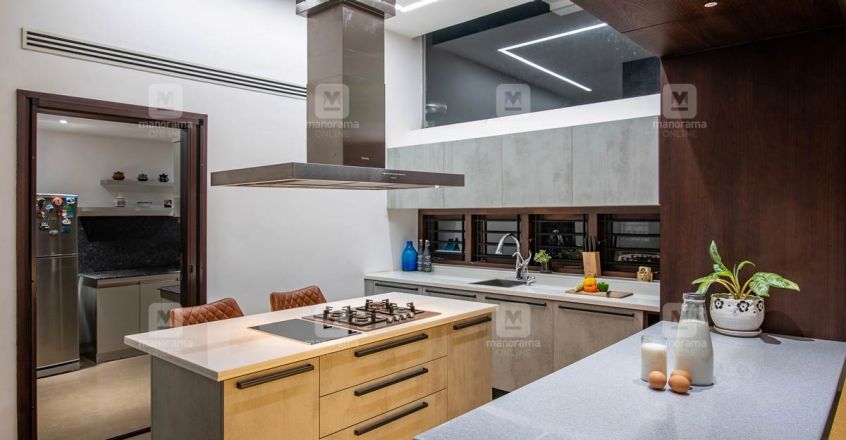 The beautiful abode that celebrates open spaces while ensuring privacy is the perfect abode for a modern joint family. Joseph is excitedly waiting for his sons to return, to enjoy some wonderful moments in his new house.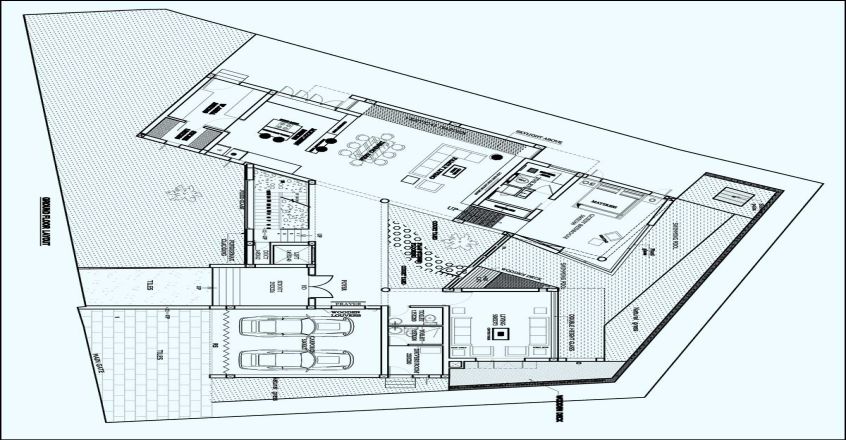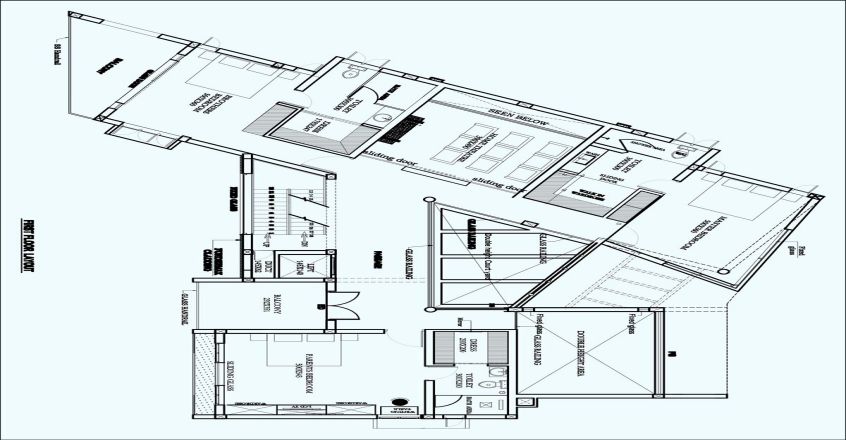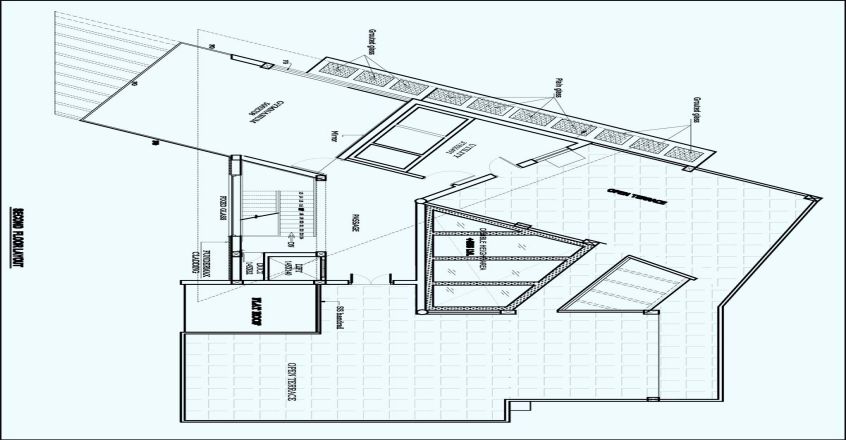 Project Facts
Location – Kakkanad
Plot – 12 cents
Area – 6910 SFT
Owner – PO Joseph
Design – Manoj Kumar
Illusions Architectural Interiors, Kochi
Mob – 9447117701
Year of completion - 2019