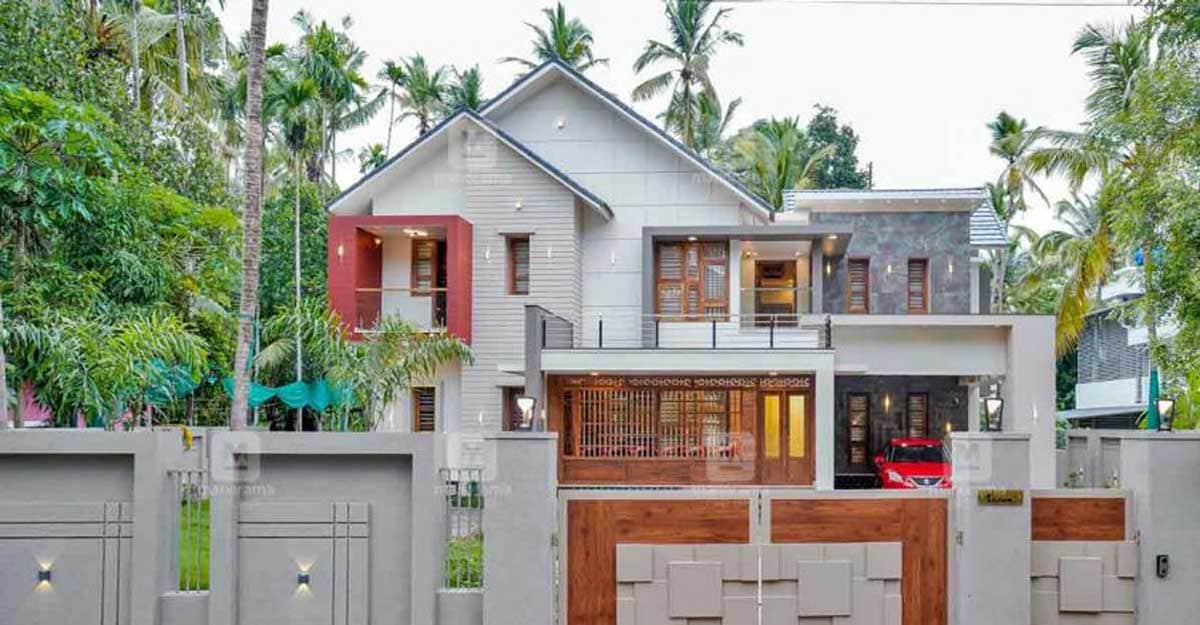 Azeez and his family, who are settled abroad, are thrilled to share their experience of building their dream home at his hometown in Panoor near Thalaserry, Kannur, Kerala. The family wanted a contemporary abode which boasts of modern features and facilities.
The exteriors feature a chic blend of sloped and flat roof. Texture, grove, show wall, cladding and wooden panelling are eye-catching features in the elevation. The unique design from the elevation is repeated on the compound wall as well, to give a consistent look to the house.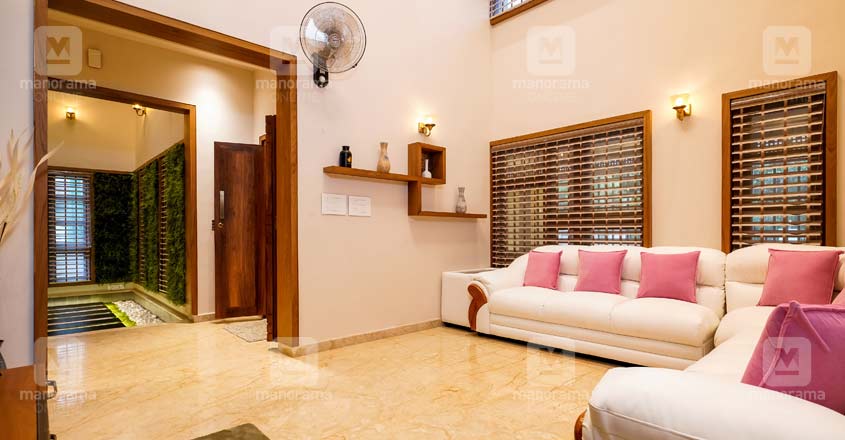 This spectacular mansion, designed in 5400 sq ft, has a car porch, sit-out, living area, dining space, kitchen with work area, five bedrooms, upper living space, balcony and an open terrace.
The array of splendid features begin from the sit-out itself. The wall in the sit out is panelled using exquisite teak wood. This is a significant feature that highlights the elevation. The interiors designed in the semi-open style is spacious.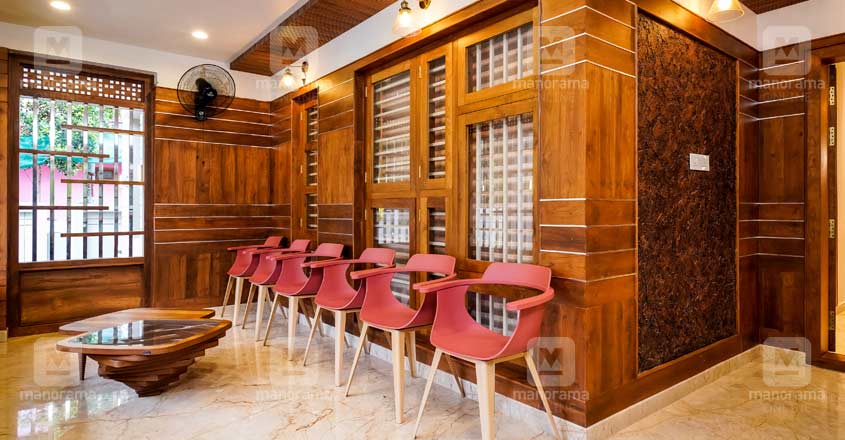 There is a courtyard on the left side of the entrance area. Shiny pebbles and attractive indoor plants are used to decorate this courtyard. Meanwhile, the living area is in double height. This makes the interiors vaster and facilitates natural lighting as well. The classy charm of plywood and veneer furnishing is truly amazing. Exquisite Italian marble, paved on the floor, grants a regal charm to the spaces.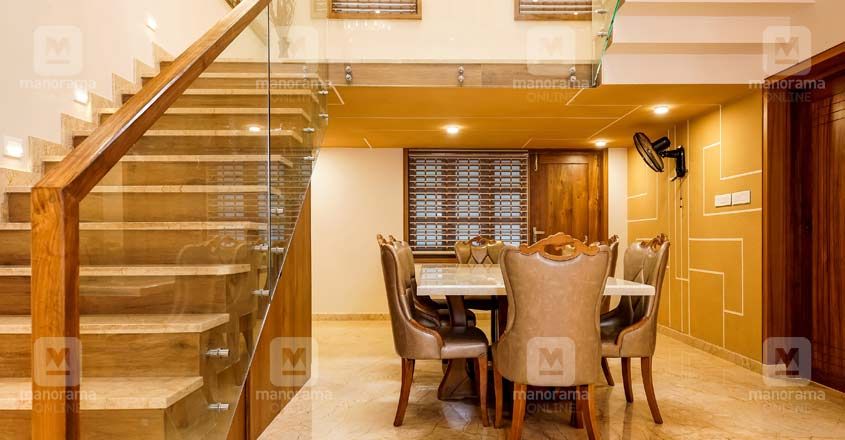 The dining space is arranged just beside the stairway. The double height ceiling here makes the space look incredibly vaster and illuminated as well.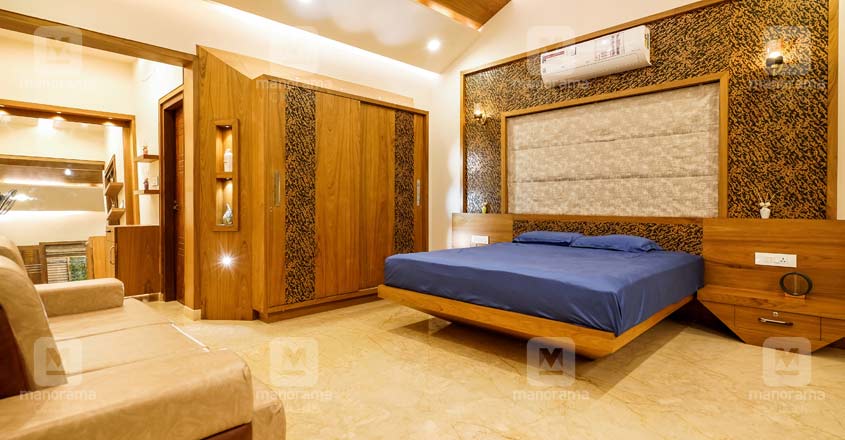 The stairway follows the transparent theme with wood and toughened glass hand railings. The ceiling in the upper living area is quite eye catching as it is made by doing jali works on acrylic charcoal sheet. The stylish hanging lights elevate the amazing ambience of this space.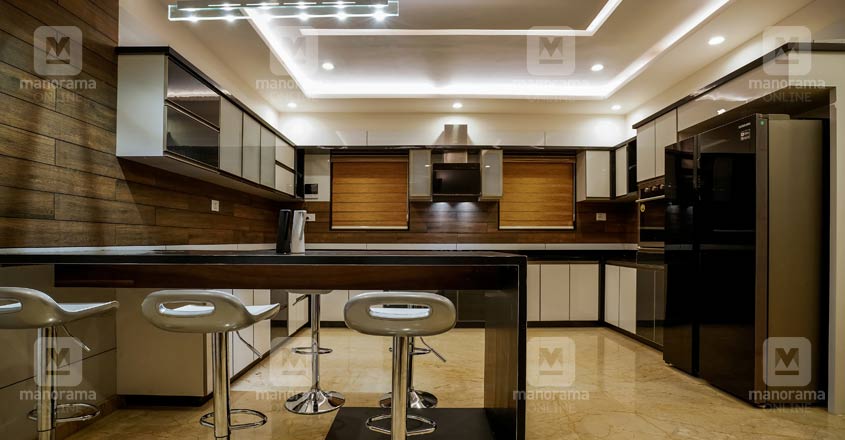 The bath-attached bedrooms are spacious and have in-built wardrobes and separate dressings units as well. Meanwhile, the head side walls are highlighted with attractive panelling and wall papers. Mini courtyards have been arranged close to two bedrooms which illuminates the rooms with natural sunshine.
The kitchen cabinets are done in multi-wood with acrylic finish. Meanwhile, the counter top has been paved with granite. A pantry-cum-breakfast table too is part of the kitchen area.
Azeez is elated that he has built a house of his dreams, which reflects his love for modern facilities and classy features.
Project Facts
Location – Panoor, Kannur
Plot – 12 cents
Area 5400 SFT
Owner – Azeez
Design – Shihaz P Nijeesh
Design Lab
Mob – 9846212536
Year of completion – 2020
Pictures by Akhil Komachi