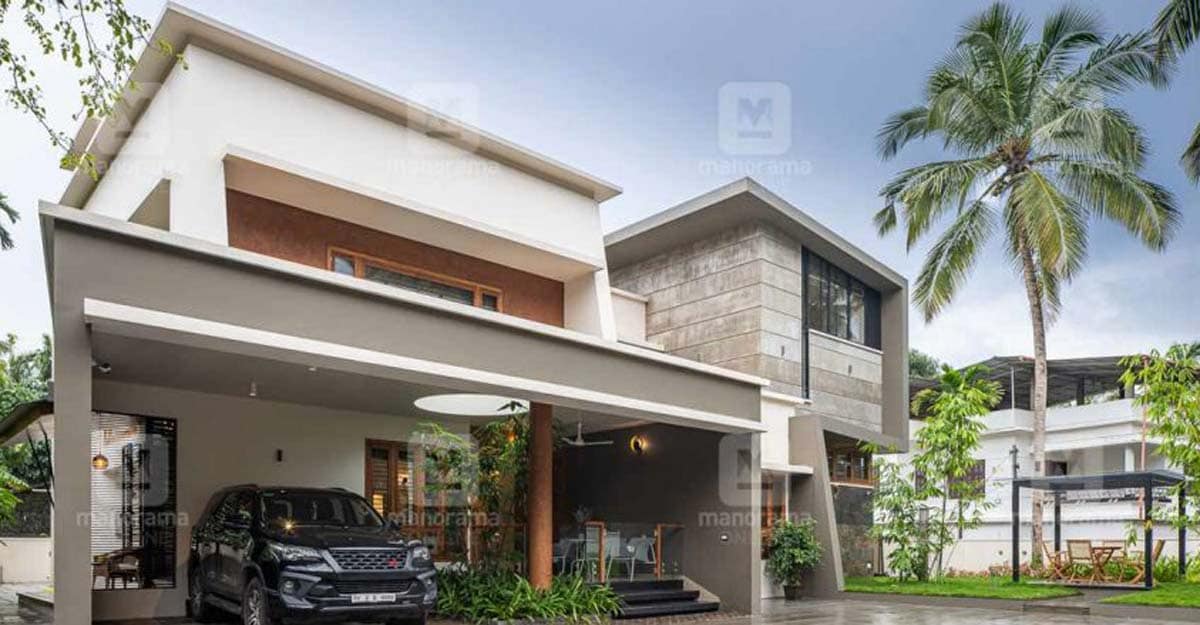 Abu Niyas' brand new house at Chelakkara in Mahe is a beautiful abode that amazingly suits the climate and landscape of the place. The exteriors feature elegant combination of white-red-grey. This interesting palette is continued in the interiors as well. The natural cladding on the outer walls is the highlight here. Meanwhile, the tastefully done landscape plays a vital role in enhancing the beauty of the house. The rustic charm of the natural stones combines with the freshness of the verdant lawns and the beautiful plants in the garden here.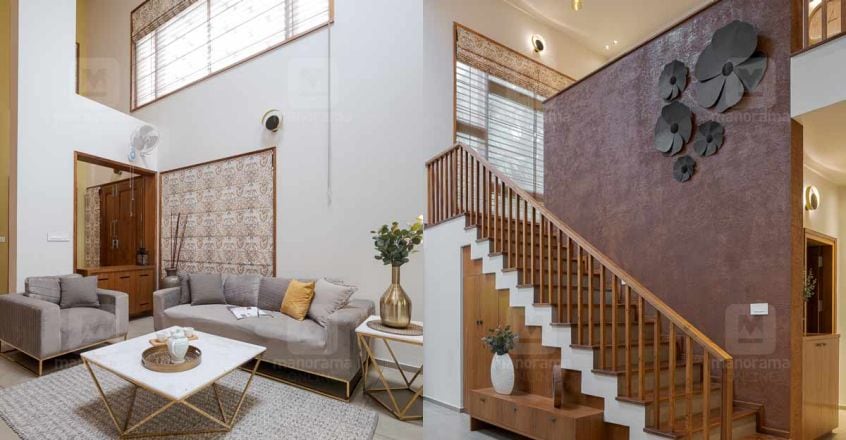 A simple yet stylish gazebo is the highlight of the garden. Glass roofing has been done on GI pillars to build this quaint gazebo. Meanwhile, wooden tiles are paved on the floor.
Designed in 4300 sq ft area, this fabulous abode has a car porch, sit-out, formal and family living areas, courtyard, dining area, kitchen with work area, five bedrooms and a balcony as well.
A comfortable sit-out decorated with pleasant greenery is what welcomes the guests. From here, one could enter the foyer with double height ceiling.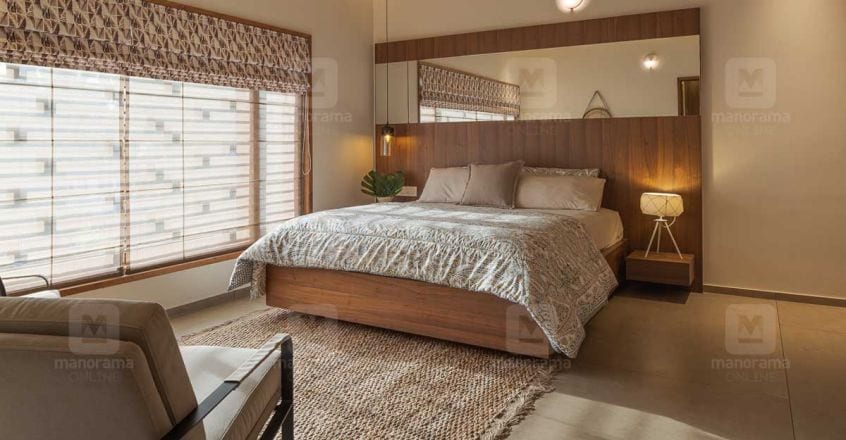 The elegantly furnished formal living area has enough privacy as well. The furnishing done in spectacular grey and white colour combination adds oodles of elegant charm to this area.
The family living area, meanwhile, is designed in double height. The circular skylight on the ceiling looks interesting and brings lots of sun shine into the house. One could get to the patio from here through the sliding glass door. Industrial roofing is done here and sitting spaces have been arranged in this charming patio.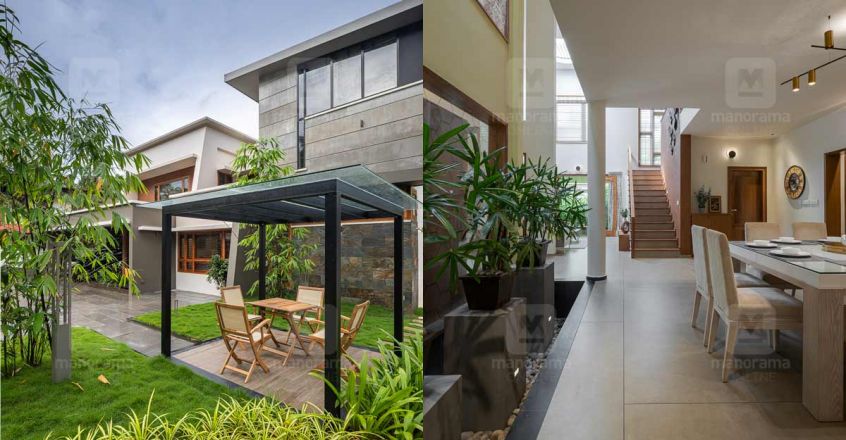 A dining table set in white finish is the highlight in the dining area. The double height courtyard beside the dining area is indeed an attractive feature here. The skylight ceiling illuminates this area with natural sunshine.
The upper living area has been turned into a comfortable reading space. The beautiful hanging pendant lights are quite unique and look classy as well.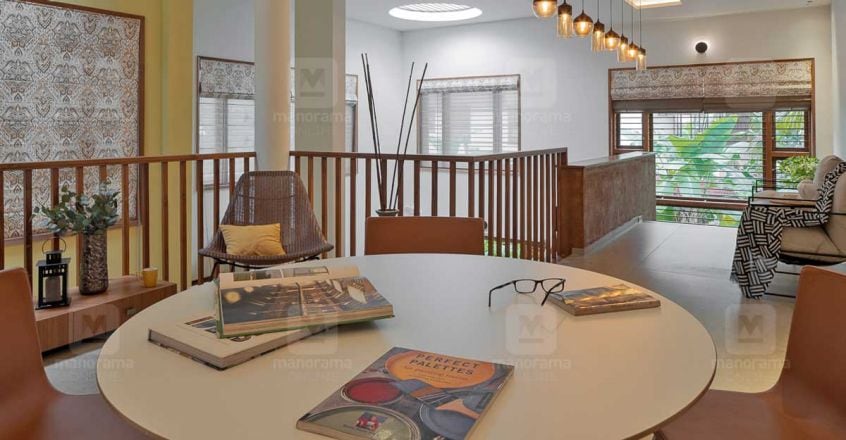 The spacious bedrooms boast of the regal charm of wooden furnishing. Elegant wooden panelling is done on the head side walls, ceiling and on the floor as well. Huge windows fill the rooms with amazing sun light and fresh air. The bath-attached bedrooms have in-built wardrobes for storage and separate dressing and reading spaces as well.
There is a small pantry space between the dining area and the kitchen. Unique handmade tiles are fixed on the backsplash which adds a chic look to the kitchen. Meanwhile, the counter top has been paved with granite. The cabinets in plywood and veneer finish don a pleasant green hue to break the monotony of the even colour tone.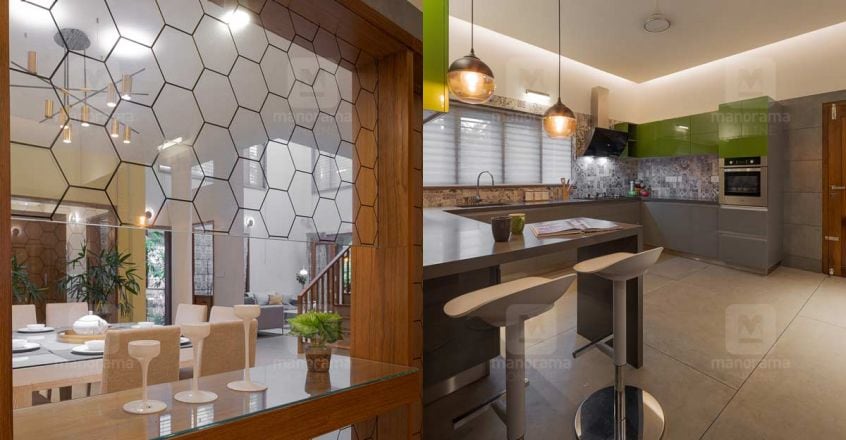 The spectacular house amazingly blends the delightful nature with splendid designs and modern facilities.
Project Facts
Location – Chalakkara, Mahe
Plot – 16 cents
Area – 4300 SFT
Owner – Abu Niyas
Architects – Shabana Rasheed and Nufail Moidoo
Nufail – Shabana Architects, Mahe
Mob – 8086188885
Year of completion - 2019