From the contemporary and the modern to colonial and fusion, the homes in Kerala don features and designs in myriad architectural patterns. However, nothing can beat the classy elegance of Kerala's own traditional architecture which perfectly suits the weather, lifestyle and the unique landscape of the state. Interestingly, the unique features of the traditional style never get outdated and can be easily blended with the modern requirements as well. Jaison's brand new house at Aloor in Thrissur, Kerala, is a wonderful salute to this classic style which is elegant, chic and comfortable too.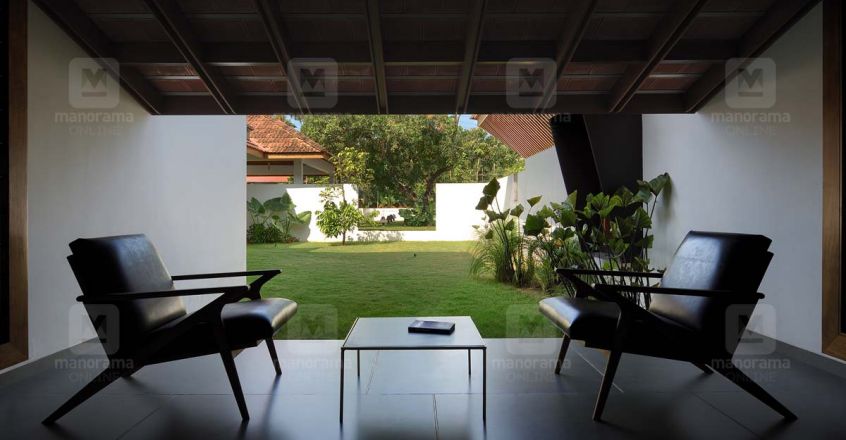 This mansion exudes the classy vibes of an ancient tharavad (traditional ancestral house). The sloped roof in multiple layers is paved with traditional clay tiles. This instantly grants a rustic and traditional charm to the house. Besides, old tiles are reused on the roof to add an old world charm to the structure. The traditional timber framing under the roof is a spectacle in itself.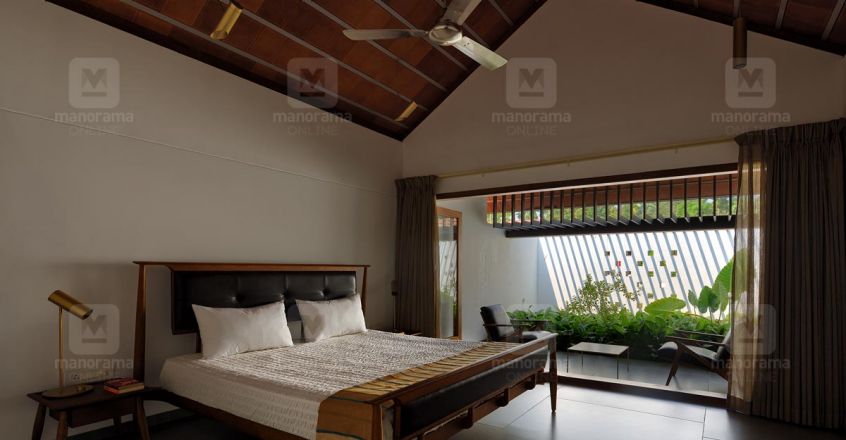 A long corridor is what connects the car porch to the sit-out. Lots of plants line both the sides of this corridor. A small version of the lush greenery outside is arranged in the interiors as well. One could easily catch the incredible view of the central courtyard that is packed with various types of plants, as soon as the entrance door is opened. The spaces are distributed around this corridor as per the traditional style. Cooling showers and warm sun rays flow into the house through the open roof of the central courtyard. The courtyard plays a vital role in pushing out the hot air and keeping the interiors cool.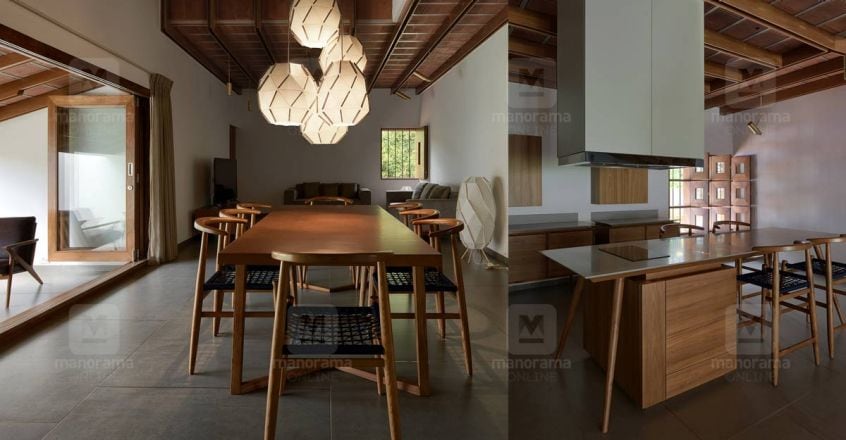 The spectacular mansion, designed in 6500 sqft area has a spacious car porch, sit-out, formal and family living areas, dining space, courtyard, patio, five bedrooms and kitchen with a work area.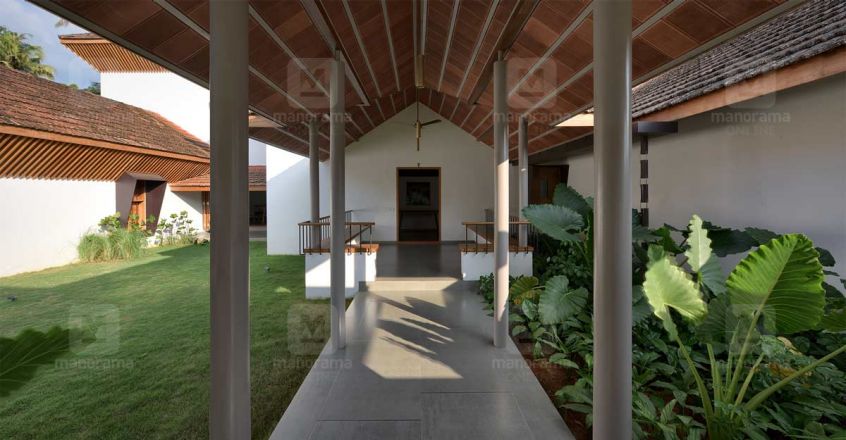 The flooring done in grey coloured tiles is simple yet elegant. Meanwhile, the walls don the lighter shades of hue that is extremely pleasant to the eyes. The living areas, furnished minimally, open to the splendid sight of the courtyard. From the dining area, one could get to patio which is decorated with beautiful greenery through a folding glass door.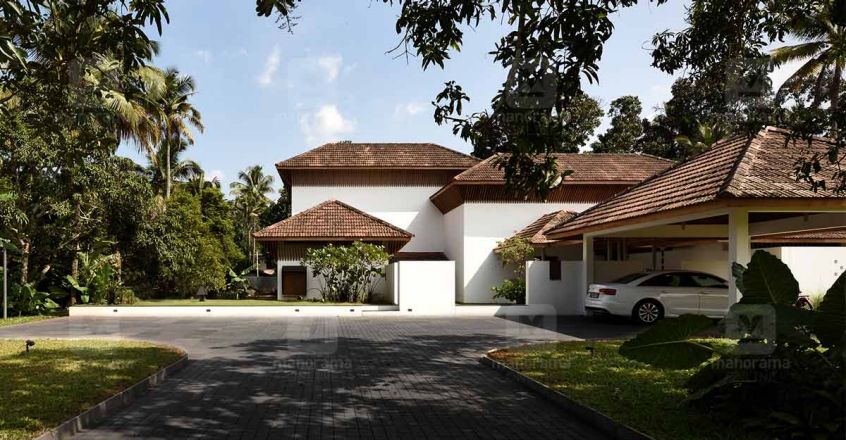 A chic courtyard has been arranged close to the master bedroom. The bedrooms have lots of windows to fill the rooms with cool breeze and pleasant sunshine. There is a verandah and a balcony beside the bedroom in the upper storey to enjoy the beautiful greenery outside. The minimal kitchen, meanwhile, is equipped with all the modern facilities. It is furnished giving prime importance to storage facilities.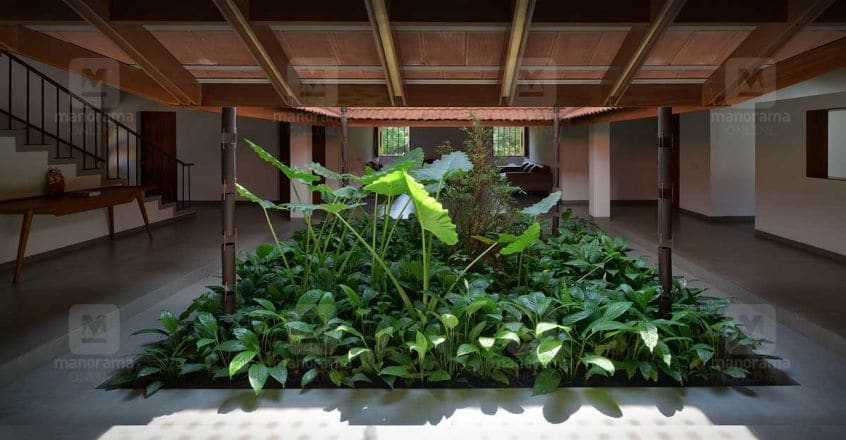 The house stands against a striking backdrop of shading trees and beautiful greenery. The spectacular mansion with the grandeur of traditional architecture, stands out for its modern features and facilities as well.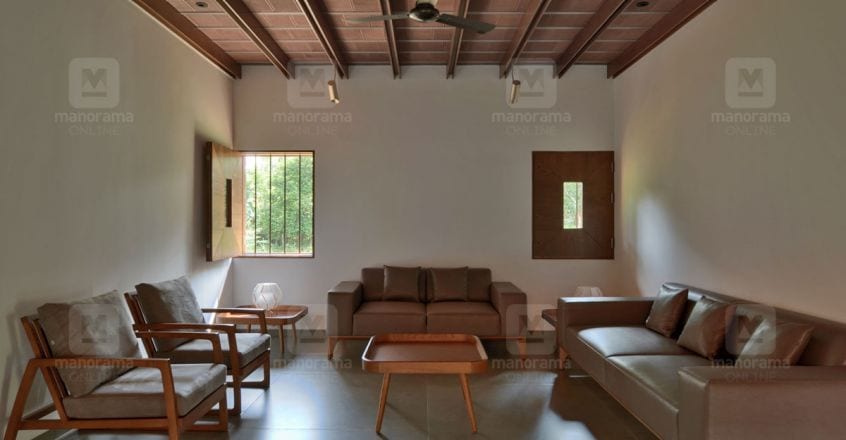 Project Facts
Location – Aloor, Thrissur
Area – 6500 SFT
Owner – Jaison George
Architect – Jayadev Kesavankutty
Stirvi Architects, Ernakulam
Mob – 9846420000
Year of completion - 2020