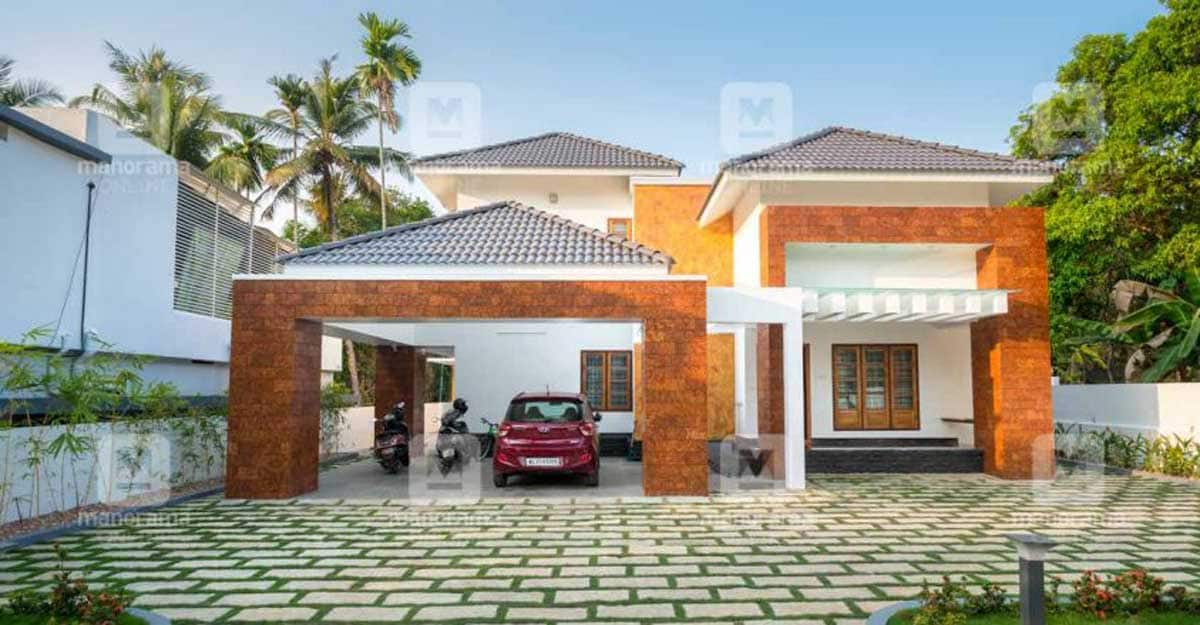 The owner of this splendid house in Aluva, Kerala, wanted a special abode that could nurture a close bond between the family members. Designer Mejo Kurian had kept this in mind while designing this fabulous dwelling. The 12 cents plot that was around 3 feet higher than the road was levelled before the construction began.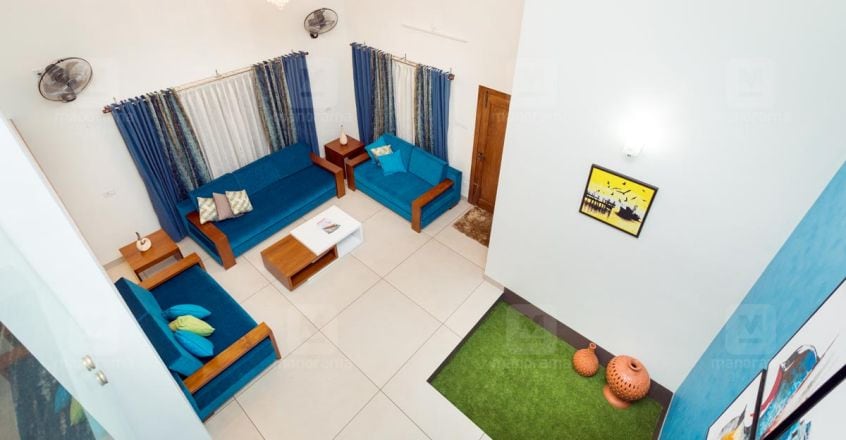 The sloped clay tiled roof, the exterior walls with laterite stone claddings and the beautiful landscape instantly garb attention. Laterite stones are used on the compound wall as well, to match the stylish exteriors. Meanwhile, natural stones and grass have been paved in alternate layers on the front yard. Besides, there are verdant lawns that add a boost of pleasant greenery to the premises. The smartly arranged spaces that allow the family to host gatherings are the highlight of this house.
This spectacular dwelling, designed in 2700 sq ft area, has a car porch, sit-out, formal and family living areas, dining space, courtyard, four bedrooms and kitchen with a work area. Inbuilt seating has been arranged in the sit-out. The interiors, meanwhile, treat you to an array of wonderful sights. The spaces are arranged in the open style which makes the interiors look spacious.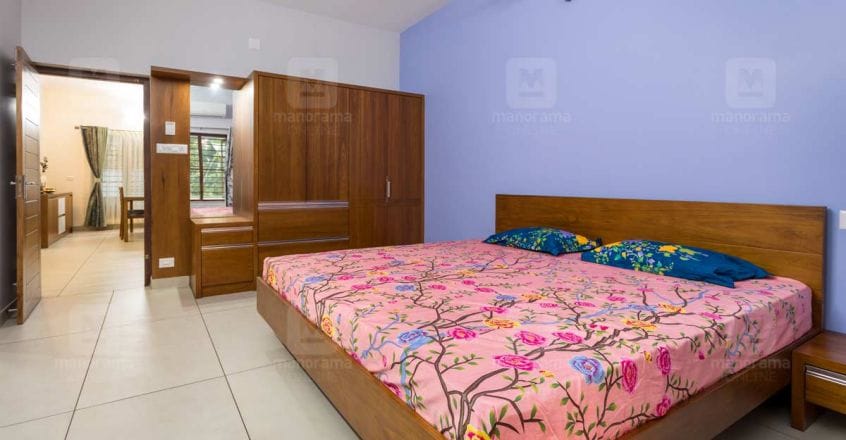 The formal living area has a double height ceiling. The walls highlighted in blue and yellow texture paints here are incredibly attractive. A mini courtyard too has been arranged closer to the formal living area. The pergola glass on the double height ceiling invites pleasant sun shine into the house. The double height ceiling and the open spaces make communication easier between the floors.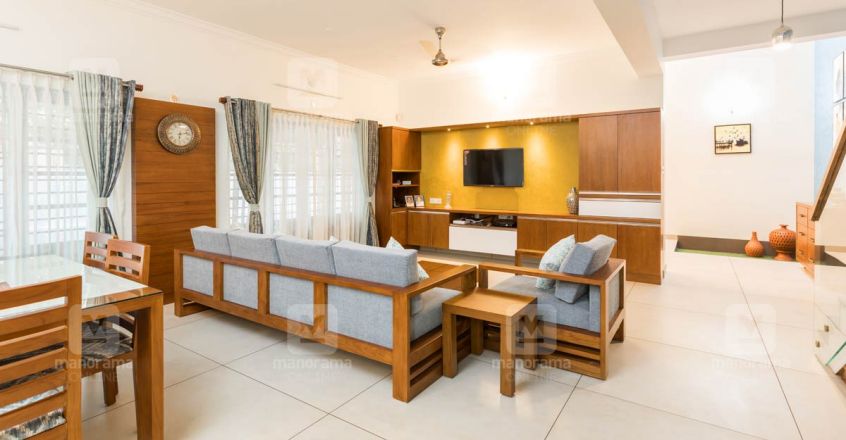 From the amazingly furnished formal living area, one could enter the spacious hall where the family living area, dining space and the stairway have been arranged. A four-fold foldable door is installed closer to the dining area, which opens to the landscape outside. Besides, the interiors would be filled with cool breeze and sun shine if this door is opened.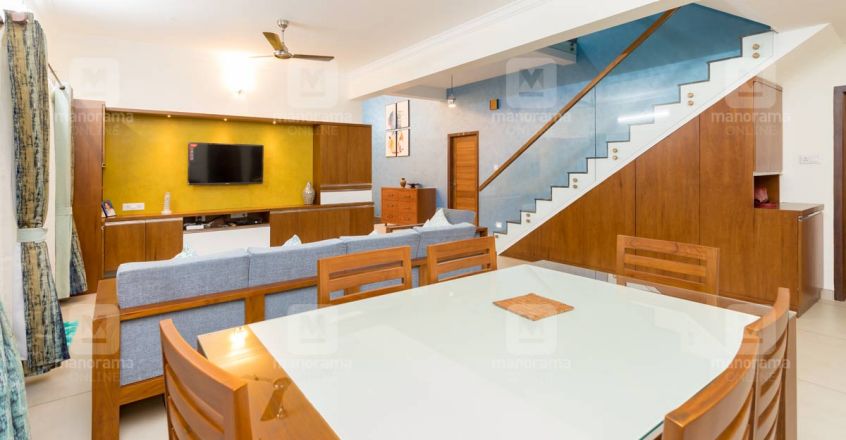 The wall beside the stairway is highlighted with a pleasant blue hue. Meanwhile,the space below the stairway has been turned into a storage unit where the inverter area and a computer table have been arranged.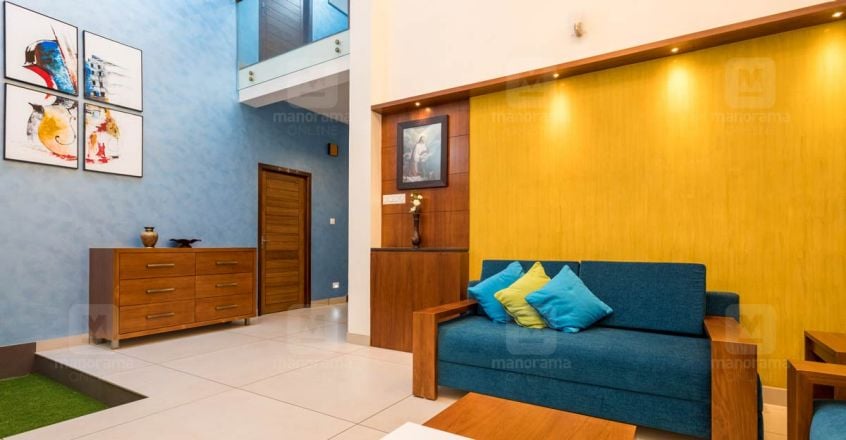 The master bedrooms, kids' room and the parent's bedroom are in the ground floor itself. The bath-attached bedrooms have inbuilt wardrobes and separate dressing spaces as well. A wall each in all the bedrooms is highlighted with a beautiful shade.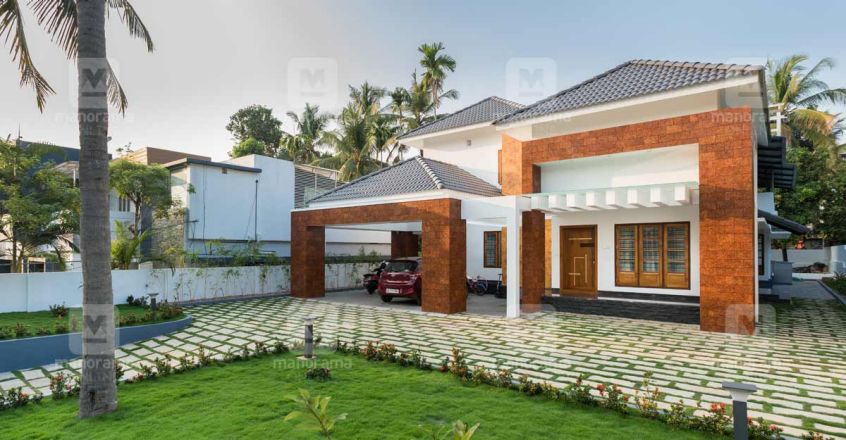 The modular kitchen is extremely functional. The cabinets are done in plywood and veneer. Meanwhile, the counter top has been paved with black granite. A quaint breakfast counter, an adjacent work area and a store room too are part of the kitchen.
The beautiful exteriors and the spacious interiors together lend an aesthetic charm to this marvellous piece of architecture.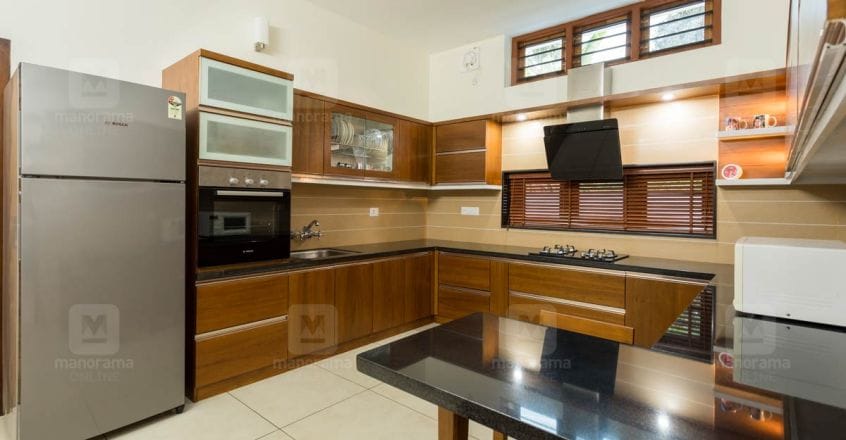 Project Facts
Location – Aluva
Plot – 12 cents
Area – 2700 SFT
Designer – Mejo Kurian
Voyage Designs, Vytilla
Mob – 97456 40027