Mansoor who is settled in Dubai with his family had bought a flat, a few years ago, in his hometown in Perinthalmanna in Malappuram, Kerala. More than an abode to live in, Mansur had intended to buy the flat as a safe investment. When the family reached Kerala for the holidays last year, they entrusted a designer to furnish their flat. However, as they had to return soon, the family communicated their ideas and demands through WhatsApp calls and messages.
"I wasn't interested in spending too much money on furnishing as we wouldn't be staying here permanently. Initially, we had agreed on a budget of Rs 12 lakh with the designer. We wanted the flat to be furnished in a way which makes maintenance easier," says Mansoor.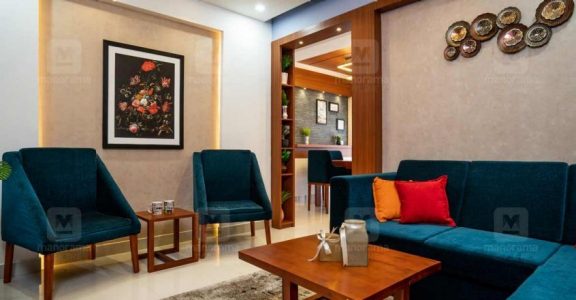 The 3 BHK flat has a spacious formal living area that is adorned with leather couch and chairs in royal blue and a classic coffee table. The 6-seater dining table is compact and doesn't take too much space. The same blue colour theme is repeated in the dining table seats too. The wall opposite the dining area is highlighted with beautiful cladding. The wash area, meanwhile, is separated by installing a CNC wall.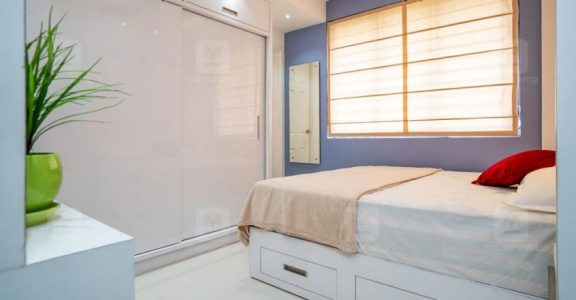 The bedrooms are designed in unique colour themes that are soothing to the eye. Meanwhile, the head side walls are highlighted to add more definition. The cots have concealed storage to include more storage spaces in the rooms. An entire wall in each bedroom is lined with sliding wardrobes to make the rooms more space efficient.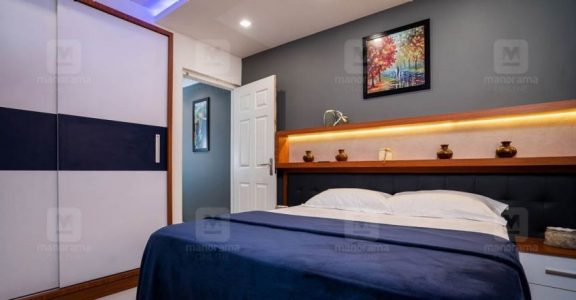 The kitchen is furnished in multi wood with grey paint finish. The open kitchen faces the dining area. The pantry counter has been turned into a mini breakfast table by adding a few chairs here.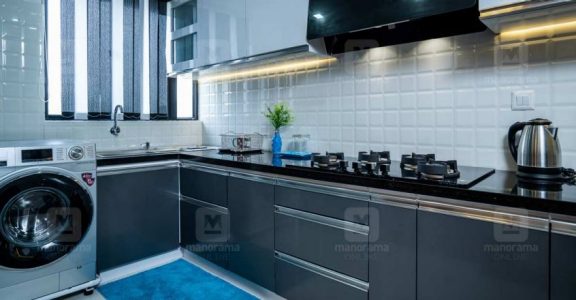 Instead of using expensive decor items, the family and the designer focused on using high quality objects for furnishing. This helped in keeping a check on the expenses too. The high quality semi grade series plywood has been used here. The designer deserves credit for completing the works in just two months, without exceeding the allotted budget. Meanwhile, the family was thrilled to celebrate the house warming ritual of their newly furnished flat in September this year.
Project Facts
Location – Perinthalmanna, Malappuram
Area – 1200 SFT
Owner – Mansoor
Design – Mazzeba Architecture
Mob – 9846626998, +91 6238587292
Year of completion – September 2020
Pictures – Akhil Komachy
Mob – 9746852557