Jamshad, who works as a software engineer in Kuwait, is excited that he could build his dream abode in his hometown at Edavannapara in Malappuram district. After building the structure, the construction of this house got stalled due to various reasons. Interestingly, the interiors were completed recently, during the pandemic times. The owner had demanded that the construction should be completed within a short duration.
The sloped roof has been designed in multiple layers as the area receives ample amount of rainfall. Meanwhile, the front yard has been paved with natural stones. The car porch is just beside the entrance area. Designed in 2500 sqft, this fabulous dwelling has a car porch, sit-out, living and dining areas, kitchen with work area and three bedrooms.
Besides the main entrance door in the sit out, there is another door too in the front which opens to the dining hall. The interiors have been designed in the semi open style. Meanwhile, semi partitions have been installed to separate areas and also to ensure privacy wherever it is required. Long corridors that pass through the dining hall connect this area to the rest of the house.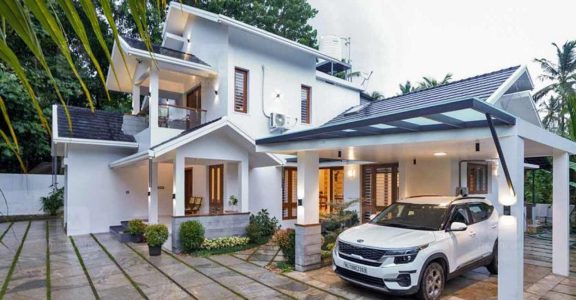 The custom made furniture gels well with the general theme of the house. The floor, meanwhile, has been paved with stylish vitrified tiles. Attractive stone claddings are used to highlight the walls in the living and the dining areas. The gypsum and veneer false ceiling and matching LED and spot lights add a charming ambience to the interiors. Interestingly, the entrance door and the hand railings of the stairway are made in exclusive teak wood granting them a luxurious look and feel.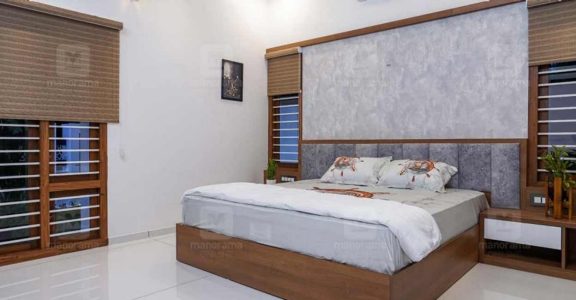 Minimal dining table that doesn't take up too much space is the highlight of the dining area. The white glass top adds a classy sheen to the dining table set. The chairs too are minimal and look perfect with the table. The adjacent wash area has wooden flooring that brings an element of contrast here.
There are two bedrooms in the ground floor while one is in the upper floor. The bedrooms are functional and have all the required facilities. The bath attached bedrooms have wardrobes for storage and separate dressing spaces too. The head side walls are decorated with beautiful wall papers.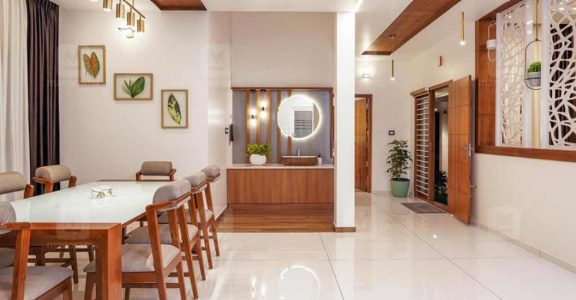 A special door made using pre laminated sheet has been used in the kitchen. The owner adds that this imported door is quite expensive. Meanwhile, the counter top has been paved with artificial grass. A quaint wooden breakfast counter completes the classy look of the kitchen.
Minimalism blends perfectly well with modern amenities to make this beautiful house an absolute winner.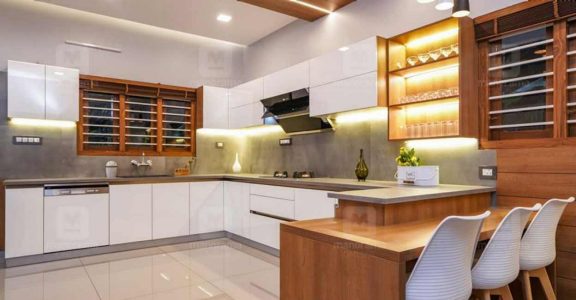 Project Facts
Location – Edavannapara, Malappuram
Plot – 15 cents
Area – 2500 SFT
Owner – Jamshad and Shaima
Interior design – Shabeer
Specula Designs
Mob – 9895230003
Year of completion – 2021
Pictures – Akhil Komachy