Isahak is an engineering who had designed and built hundreds of beautiful abodes for his cutomers across Kerala. So, he had lots of interesting and unique ideas when he decided to build his own dream dwelling at his hometown in Payyanad near Manjeri. The construction of the structure was overseen by the owner himself. Meanwhile, he entrusted his close friend and noted architect Prajeesh to design the interiors. The contemporary style house has vast interiors that ensures abundant supply of fresh air and natural light.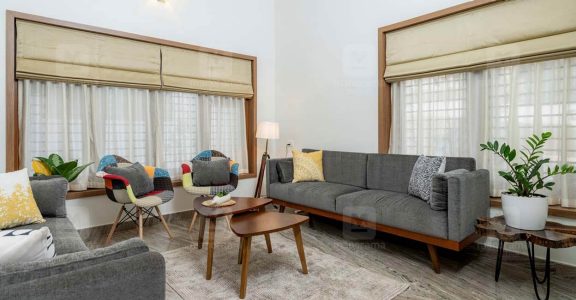 The outer walls don the serene grace of the white hue. Meanwhile, a brick cladding in double height adds the perfect highlight here. The elevation looks as if two flat boxes have been artistically joined. The owner's wife is an ayurveda doctor. Her consultation room has been arranged in a separate block so that the privacy of the house wouldn't be disturbed. The consultation room, meanwhile, is highlighted with grey colour.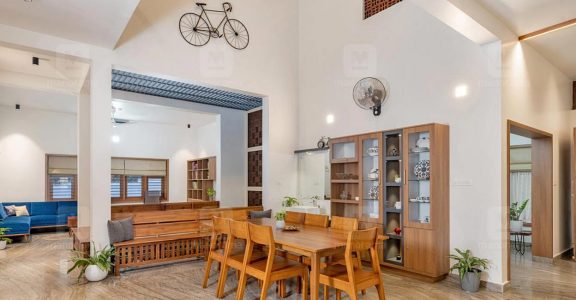 The structure has been built by leaving enough space in the front. Instead of trendy interlocking bricks, baby mettle has been paved on the yard to allow the rain water to seep into the ground.
Designed in 3600 sqft, this splendid abode has a sit out, formal and family living areas, dining space, courtyard, kitchen with a work area, four bedrooms, upper living area, terrace and a consultation room.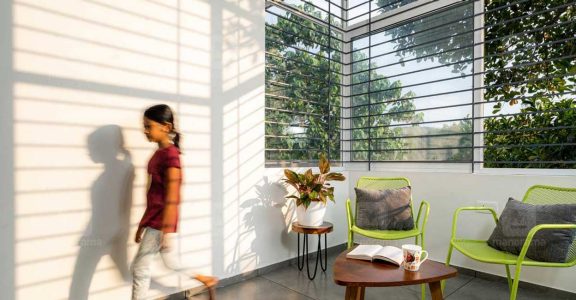 It is a beautiful water courtyard that separates the living and the dining areas. Interestingly, this is the family's favourite spot too. The skylight ceiling here brings natural sunshine into the house. Meanwhile, the jali wall looks spectacular. There is a paddy field on the backside of the house. The windows in the house have been arranged to receive the cool breeze that flow in from the field.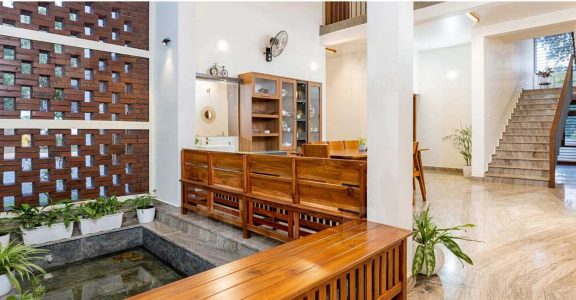 The classy furniture pieces play vital role in making the interiors look incredibly attractive. The custom-made furniture was built on the site by experienced artisans and wood workers. Vitrified tiles have been used for flooring in this house. Meanwhile, the elegance of marble flooring is seen in the sit out.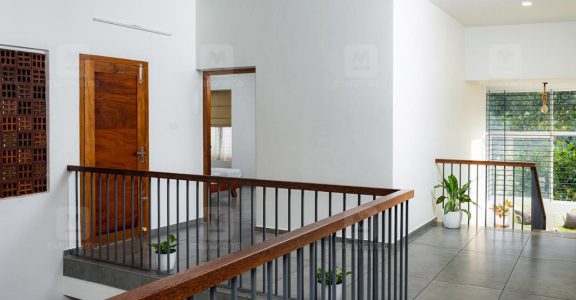 The staircase leads to a comfortable upper sitting area that is cosily furnished.
The cabinets in the kitchen are done in multi wood with mica finish. The counter top, meanwhile, has been paved in granite. Chairs are arranged in one side of the counter to turn it into a quaint breakfast spot.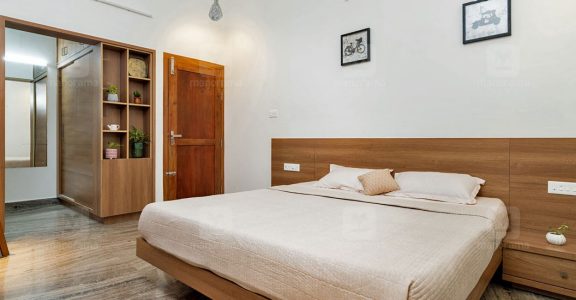 Two bedrooms each have been arranged in both the floors. The bath attached bedrooms have in – built wardrobes and separate dressing spaces too.
This amazing abode could rightly be called a tribute to friendship as a group of friends have worked hard to make it a spectacular place where the owner and his family could create lifelong memories.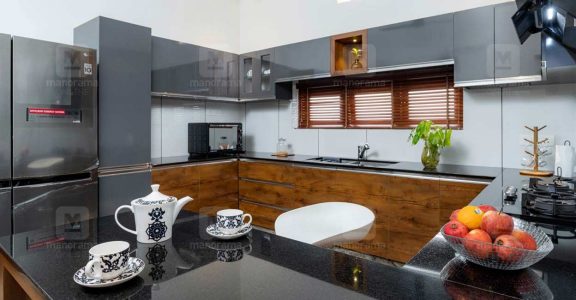 Project Facts
Location – Payyanadu, Manjeri
Area – 3600 SFT
Owner and engineer – Isahak Kurukkal
Designer – Prajeesh
Studio Kothanar Architectural Parameters
Mob – 9656633339, 9656633334
Year of completion – 2021
Pictures – Akhil Komachy