Sheeba, a teacher and her husband Jabal were a bit sceptical when they purchased a 4 cents plot and an old house that stood there, in Ambalamukku, Thiruvananthapuram in Kerala. They agreed to purchase the plot and the house as they got it for an affordable price. However, the old single-storey house that was more than two decades old lacked spacious interiors and other amenities.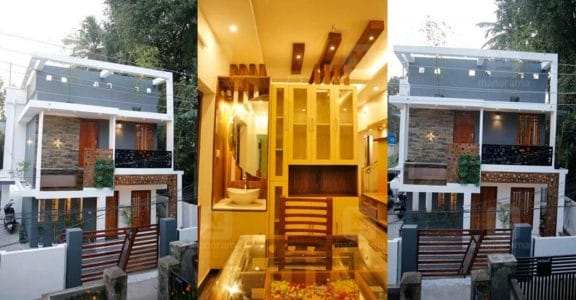 Demolishing the structure and building a new house was quite challenging. So, Sheeba contacted architect Ajmal, who is also her former student to find a solution. Now, Ajmal deserves the credit for transforming this old house into a stellar abode that boasts of splendid interiors and mesmerizing facilities. He realised that even though the interiors were congested, the structure was sturdy enough to carry the weight of an additional floor. Scientific examinations of the structure were done to determine its sturdiness and strength.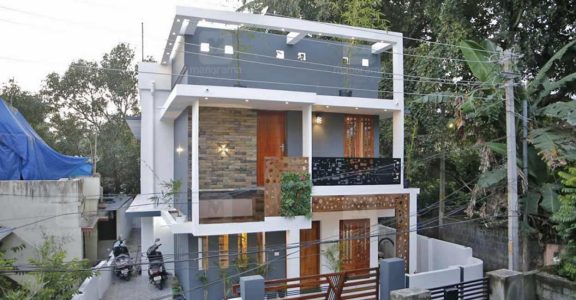 The new elevation features a classy combination of white and grey hues. The CNC jali-works and the cladding wall completely transformed the elevation. Interestingly, the renovated house hardly looks like the old structure. In fact, it is hard to believe that this was once an old single-storey house that didn't have any unique features.
The house previously was a quaint structure of just 900 sqft. Now, it has 'grown' into a double-storey modern abode that sprawls in 1800 sqft. The living and the dining areas, kitchen with a work area and two bedrooms are on the ground floor while the upper floor has one more bedroom and a balcony too.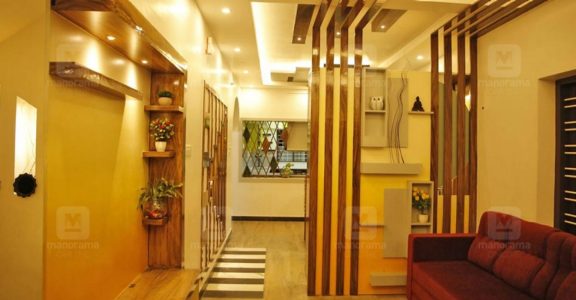 The interiors were rearranged to blow life back into the house. There was an old staircase outside the structure that took up too much space. It was demolished and the entrance area was shifted to the right side. Besides, a new staircase is built inside the house to connect the floors. The double-height wall beside the staircase is amazingly highlighted in golden and black texture paint.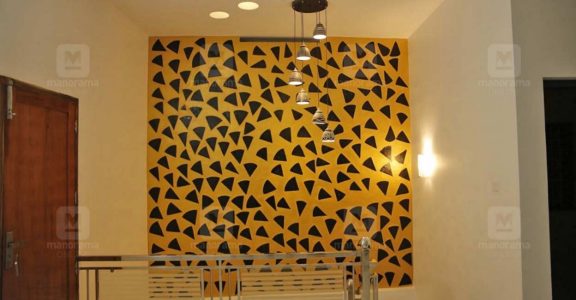 The hall has been separated into living and dining areas by installing a stylish semi-partition. The gypsum false ceiling and the warm-toned lighting grant an alluring ambience to the interiors.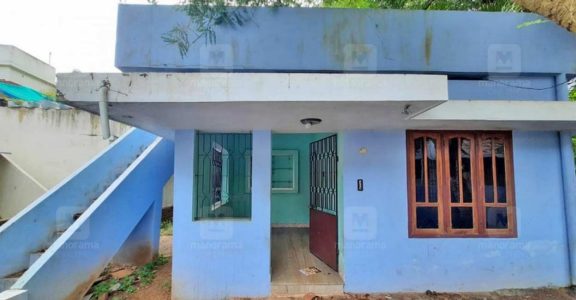 The old kitchen that lacked space has been turned into an open and modern kitchen. The cabinets, meanwhile, are done in plywood finish. Nano white has been paved on the countertop.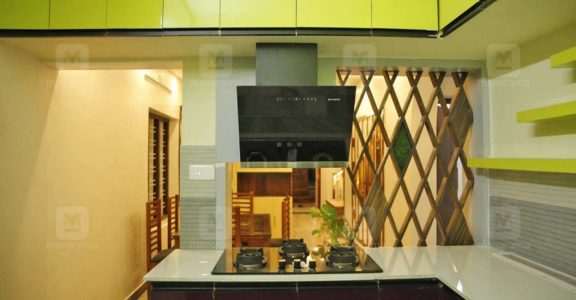 The family is truly in awe of their 'brand–new' house that exudes positive vibes. Meanwhile, the architect is proud that he could offer his best services to his beloved teacher as a way of honouring her.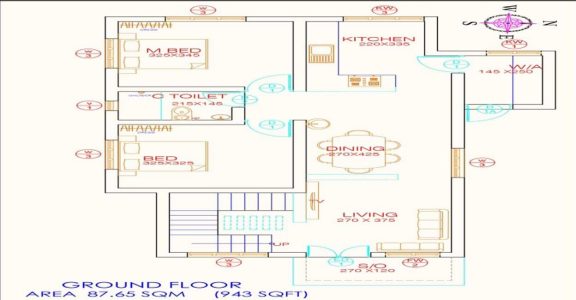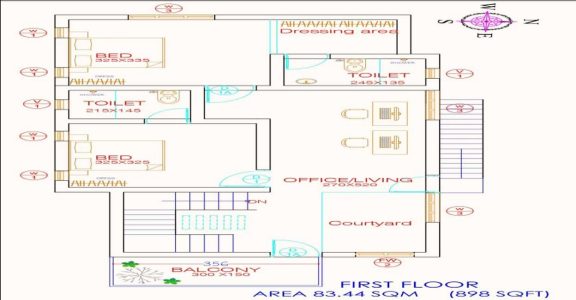 Project Facts
Location – Ambalamukk, Trivandrum
Plot – 4 cents
Area – 1800 SFT
Owner – Jabal and Sheeba
Designers – Muhammad Ajmal and Niyas
Hambrick Builders, Trivandrum
Mob – 7907439383