Dileep and Nitha wanted a cosy house in their 4.5 cents plot on the side of the highway in Kalarcode, Alappuzha in Kerala without causing any harm to nature. Even though the couple approached many designers, they weren't ready to take up the challenge. Finally, architects Ramesh and Shalini agreed to design their dream abode, by catering to the family's wishes.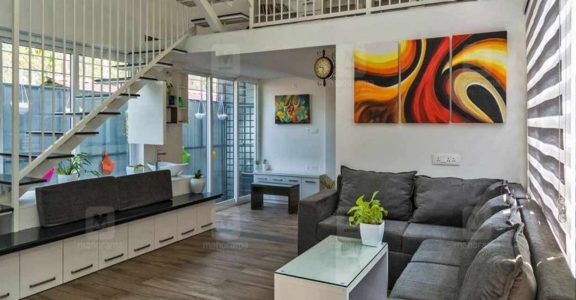 The three-story house has been designed based on the concept of an 'abode that grows into the sky'. The structure has been built using alternative materials to save money and also to ensure that it is eco-friendly. The middle and the top floors aren't concrete-proof; instead, a bison panel has been installed on the steel structure and the floors have been painted. Besides, AAC blocks and bison panels are used to separate the rooms too.
The structure is lightweight as the use of concrete is limited. Meanwhile, the foundation too has been done in the column footing style.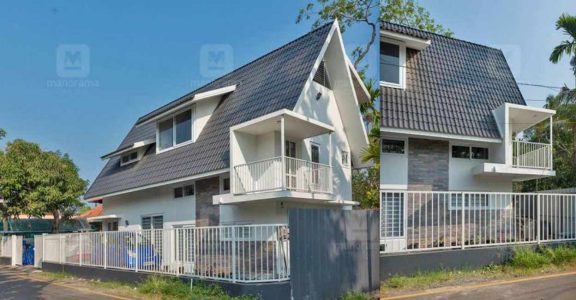 The roof in the shape of 'A' is the highlight of the elevation. Besides adding a chic look to the elevation, it makes the structure space efficient and has helped in reducing the construction cost too. Interestingly, this roof acts as the wall of a room on the top floor, thereby allowing an additional bedroom here. Meanwhile, concrete roofing tiles have been used. As the house is built in a smaller plot, lots of storage spaces had to be arranged. The limited use of timber helped in reducing the expenses. The doors and windows are done in UPVC and glass. Meanwhile, the furniture pieces are made in GI tubes with upholstery works. Square tubes have been used on the hand railings of the staircase. Vitrified tiles are paved on the floor only in the ground floor. Bison panel flooring has been done on the middle and top floors.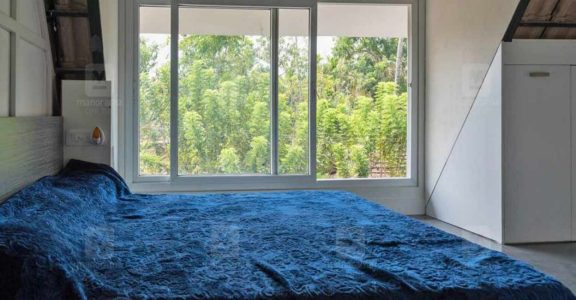 The house, designed in 2800 sqft, was constructed on a pocket-friendly budget of Rs 27.5 lakh. This is an incredible feat as it would take at least Rs 56 lakh to build such a house using regular construction materials.
Project Facts
Location – Kalarcode, Alappuzha
Plot – 4.5 cents
Area – 1700 SFT
Owner – Dileep and Nitha
Architects – Ramesh Krishnan, Shalini
Archifex Architecture Studio, Alappuzha
Mob – 9633604068