Vishwanathan who runs a business at his hometown in Ozhur, Malappuram, Kerala, has recently moved into his brand new house. The family wanted their dream abode to stand out from the other houses in the neighborhood. So, the elevation features a classic colonial style with spacious front yard. The structure has been built by leaving lots of space in the front so that one could enjoy the view of the elevation, in all its grandeur, from the road.
The sloped roof is paved with roofing tiles. Meanwhile, the dormer windows add that unique colonial panache to the elevation. The doors are done in timber with PU paint finish.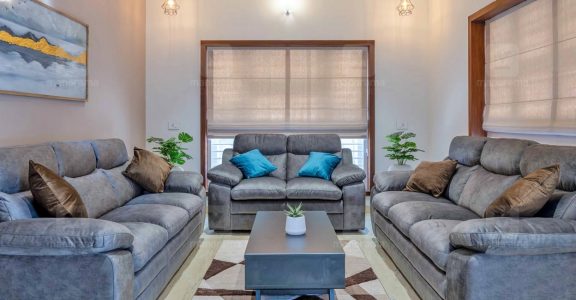 Designed in 2950 sqft, this graceful abode has a sit-out, formal and family living areas, dining space, courtyard, kitchen with an adjacent work area and two bedrooms on the ground floor. Meanwhile, there is a living area, two more bedrooms and a balcony on the first floor.
The furnishing done in plywood with veneer finish looks regal. Meanwhile, the custom-made furniture pieces perfectly match the theme of the house. Locally available Katni marble has been paved on the floor. The spacious dining hall is the soul of the house. This area has been designed as an open space. Meanwhile, the family living area is arranged just adjacent to the dining space. The courtyard is aesthetically designed with indoor plants and terracotta jali walls. A glass panel has been paved on the GI ceiling frame to bring in natural light. The koi fish pond here is an enchanting addition that grants a surreal ambience to this area.
The bedrooms are minimal yet elegant. The bath-attached bedrooms have in–built wardrobes too.
The kitchen cabinets done in multi-wood with PU paint finish looks neat. The countertop, meanwhile, has been paved with granite. The adjacent work area completes the modern kitchen.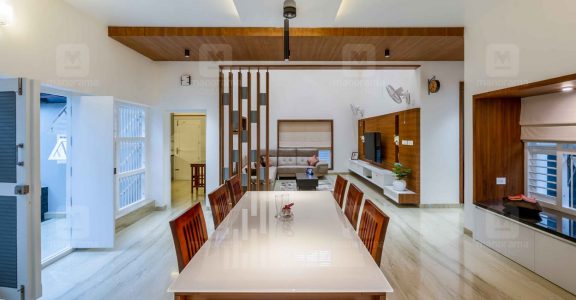 The family is joyous that their house has become one of the major landmarks in the locality.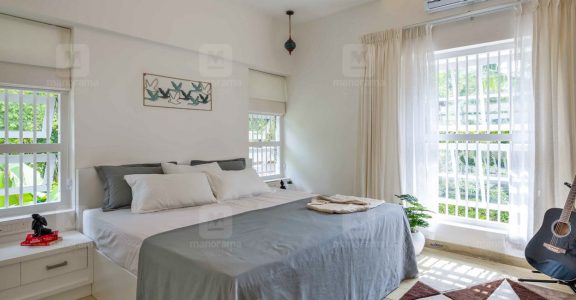 Project Facts
Location – Ozhur, Malappuram
Area – 2950 SFT
Owner – Vishwanathan
Architect – Rohith Roy
RR Architects, Malappuram
Mob - 9809146231