Tom Mathew's brand new house at Cherppunkal in Pala. Kerala, stands out for its amazing designer features and scintillating amenities. The structure has been built to suit the unique layout of the plot that lies in multiple layers. Even though the structure looks like a huge double storey house from the outside, it in fact is a beautiful single storey house. However, the double height spaces make the interiors look and feel incredibly vast.
Designed in 3000 sqft, this splendid abode has a sit out, formal and family living areas, courtyard, dining area, kitchen with a work area and four bedrooms too. The house has a slanting roof to suit the unique weather patterns of Kerala. Mangalore stones have been paved on GI truss roof. Meanwhile, the gobble roof above the sit out looks spectacular and plays a vital role in bringing in natural sunshine.
The traditional style chaarupadi or the sitting space in the sit out boasts of the grand elegance of teakwood finish.
Interestingly, the courtyard is one of the most attractive spots in the house. The family living area too has been arranged close to this. You could relax on the in – built benches here. A designer wall paved with laterite stone cladding is the highlight here. Meanwhile, lots of natural light enter the house through the pergola roofing.
The formal living area is compact and well furnished. The furnishing done in wooden finish add a chic ambience to this area. The wall panelling, ceiling and the shelf are all done in wooden finish. A beautiful mix of vitrified tiles and wooden flooring could be seen on the floor here. The dining area is arranged as part of an open hall. There is an adjacent living area to ensure privacy. The compact staircase does not take up much space. The wash area too has been arranged close to the stair area to save space.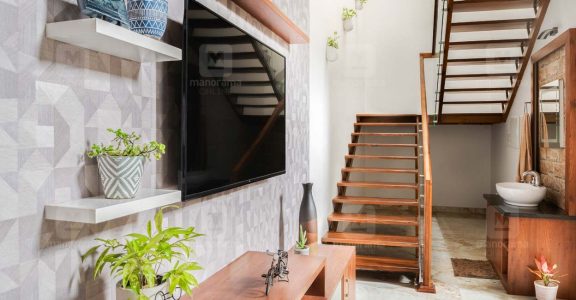 The kitchen is designed in the classic grey and wooden theme. The cabinets, meanwhile, are done in marine ply with laminate finish. Nano white has been paved on the counter top. The scintillating elegance of wooden furnishing could be seen in the bedrooms too. The bath attached bedrooms have separate dressing areas and wardrobes too.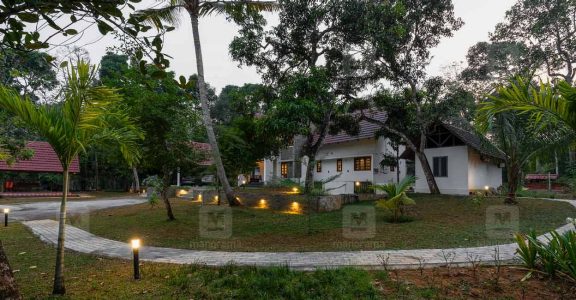 The structure blends well with the natural setting of the surrounding area. You could easily enjoy the cool breeze, golden sunshine and the greenery from various spots in the house.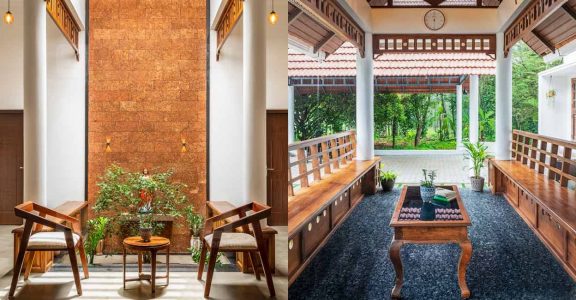 The family is happy that they had decided to build a single storey house as it helps in keeping the family relations warmer. Moreover, it is not a hassle maintaining such houses.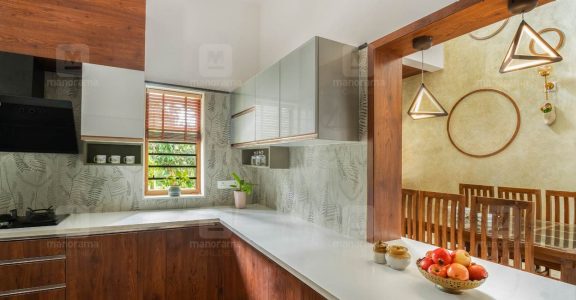 Project Facts
Location – Cherppunkal, Pala
Area – 3000 SFT
Owner – Tom Mathew
Architect – Yadu Mohandas
Viroha Architects, Thodupuzha