Anitha's six-and-a-half decades old ancestral house at Pathanamthitta Town in Kerala is also an abode of a million memories and nostalgia for the family members. The grand old house has been home to three or four generations of ancestors. Moreover, it bore the loving memories of Anitha's late husband. So, she wanted to preserve the memories and the house by renovating the structure instead of pulling it down and building a new house. Architect Ronson who is also a close friend of Anitha's son had taken up the responsibility of giving this house a fabulous makeover.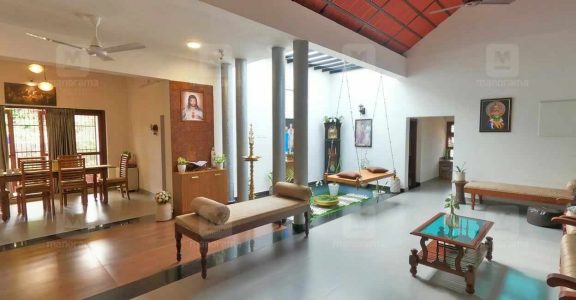 Natural light shied away from the congested rooms in the old house. This was overcome by rearranging the spaces in the interiors. The redundant inner walls were knocked down to make the interiors spacious.
Anitha wanted long and spacious veranda which is decked with beautiful indoor plants. The entrance door opens to a spacious hall. The well-furnished living area is arranged here. A quaint spot has been newly separated as the prayer area.
The courtyard which brings oodles of natural sunshine into the house is the highlight of the interiors. A family photo has been placed in the centre of the courtyard. Meanwhile, a hanging cot completes this charming area.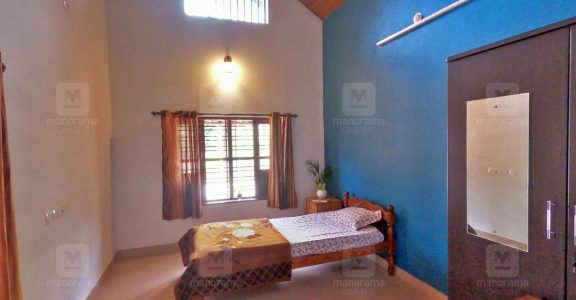 The dining area is arranged just behind the prayer spot. The sliding glass door here opens to the adjacent patio where the wash area is arranged. Interestingly, the grill works are done using the iron rods from their old kennel. Cool breeze and golden sunshine enter the house if this glass door is opened.
There are five bedrooms in this house. The old bedrooms have been given a modern makeover. Attached bathrooms have been newly added to the bedrooms.
The old chimney in the kitchen has been turned into a skylight. So, there is no need to switch on the lights in the kitchen during the day. An adjacent work area completes the kitchen space.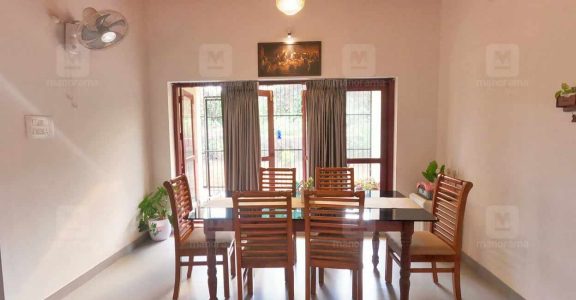 The renovated structure has an area of around 2400 sqft. The family was able to do the renovation works for a pocket friendly budget of Rs 25 lakh. They are joyous that their old house got a modern facelift, that too, by retaining the special memories.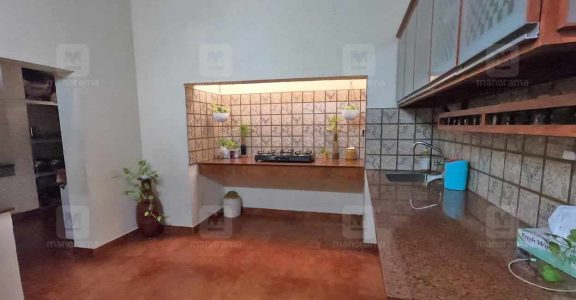 Project Facts
Location – Pathanamthitta Town
Area – 2400 SFT
Owner – Anitha
Architect – Ronson R
Gaggle Architects