Sidheek, an expatriate has always wished to build his dream abode in his hometown in Chavakkad in Thrissur, Kerala. This modern house has been designed to suit the tropical weather of Kerala. The tiled paved roof in multiple layers is the highlight of the elevation. Truss roof has been installed over flat roof and is then paved with roofing tiles. This feature helps in reducing the heat inside the house.
Interestingly, the structure stands in the centre of a lavishly designed landscape. The front yard which is paved with natural stones is extremely spacious. Meanwhile, a wide variety of plants and trees make the garden area incredibly attractive.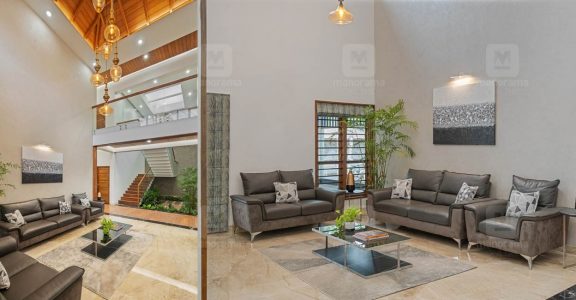 Designed in 6160 sqft, this luxury mansion has a car porch, sit-out, formal and family living areas, dining space, courtyard, upper living area, kitchen with an adjacent work area and five bedrooms.
The entrance door opens to a well-decked formal living area and an adjacent family living area with a double-height ceiling. This makes the spaces look incredibly vaster. The elegant TV unit enhanced with double-height veneer panelling is the highlight of the family living area.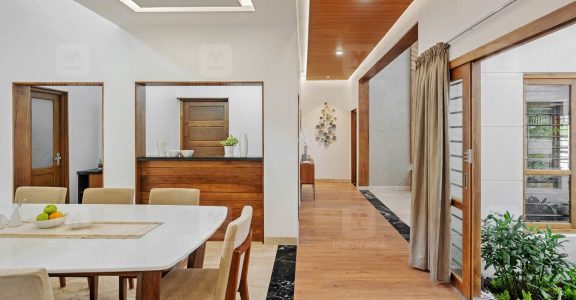 The Italian marble flooring add a regal ambience to the interiors. Meanwhile, wooden finished tiles have been used for flooring in the corridors. The gypsum ceiling, which is highlighted with profile and LED lighting adds a scintillating charm.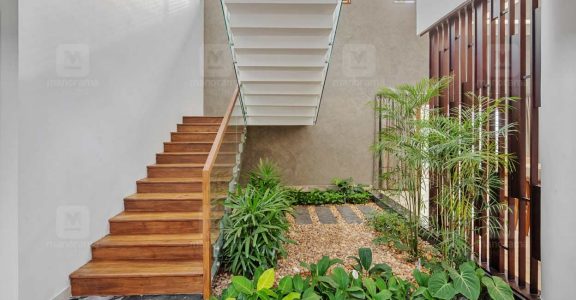 The staircase is compact and saves space. A beautiful inner courtyard is arranged beneath the stairway. This serene spot is decorated with shiny pebbles and indoor plants.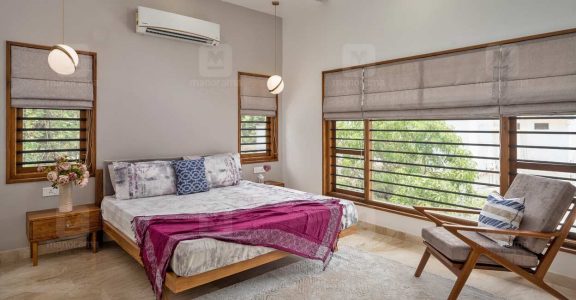 The luxuriously designed bedrooms are spaces of comfort. The head side walls are highlighted with unique designer elements. Meanwhile, the cot and the furniture crafted in teak wood grant a regal touch. The bath-attached bedrooms have separate wardrobes too.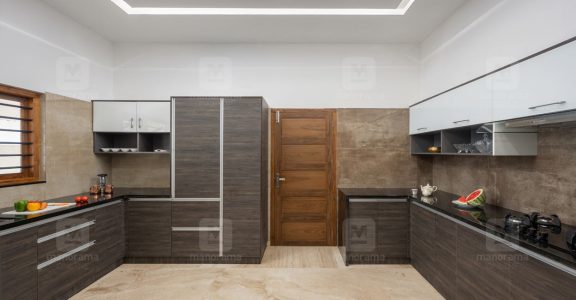 The spacious kitchen has an adjacent work area which is designed in the open style. The cabinets, meanwhile, are done in lacquered glass with laminate finish.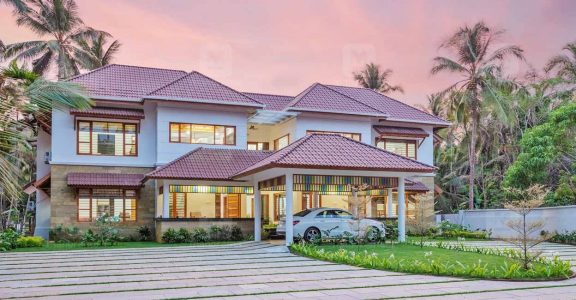 The family is delighted that their fabulous mansion has become the talk of the town for its opulent features and modern amenities.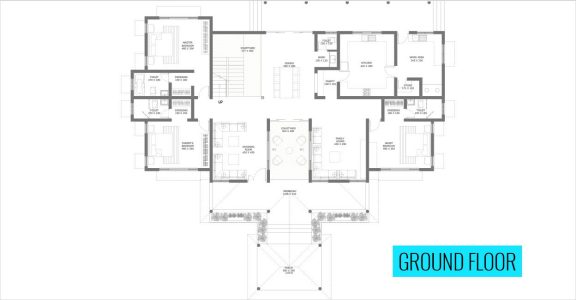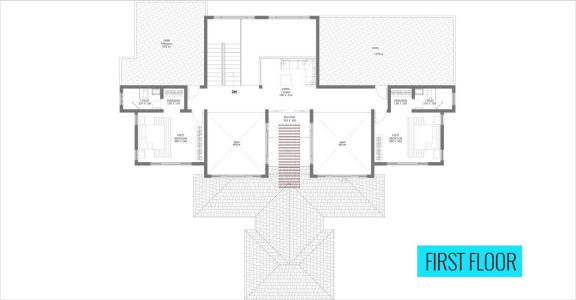 Project Facts
Location – Chavakkad
Plot – 80 cents
Area – 6160 SFT
Owner – Sidheek Aboobacker
Architect – Lameez PM
LPM Architects, Irinjalakkuda
Year of completion - 2022