Sreekanth's brand new house in his hometown in the beautiful countryside of Koovapadi near Perumbavoor in Kerala stands out for its contemporary and fusion elements. Interestingly, this house was designed by Prasad and his daughter Haritha who is an architect.
The structure has two 'faces' which is an interesting feature. Besides the simple entrance area, the house dons a different look from the right side. The box elevation is compact and elegant. The double 'faces' and the elevation have been designed strictly following the rules of the Vastusastra.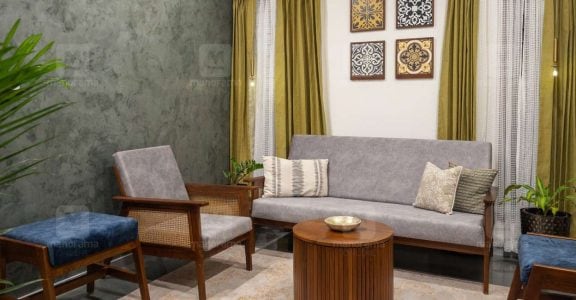 The house that stands in a spacious 30 cents plot boasts of vaster front and backyards. The designer landscape adds to the fabulous look of the house. Tandoor stones and lawns paved with pearl grass and terminalia make the landscape look incredibly appealing.
Designed in 3400 sqft, the amazing abode has a sit-out, formal and family living areas, a dining area, a kitchen with a work area, and two bedrooms on the ground floor. Meanwhile, the upper floor too has a living area, library cum study space, two bedrooms and an open terrace.
The interiors are designed with a rustic theme. So, the walls mostly don lighter shades of hues that are pleasant to the eyes. Meanwhile, the family wanted to experiment with the flooring. A mix of regal Italian marble, kota stones, granites and wooden flooring add to the general theme of the house.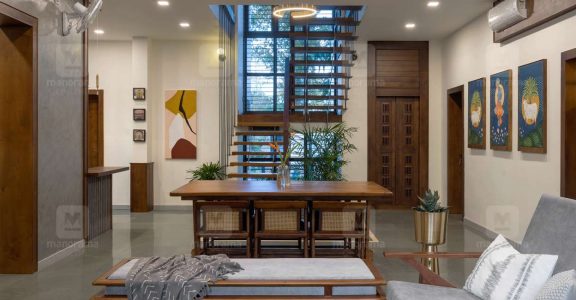 The grey texture wall in the living area is the highlight here. Meanwhile, the pastel-hued furniture pieces strike an amazing contrast.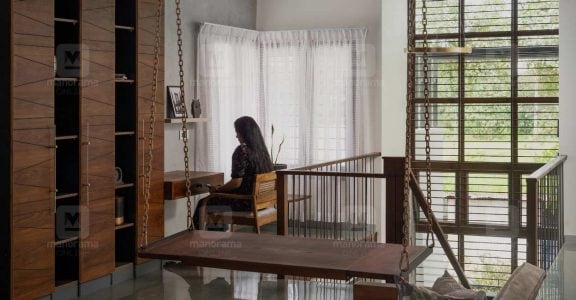 The folding glass door in the family living area lets in oodles of sunshine. This door opens to the patio space outside.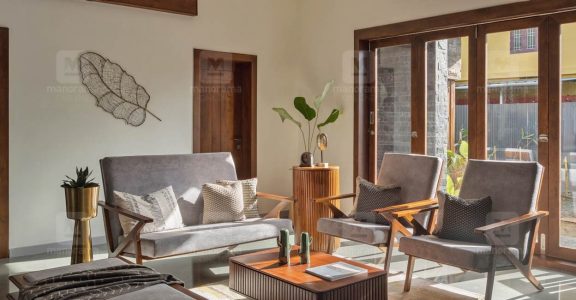 The floating-style staircase is compact and looks fabulous too. The hand railings, meanwhile, are done in the classic combination of wood and glass. The pebbled courtyard beneath the staircase is a charming spot inside the house. This area is decorated with indoor plants to add a hint of greenery. There is a double-height window on the walls close to the stair area which brings in natural sunshine.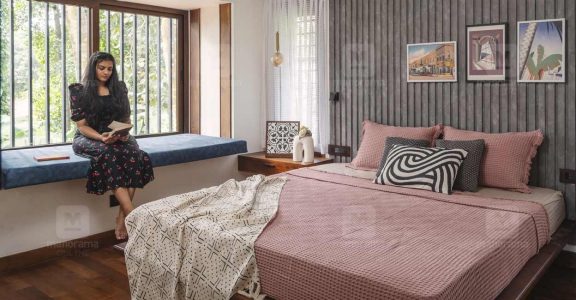 The modern kitchen is designed in a white and grey colour theme. The cabinets, meanwhile, are done in marine ply with laminate finish. Quartz is paved on the countertop. A quaint breakfast counter completes the kitchen area.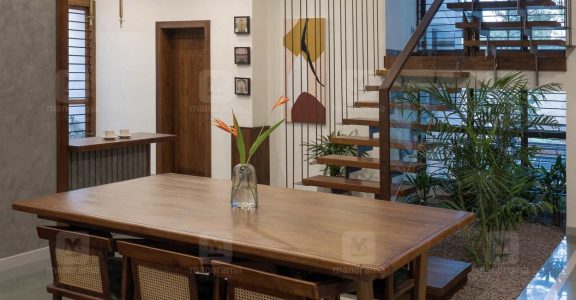 The bedrooms are designed with unique themes. The head side walls are decorated with floated panels and attractive wallpaper. Interestingly, the bedroom on the upper floor has a bay window. The family members like spending time in this cosy spot.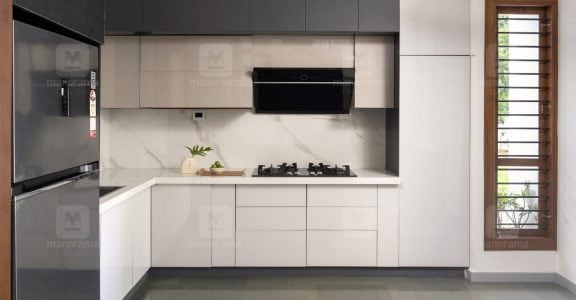 The family is elated that they have got the house of their dreams with minimal interiors and classy design features.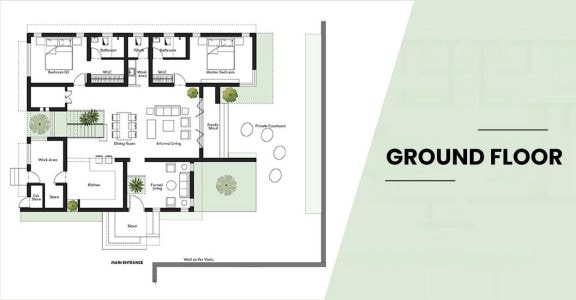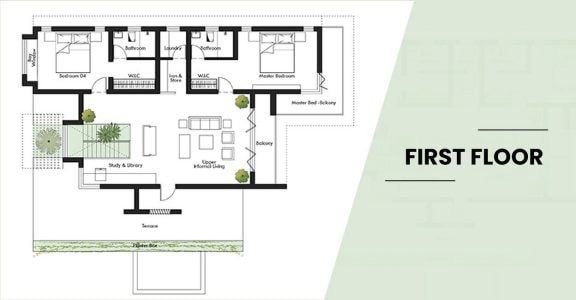 Project Facts
Location – Koovappady, Perumbavoor
Plot – 30 cents
Area – 3400 SFT
Owner – Sreekanth KK
Architect / Designer – Haritha Prasad/ Prasad D
The Inside Eye Design Studio, Ernakulam
Year of completion - 2021