Akhil has built his dream abode in a 6.5 cents plot in the countryside of Nettayam in Thiruvananthapuram, Kerala, away from the bustle of the city.
The elevation features a contemporary flat box style to suit the small plot. Meanwhile, the terracotta jali works on the elevation instantly draw attention.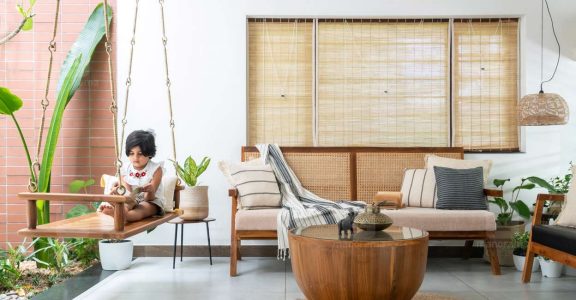 The house which is called 'Nirupamam' stands out for its simple yet elegant interiors. Designed in 3100 sqft, this splendid abode has a car porch, sit-out, living and dining areas, courtyard, upper living area and four bedrooms.
There is a quaint pebble courtyard close to the sit-out, welcoming the guests with a pleasant sight. This spot is decorated with indoor plants to add a hint of greenery.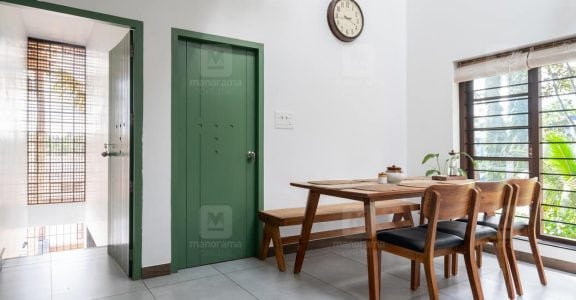 Interestingly, the structure has been designed to suit the unique features of the plot. The entrance faces the east side. Meanwhile, the windows are installed at the right spots to receive lots of cool breeze and natural sunshine. So, there is no need to switch on the light during the day.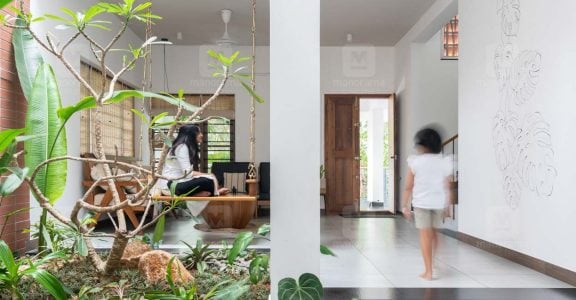 The double-height courtyard is the highlight of the interiors. The wall here is enhanced with terracotta tiles adding a rustic charm to this area. The serene spot has a hanging cot and is decorated with lots of beautiful indoor plants. The sunlight that comes in through the glass ceiling illuminates the interiors with amazing golden sunshine. Interestingly, this has become the favourite hangout spot for family members.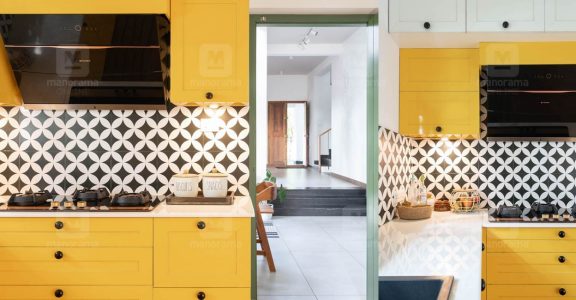 Meanwhile, the simple living area is separated close to the courtyard.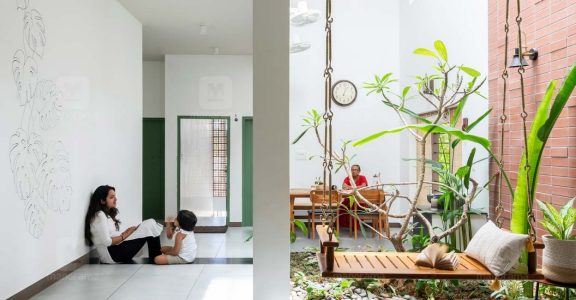 The custom-made dining table has bench on one side.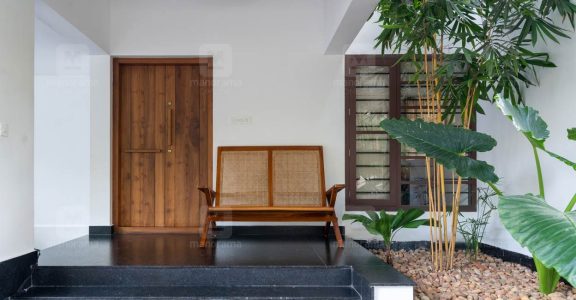 The photo wall on the upper floor is an interesting feature. Moreover, the skylight ceiling here brings in oodles of sunlight.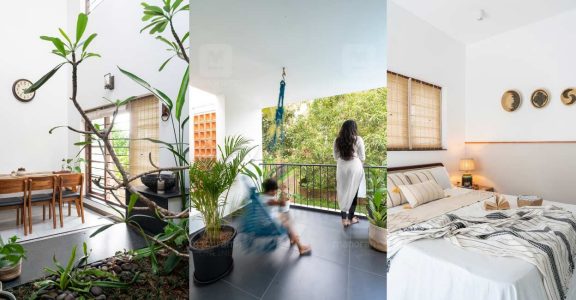 The kitchen stands out for its amazing pop of colour. The yellow-themed kitchen adds a pleasant ambience to the area. The cabinets, meanwhile, are done in plywood with a laminate finish. Designer tiles are pasted on the backsplash to grant a cleaner look. The countertop has been paved with nano white.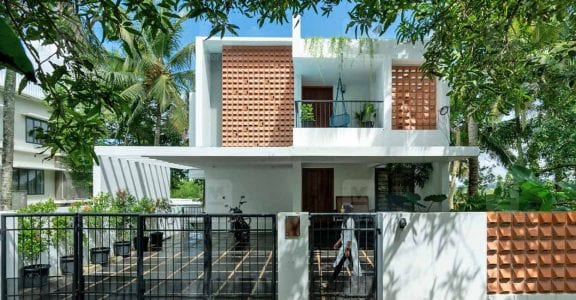 The bedrooms are simple without any design gimmicks. The bath-attached bedrooms have wardrobes for storage.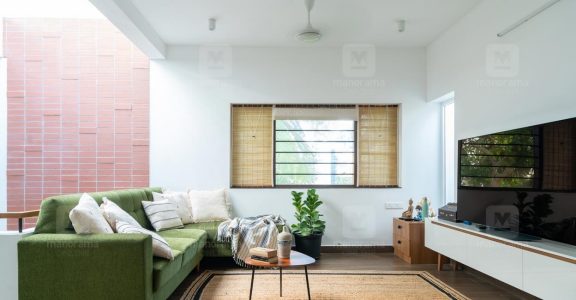 The beautiful balcony is another highlight of the elevation. This elegantly designed area sports cement-finished flooring and GI hand railings. Indoor plants and a swing complete this extremely cosy area.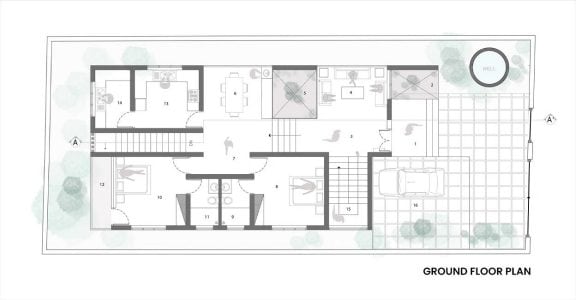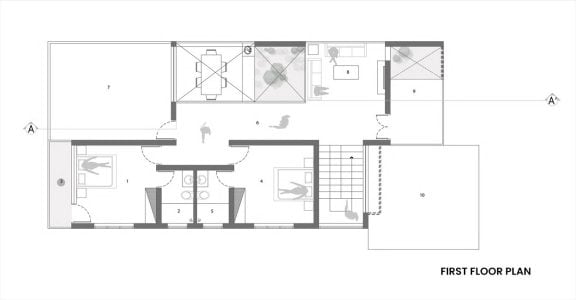 Project Facts
Location – Nettayam, Thiruvananthapuram
Plot – 6.5 cents
Area – 3100 SFT
Owners – Akhil and Manjusha
Architects – Rahul Kumar and Malavika Mahesh
ARK Architecture Studio, Thiruvananthapuram
Year of completion - 2022