Shroff Gafoor and his family's new house in Mannarkad, Palakkad, Kerala, has been designed with a blend of contemporary style amenities and tropical elevation to suit the climate. The different elevations of the house can be seen from different parts of the landscape.
Along with the flat concrete roof, there is a multi-layered GI trussed roof. Along with the house, the landscape is beautifully arranged. Tandoor stone and Kota stone were laid in the yard. Lawns, plants, and trees decorate the landscape.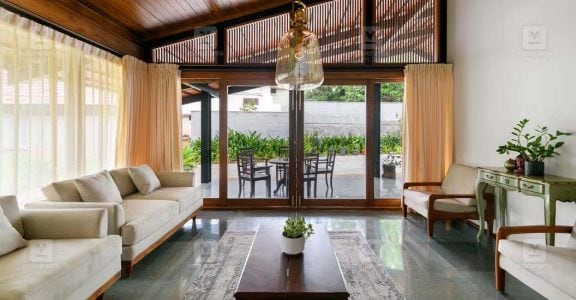 Sit-out, formal living, family living, dining, courtyard, kitchen, workshop, two bedrooms, and bathroom are on the ground floor. Upstairs there are two bedrooms, a mezzanine floor, utility space, and a balcony. The total area is 4306 sq ft.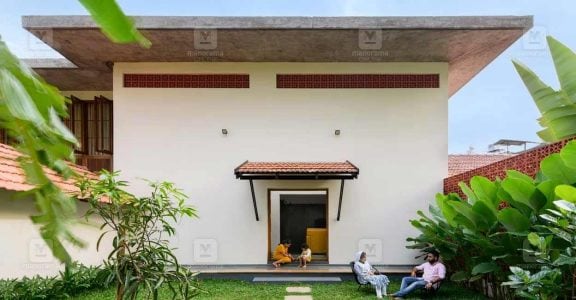 Interiors are on the open policy. Living-dining-courtyard spaces are all connected and aligned. With a double-height ceiling, it feels very spacious inside.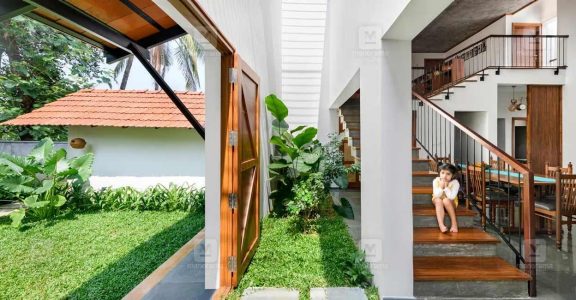 Formal living is done in the splendour of wood. There are glass walls on both sides that allow natural light. This also gives access to the outside patio space.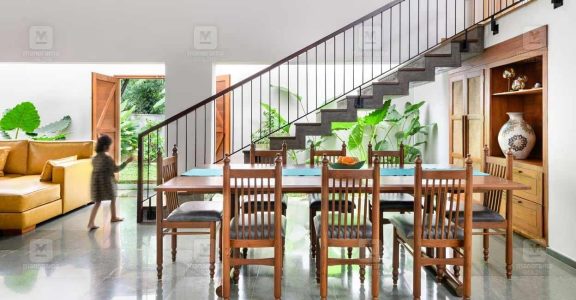 Living is arranged at one end of the hall. The highlights here are the yellow cushioned sofa and the cement finish TV wall. Dining is located in the central double-height space in the open hall. And the dining set has been given a teak finish.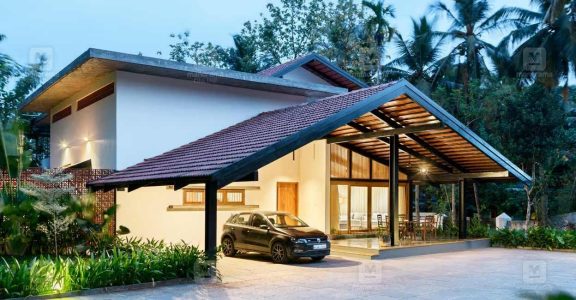 The stairs are done in a simple theme. Teak paneling was done on the stairs. GI hands were also given. The upper living is arranged as a mezzanine floor on the first landing of the stairs. Here the bookshelf and the seating are nicely arranged.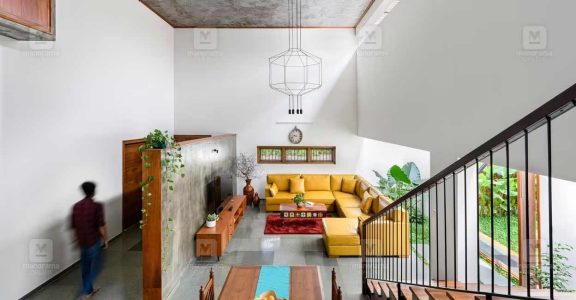 The ceiling is done in rustic cement finishing. The kitchen is done in sky blue, and the cabinets have been given a marine ply laminated finish. The counter has been lined with granite. The splashback also has art tiles.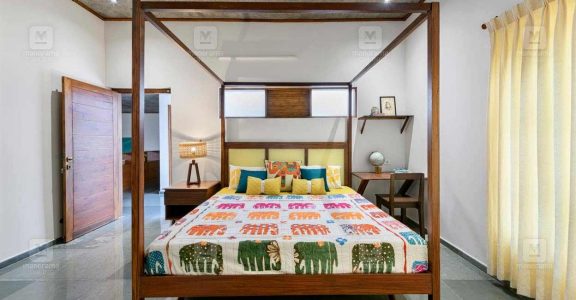 A skylight-roofed courtyard sits between the two downstairs bedrooms. This allows plenty of natural light. Indoor plants fill the greenery here.
Project facts
Location - Mannarkad, Palakkad
Plot - 31 cent
Area - 4306 Sq.ft
Owner - Shroff Gaffoor...
Architects - Nithin Raj, Basil Kalladi Barefoot Architects, Perinthalmanna
Y C - 2022