Despite torrential rains, hundreds of athletes enthusiastically took part in the Malayala Manorama-Bonne Sante fun run held in Thiruvananthapuram, Kochi and Kozhikode on Sunday. The event was held in collaboration with the multinational IT firm IBS Software, and was organised to bring together family and youth, after the recess created by COVID-19.
From national athletes to amateur beginners, the show witnessed enthusiastic participation from across the age groups, in the 10 K and 5 K categories. The top three winners were awarded Rs 20,000, Rs 10,000 and Rs 5,000, along with medals and certificates.
'The run signals the resurrection of sports'
The Thiruvananthapuram run was flagged off at the Tsunami Beach Park in Shanghumukham by Kerala Transport Minister Antony Raju.
About 551 runners took part in two categories in the event, which began around 6.30 am. Alongside national athletes, taekwondo martial artists, cyclists, winners of university sports meets, various sportspersons from the district, clubs and Sports Authority of India were also spotted at the event.

National athletes Ashok Raj, Avtar Patil, Pooja Shweta, Sruthy Camboji and Agasa Thomas were also among the runners.
The top spots in the 10 K run were bagged by Ajith K, Jijil S and Ranjith R, while Manoj R S, Benjamin Babu and Aneesh T won the first three spots in the 5 K run.
Minister Antony Raju said that the marathon signals the resurrection of sports after the period of pandemic, which pushed people into adversities.
IBS Vice President and Thiruvananthapuram head Latha Nair addressed the runners.
Kochi event at Willington Island

Around 850 runners came together for the Kochi run, which was flagged off at the Kendriya Vidyalaya ground in Willington Island by Hibi Eden M P at around 6.45 am. IBS Software's Senior Vice President Ashok Rajan also took part in the run in Kochi. The first three spots in the 5 K run were won by Aswin Antony, Deepak Mathew and Ramesh Krishnan R, while Sherin Rose, Laby John and Sarun Saji finished first in the 10 K race.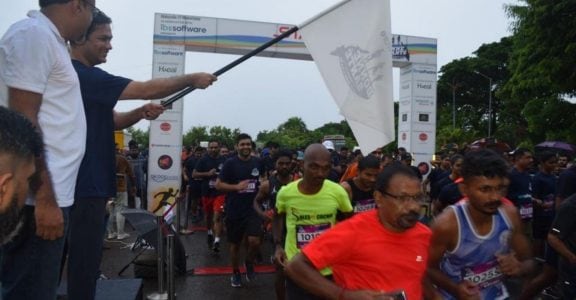 Kozhikode run flagged off by Ahammed Devarkovil

Braving rain, 302 participants ran in the 10 K and 5 K runs flagged off at Sri Gujarati Vidyalaya in Kozhikode, by minister Ahammed Devarkovil. Anandh Krishna, Nabeel Sahi M P and Sujith T R won the first three positions in the 10 K run, while Manoj Kumar, Aswan J and Ajmal Sanad were the winners of the 5 K event.