If Florence Nightingale was the Lady with the Lamp, Nurses can be called as the angels on earth. And chances are that when we close our eyes, their faces might flash in our minds. And such an angel exists in the life of the people of Kuthampully (Thrissur). Just a 'Sistere' call will bring Premaja to their doorstep. Though she is a breast cancer survivor and has the difficulties that come with old age, Sister Premaja will forget all that if she gets a call from the people of Kuthampully. And no matter what time of the day she gets called until she reaches there, Premaja is restless. On International Nurses Day Premaja and her very own Kuthampully residents are joining Manorama Online.
Took nursing after pre-degree
Though Premaja joined pre-degree after school, she couldn't appear for the exam due to health issues. Her father felt his daughter's health was more important than her studies. It was after she recovered that she saw an announcement inviting applications for Junior Public Health Nursing. When she saw that SSLC was the basic qualification needed, she immediately sent an application. More than an interest in nursing, Premaja was keen on pursuing her education which got disrupted. But once she started the course, she realized that nursing was her destination. After completing the course in 1989, she started working as a Junior Public Health Nurse at Vadakkedakad PHC in Thrissur. After that till 2000, she worked under the DHS order at Thrissur. Although she got terminated in October 2000, Premaja continued as a PSC posting in Erumapetty in December of that same year.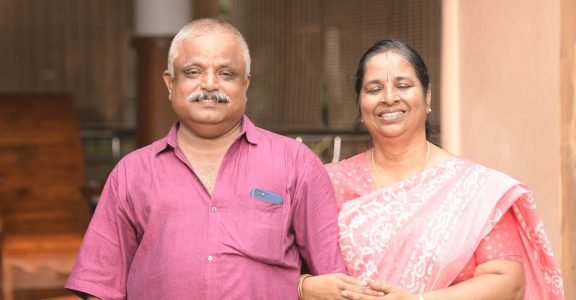 After getting a transfer from Erumapetti, Premaja shifted to Kuthampully PHC. A handloom weaving village on the banks of Bharathapuzha, most of the residents in Kuthampully are immigrants from Karnataka. It is mostly the weavers from Tamilnadu who make use of the Kuthampully health center. They speak a mix of Tamil and Kannada. Though initially there were some hiccups with the language, once Premaja became one of them, the language ceased to be an issue.
"They are a class of people without any hypocrisy. When they visit the hospital, they want a pill, or an injection, or listen to a soothing conversation. They don't really need a doctor. A comforting word is enough to cure the disease of many people," says Premaja about the Kuthampully residents. Since she has been serving them for many years, she knows each and every person at Kuthampully. In between, though she shifted to Palakkad as part of grade one promotions, she was back in Kuthampully within two months, filling another grade one vacancy. Premaja has only worked for two years after leaving Kuthampully.
'She is our doctor'
The people of Kuthampully cannot think beyond what Premaja says. According to Anganwadi teacher Jyoti of Ward 1, Premaja is their Doctor. Premaja is the first one to get a call from Jyoti when she has to organize classes in connection with the Anganwadi. "No matter what the topic will be, they are sure Premaja will be able to bring people together," says Jyoti
As far as Mallika is concerned Premaja sister is not JPHN but a member of the family for every Kuthampully resident. "Premaja sister is the first to be called for any need at home, sometimes it may be related to health or small quarrels, but she has the last word in everything," says Mallika.
Unexpected Breast cancer
Premaja, at the age of 32, is also a survivor of breast cancer and also donated one of her breasts. The disease was diagnosed when her youngest son, Hemant, was two years old. She immediately contacted her sister Padmaja in Bengaluru and started treatment at Kidwai Hospital. Since the cancer had reached the final stages, one breast had to be removed. Since she didn't have many holidays, she continued working at Kuthampully during the treatment. Despite losing her hair during Chemo, no one realized that she had cancer as she was very active. They thought she had offered her hair at a temple as part of a vow. Premaja didn't dispute their theory and carried on with her duties.
There are those who approached her with words of sympathy. They told her stories of their relatives or friends dying of cancer within five or six months. Hearing this, Premaja was distraught. Her family, the people of Kuthampully, and her colleagues stood by her. As a result, Premaja survived cancer and returned without having any traces of cancer in her body.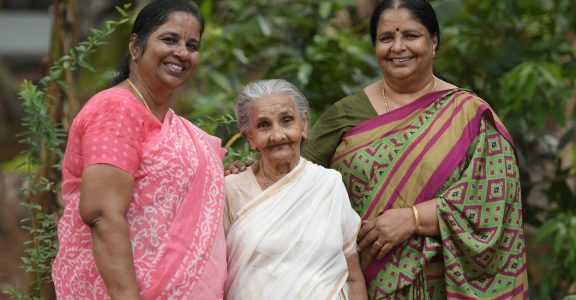 Even if the cancer is completely cured, the side effects can often lead to ill health. But Premaja forgot all that once she reached Kuthampully PHC. She was so busy providing care and comfort to those around her that Premaja felt no pain. She strongly believes that as long as the mind is positive, nothing can affect the body. And not just that Premaja also shared her cancer survivor stories with others. When she is showing her life as an example of fighting cancer, that provides confidence to a lot of people. With the right treatment, you can survive any disease is what she says.
When Covid was a time of awakening
The Covid time was also a period of realization for Premaja. Cases were piling up in the wards, deaths were happening, and people were left clueless. But Premaja bravely took all the calls that came to her. And she refused to stay away even though her colleagues warned her that she belongs to the high-risk group and should not go near the patients. Premaja would say that the joy she felt when she offered words of comfort and medicines to patients who were afraid of dying was hugely motivating for her.
As a healthcare worker, she says one shouldn't stay away from the fear of getting sick but provide them comfort.
Premaja says she will always remember the time when she cremated corpses at the crematorium when their own family was afraid. Premaja's presence during the last days of the patients was comforting to many.
Madhu remembers Sister Premaja with gratitude, He can never forget her comforting presence when his father who was also a ward member in Kuthampully had Covid. Though he couldn't be saved, Premaja was with him till his last breath. Premaja says she will always remember this death with tears. Because Madhu's father was a ward member who stood by her for any help. She admits she will always be sad that he couldn't be saved.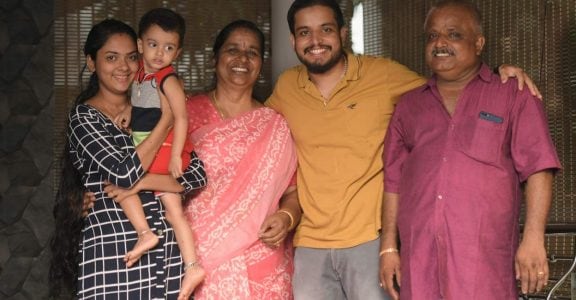 'My next duty is with my grandson'
By the time she gets home from her hospital duty her grandson Vihan will be waiting for her. She loves to pamper him. Her mother and husband Sampath Kumar, sons Sarath and Hemant, and daughters-in-law Gopika and Aishwarya are always with her as her biggest support system at their Thiruvilyamala home. No matter how weak she is, if the people of Kuthampully call her she will come running by their side. Sarath says his mother has a special knack for cajoling one of the family members to drop her at Kuthampully.
Looks like though Premaja will retire from work, it is highly unlikely that Premaja will not be able to visit the people of Kuthampully or vice versa. Since she knows she won't be able to stay away from work, she is finding ways to make retirement life beautiful.
Although a junior public health nurse in the service, as far as the people of Kuthampully are concerned, Premaja is their doctor. Therefore, a Kuthampully PHC without Premaja Sister is unimaginable. Premaja is the guardian angel of Kuthampully.