Marriage is one thing Keralites never dare to skimp on. In Kerala, wedding is a grand affair and photography is an integral part of it. Earlier, wedding photography was limited to group photos where in the newly-weds posed with relatives and guests. But now, it is all about narrating stories and capturing life in frames. Young couples do not hesitate to spend lavishly upon photography and wedding albums. If post-wedding photoshoots were high on trends till a couple of years ago, pre-engagement photoshoots and save-the-date shoots are in vogue.
Recently, some save-the-date photos had taken the internet by storm for their glamorous portrayal of intimate moments. Sometimes netizens even slammed the couple and photographers for crossing the limits of decency. Even the official Facebook page of Kerala Police shared a status warning the youngsters against 'Save the date' photography. "Save the date is good but remember the society including children are watching," read a message on Kerala Police's Facebook page. The post has been withdrawn following complaints of moral policing.
Even as severe moral policing is meted out to wedding photoshoot agencies, let us check out the evolving trends in wedding photography and see how people involved in them respond to the criticism.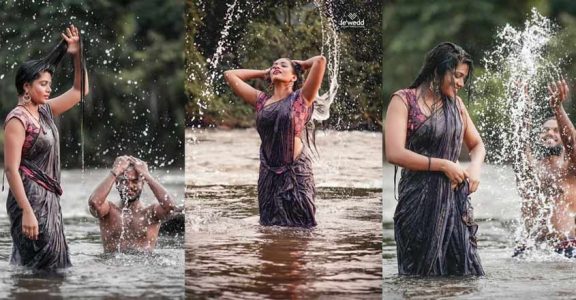 In pursuit of stories
Shalu M Abraham, CEO of Pinnacle Wedding Photography Company, which organized the controversial photoshoot of Ram and Gouri, a pilot-airhostess couple hailing from Pune, asserts that he is not at all apologetic about the costuming or positioning of the young couple. "Every couple has a unique story to tell. A photographer's job is to discover their stories and capture them in the best possible way," he says.
Unlike in the past, the youngsters suggest locations, themes and frames to the photographers these days. The clients would have clarity in their demand, he says. Shalu says that he was least affected by the negative propaganda. "Ram and Gouri wanted beach-wear theme set in the background of a waterfalls. They had even collected some photos from around the world to replicate," he added.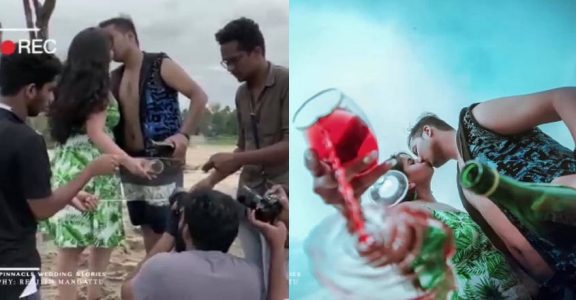 At the same time, Ram and Gouri are excited as their photos have gone viral on social media. "I am so excited. I don't read Malayalam. Still, I can see the keywords Ram, Gouri and Pinnacle trending on Keralite social media spaces. We are tying the knot on December 20. Can't wait to see how people respond to our wedding photos," Gouri told Onmanorama.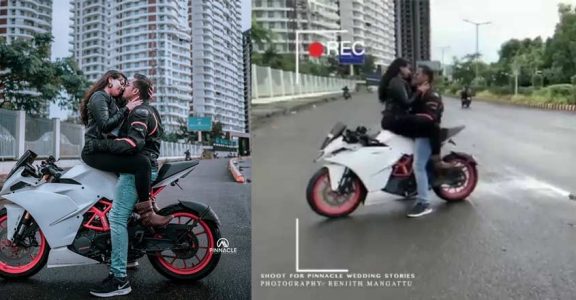 Ram, a pilot by profession, says that he had seen hundreds of save-the-date photoshoots and he is clueless why people massively reacted to theirs. "Wedding is something yet to come. Photoshoot was the best part about our marriage," he says.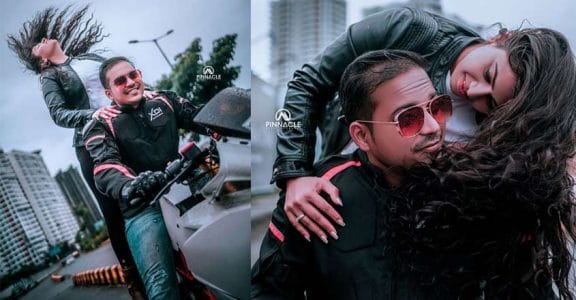 Ranjith Mangad, the photographer who worked behind their photoshoot says that while some clients organize photoshoots exclusively for social media promotions, some prefer to keep their movie for themselves. "This one (Ram and Gouri's) is not the best we have done. There are a lot of photoshoots we did with equal efforts and imagination. Some people prefer to keep their movie a secret. Some make it public," he says.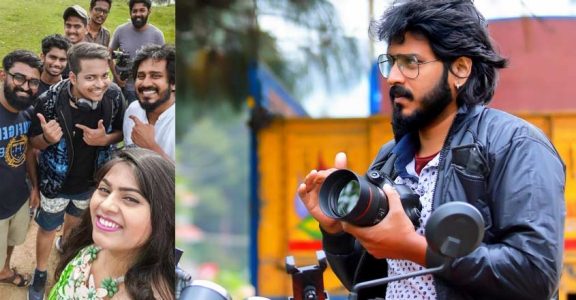 The major reason for the change in the wedding photography sector is because each couple regards their love story as the best and something worth celebrating.
One ethnic, one modern
Mridula Prasannan and Saranjith Cherayil are all set to get hitched in 2020 April. Prior to their engagement earlier in December 2019, they threw two separate photoshoots, one flaunting ethnic wear and one in modern outfit. The first one was shot in the premises of Thrissur Vadakkumnathan temple early in the morning. The second one was shot on a different day, in a city ambience. Mridula, who works in a stock market firm in Thrissur, says that pre-engagement photoshoot has been something she and Saranjith planned as the first thing after their matrimony was finalised. "This is the only time we get to celebrate ourselves, our love story and togetherness. I think today's youngsters have more freedom in planning their wedding unlike previous generations. Earlier, elders would plan the whole event and the young couple would just obey them. Now, every youngster has clarity on what they should wear on their big-day, how they should look, how the event should be recorded and even how the stage should be designed," she says.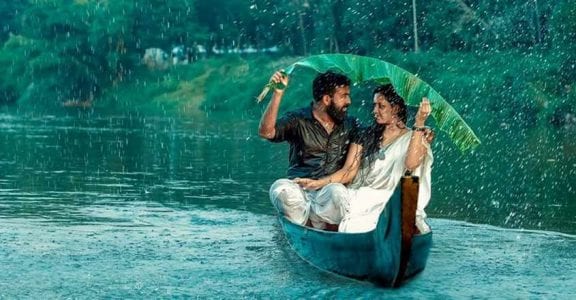 Mridula wanted to capture both rural and urban looks of her and her fiance. Hence, they took two separate pre-engagement shoots for the same.
Trending locations, movies
For several years, the backyard of rural house or the nearest paddy field were the feasible locations for post-wedding photoshoots. No wonder if a cow, a camera conscious villager or a random vehicle photobombed the love scenes. Later, the venue of wedding photoshoots shifted to picturesque beaches, dams and temples, a waterfall or other picture postcard locales.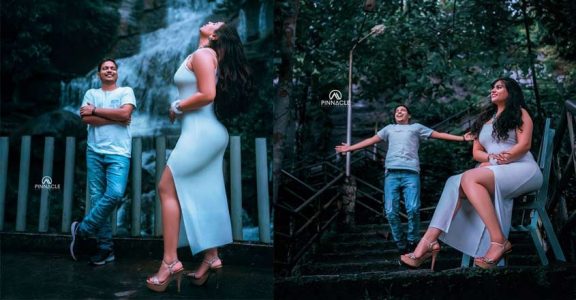 Some top trending locations are ancestral homes (tharavad) busy roads of Fort Kochi and Ernakulam, backwaters of Alappuzha and resorts at hill stations. Young couples prefer beach-partywear, riders' costume, onesies and western dresses for photoshoots.
Recreating movie scenes were a trend that prevailed for some time. The night sequence in 'Mayanadi' where Tovino and Aiswarya Lakshmi walk through the streets was one of the most re-created movie scenes.
Of late, couples are seen travelling all the way to Bali, Andaman islands, Dubai and Malaysia just to shoot 'save-the-date' videos, virtual invites and photographs.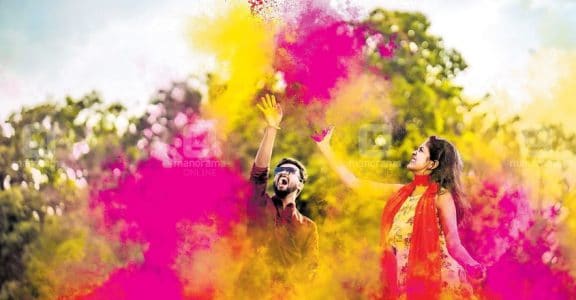 Expensive but worth it
Small studios charge Rs 5,000 per day for photoshoots involving two cameramen and an assistant. The basic package of most wedding photography companies include properties to be used during photoshoots and soft copies of all the raw photographs taken on the day. In an advanced plan, they would also edit some photos and deliver them to the client later.
This shall pass too
No trend will stay forever. Save-the-date photoshoots became a trend in the west almost five years ago. It was post-wedding albums trending in India back then. Mixing melodious or fast film songs with cinematic visuals of bride and bridegroom was the most searched category on YouTube at a time. Photographers say that the trend of save-the-date photoshoot is also momentary. "People are crazy about virtual invitations, involving the parents and other family members now. The parents and grand parents would co-operate with photoshoots with equal enthusiasm shown by the youngsters. Short movies with dialogues, intriguing story lines and narratives is going to be the next phase. Some people have already experimented them," Subin Rajbuddha, a wedding photographer and movie aspirant hailing from Chalakudy says.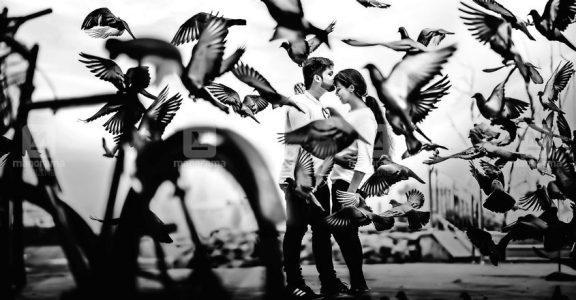 However, the studios and wedding companies keep ready hundreds of movie ideas and threads for romantic short films to cater to the needs of the young couples.