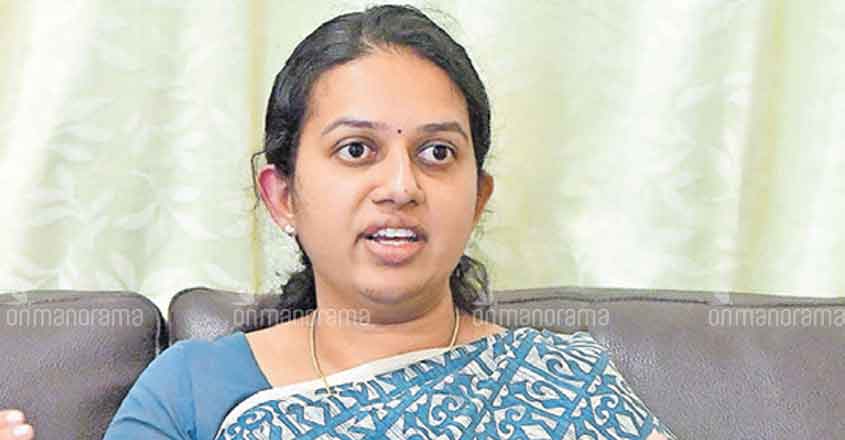 When the whole of Kerala reeled under floods last month amid rain-triggered landslides along its eastern mountains, just east of upstate Malabar, Kodagu too was hit by the calamity. Yet, if the people of southern Karnataka's scenic district largely escaped the effects of the monsoon fury, a share of the credit goes to a Malayali bureaucrat's prompt administrative initiatives.
A native of Kollam district in Kerala, P I Sreevidya was only eight months old with her capacity as the deputy commissioner of Kodagu when her office got information last month that the district along the Western Ghats was set to receive "very heavy and unusual rains." Far from laughing off the alert received on August 12 through various agencies, the 2009-batch IAS officer swung into action.
Taking note of the geographical factors typical of hilly Kodagu also known for its origin of the river Cauvery, Sreevidya began vacating people the next day from danger-prone areas. Relief camps came up within hours.
As it rained cats and dogs on August 15 and 16, Kodagu lost 2,500 houses while crops perished in acres of farmlands. Roads developed cracks, some simply vanished.
Sreevidya, who had earlier served as Kodagu zilla panchayat chief executive officer for six months from mid-November 2013, opened a control room this time by her office, coordinating rescue and relief operations. She ensured that the district got aid from all the three arms of the service, besides the IAF's special Garud commando service and the state police, fire force as well as the National Disaster Response Force under the Centre.
Joining her in the efforts were zilla panchayat CEO Prashanth Kumar Mishra, police chief Suman D Pennekar, MLAs Appachu Ranjan (Madikeri) and K G Bopaiah (Virajpet) along with other people's representatives and social workers. The office of Chief Minister H D Kumaraswamy would enquire about the developments on an hourly basis. There were opportune interventions from state chief secretary T M Vijay Bhaskar.
"All these ensured that we could minimise the loss to property and the impact on public life," says Sreevidya, who belongs to Chakkuvarakkal near Kottarakara and had secured 14th rank in her civil service exams. "I couldn't even call home those two days."
The bureaucrat's four-year-old son Madhav, sensing the gravity of the situation, threw no tantrums and stayed quietly with his grandparents in the camp house.
As for Sreevidya's husband, he is also a top officer. T Narayanan, who is Pathanamthitta district police chief, was that time busy in a similar rescue operation in his area. There, in south-central Kerala, the Pamba had swollen dangerously, invading places along both its banks, much to the trauma of their residents. "Believe me, I didn't know his place was that badly affected. Neither did he know anything about the Kodagu floods," says Sreevidya. "We were both cut off that time."
Today, Kodagu people are all praise for their deputy commissioner. Social media posts, especially on Facebook, speak of Sreevidya's administrative efforts that assuaged their misery.