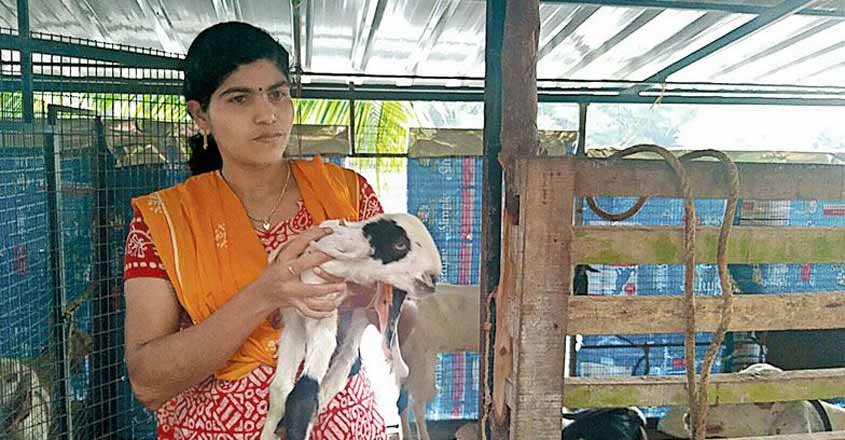 Where there's a will, there's a way to have a goat farm on three cents of land. Sreelekha Gopakumar's five-year-old farm at Elamkulathumaliyil, S H Mount, Kottayam, trumps notions about space constraints when it comes to livestock rearing.
Sreelekha has set up the goat pens on the little patch of land between her home and the Meenachil river which flows close by. The two pens are populated by crossbred goats derived from well-known Indian breeds like Jamnapari, Beetal, and Malabari. Even with a relatively small farm, Sreelekha demonstrates that commercial goat rearing can be profitable through crossbreeding and composite population.
She started small with two goats. Five years later, the farm houses two bucks, eight does and their varying number of kids. The does are either pure Malabari breed or crossbreeds, but all of them reared on Sreelekha's farm. The kids are sold off at three months of age, so the total number of goats is always manageable, says Sreelekha.
With a strategically chalked out plan, it is possible to reap the economic benefits of breeding goats on your farm, says Sreelekha. She gets her bucks changed every one or two years, to prevent the occurrence of inbreeding in the farm.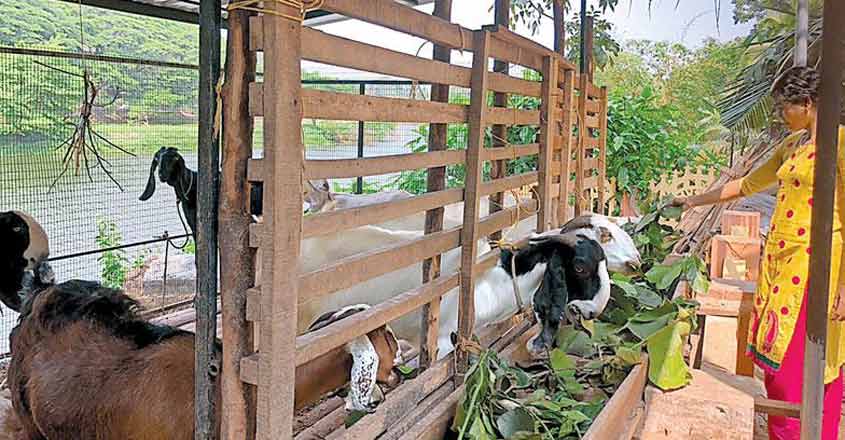 Since the average goat gestation period lasts 150 days, a doe could have two deliveries per year. Sreelekha confirms that there is an average of two kids per pregnancy, leaving her with 30-32 kids every year. She sells around 25 kids to goat rearers. The less healthy ones are sold for their meat.
The kids fetch a price between Rs 3500-4000 each, irrespective of their gender. Beetal kids have a price tag of upto Rs 750 per kg in the market. Beetal crossbreeds are priced around Rs 350 per kg. Beetal and their crossbreeds are large goats that grow to a size of 45-50 kg. They have high milk yield and rate of proliferation, making them suitable for commercial farming. All said, if there's one thing that Sreelekha loathes about her business, it is selling off the kids. She wouldn't weight them, but stops at quoting an approximate price, she says.
She feeds the goats the leaves of jackfruit trees, wheat bran, and fresh grass. Since the farm is in a sub-urban locality, she makes sure the fodder contains as much grass pasture as possible, freshly cut from the banks of Meenachil. She has a paid helper to provide the grass and tree leaves.
Buoyed by the success of her petite goat farm, Sreelekha is venturing into breeding of dogs and fighting cocks. Dachshund puppies fetch around Rs 1500-2000 each and she is able to sell them twice a year. A true entrepreneur at heart, Sreelekha makes use of social media platforms and other online marketing techniques to reach out to potential buyers.