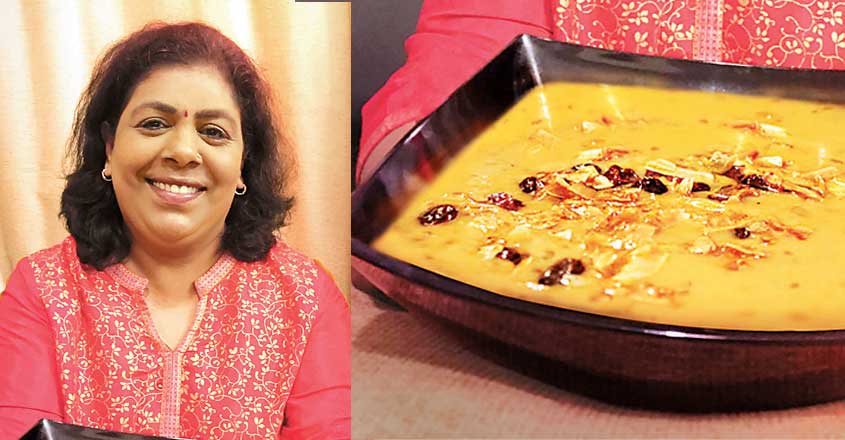 Snatches of a conversation from a bachelors' pad was what triggered off an idea that made Lakshmi Shankar an entrepreneur in her own right.
The place was Bengaluru, Koramangala, to be precise. And the occasion was the eve of Onam when a bunch of boys, obviously unable to make it home for the festive occasion were attempting to make payasam at their joint. Some were melting the jaggery, others scraping the coconut, while a few were calling up their mums for expert advice. Though the goings-on were undoubtedly amusing, it also ignited the spark of a business venture in Lakshmi.
"Though the plan was to make payasam for bachelors, there are a lot of people, especially Malayalis, who have come here for work. They come down looking for payasam. Payasam is nostalgia and everybody wants it for special or festive occasions," says Lakshmi.
By 2010 she had a small business in catering going. Payasam was also made in reasonable quantities. But the venture took off in a big way from Vishu last when she sold 15 litres of payasam under the brand name 'God's Own Payasam.' With a modest Rs 20,000 a month for profit, Lakshmi is all set to make it bigger.
Right from the beginning, payasam was dessert for Lakshmi. Today, she is ready with what customers want. They just have to name it and Lakshmi is ready with parippu, palada, and wheat payasam. Not to be left out are semiya, pazham pradhaman, pineapple payasam and chakka pradhaman.
As the unprecedented floods robbed the sheen of Onam this year round, there were hardly any festivities or feasting either. But as some folks insisted that she make at least a few litres, Lakshmi settled for four litres of payasam.
Though it's a pleasure to make something as delicious as payasam, the labour involved is painstaking. Work has to begin by 6 am, if orders are to be delivered by 11 am. Everything is made the traditional way. All the ingredients are cooked in bronze urulis (flat bottomed vessels) and if palada is to get its light pink colour, you need to keep stirring the rice-milk mix till the milk thickens and turns a pale shade of pink.
The ada and jaggery are brought from Kerala. But when it comes to adding coconut milk, there's no compromise, says Lakshmi. She will not have coconut powder or tinned coconut milk for her payasam. It has to come the traditional way… by scraping the coconut and extracting the milk.
Backing her up to the hilt are husband Vinod Shankar and son Nishan. It was daughter Manasi who used to take all the catering orders and work on the dessert, except payasam, while she was at home in Bengaluru. But right now the young lady is pursuing her doctoral studies in Virginia, US.
However, when she came home last, the "pastry chef" as her mother calls her, wanted to head back to the US with payasam. "You start missing payasam only when you're far away from home", muses Lakshmi. She also recalls the days when her brother would welcome her with several varieties of payasam when she landed at their home in Vyttila.
It was while packing payasam ingredients for her daughter that an idea struck Lakshmi. If everything can be packed and preserved, why not go in for instant payasam kits? With that thought firmly embedded, the payasam maker is all set to conquer the market.