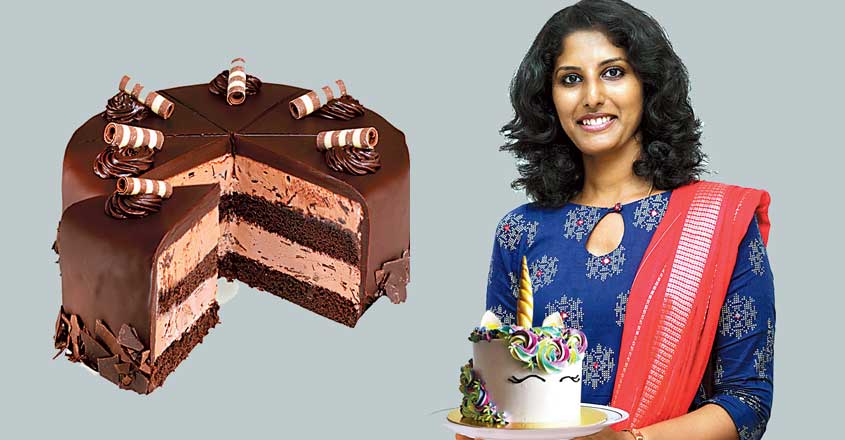 Little did Merlyn Jerome realize that the Black Forest cakes over which she used to drool while a child would one day shape the course of her destiny. There was a bakery near her school and the little child would look at the array of black forests on display. But she could only imagine what they would taste like, for her pocket money could not fetch her a cake so expensive. But not a day would pass by without little Merlyn caressing the cakes with her longing looks.
When she got married and took off to Chennai from her hometown Ranni, she had just one desire… to get a decent job. As luck would have it, she landed a job in a bank and was enjoying the simple joys of life with husband Antony when fate, nay Black Forest cake strode into her life once again.
Her husband took a slice of the Black Forest birthday cake which Merlyn had baked for his birthday, to his office. It looked quite like a joke when those who tasted the cake wanted her to bake some cakes for them too. But when the first order came the very next week, the baker lady sat up. Soon enough, Merlyn's cakes became a regular feature at all special occasions and functions in their apartment complex, be they birthdays or wedding anniversaries.
That's how the banker put in her papers and turned to full time baking, a decision she has not regretted given the fact that she makes a neat Rs 60,000 as profit every month. Though there was the initial hesitation of whether or not to give up up an assured job, her mother Mary backed her to the hilt on her decision to turn a fulltime baker. Today, the joy and thrill of being a baker is as fresh as it was six years ago when she took that leap of faith.
Business became busier when the family relocated from Chennai to Bengaluru last Christmas. She had close to 300 orders for cakes from Chennai and Kochi then. She knew she had to honour her commitments. So the cakes were baked and sent to all from Bengaluru.
All arrangements have already been put in place for this Christmas. The dry fruits are soaked in the wine made by her mother-in-law Shanti. Almost all her weekends are busy with baking and packing taking up her time. This is the routine all the year round, except in December when all the days are packed. "I hardly get time to put my feet up", says Merlyn.
Though she bakes them in different flavours, it's her chocolate and red velvet cakes that go out the most. As the trend now for having a bash on half birthdays, that is, a celebration when a baby turns six months old, is catching on, a lot of orders keep pouring in, says Merlyn.
"The best part of the baking job is to make theme cakes. It's thrilling to turn them out. But it calls for patience and artistic skill to make miniature cartoon characters and set them on cakes", says Merlyn. It takes more time to bake a 3-D cake. Though there's the general conception that it's much easier to set themes on big cakes, Merlyn says she does them on half a kilo cakes as well. And when it comes to cakes of up to three decks, they are done under her direct supervision. She sets them herself.
Birthdays are her special occasions when Merlyn gives takeaway kits with cookies, doughnuts and pastries to all the kiddies who hang out for birthdays. Merlyn is particular about her products because baking being a passion and a profession, only baked items are sold or given away.
Merlyn lives in an apartment near Electronics City in Bengaluru. At present, she has another apartment where she engages cooking classes for aspiring bakers… like herself.