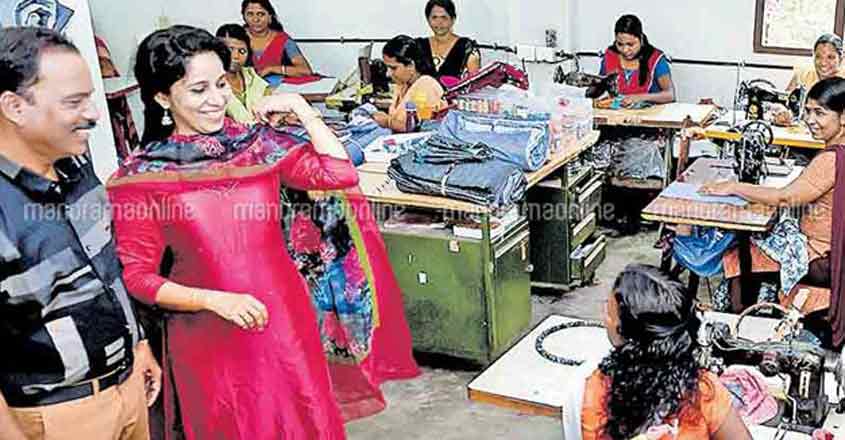 The success story of entrepreneur couple N A Benny and Sherly Benny is closely linked to the story of how housecoats a.k.a 'nighties' became the agents of a silent revolution. Way back in the 1980s, by offering a more practical alternative to the nine yards/mundu-blouse-thorthu-neryathu, nighties officially took over as the smarter casual wear of the modern Malayali woman. Taking a cue from this still nascent clothing trend, Benny started his line of branded nighties, the first of its kind in Kerala, in 1987. Although this statistics may not be known to us,every nightie-donning woman in Kerala is likely to have at least one piece from their Ernakulam-based manufacturing unit, now celebrating its 30th year in the business.
Benny remembers that nighties gained foothold in Kerala in the wake of the Gulf boom. "By mid 1980s, our women had started wearing nighties in the daytime too, it became a convenient dress that could be worn anytime."
He launched his business with a capital of just Rs 3000 and three dedicated workers. The unit was housed in a rented space of 300 sqft in Piravom, Ernakulam. The timing of the launch was crucial and 'Orious Creators'- as the brand was baptized - hit jackpot with the increasing popularity of nightie among Malayali women. With leading ladies in Malayalam movies clad in nighties through the length of films, the garment found an ever widening fan club.
When his wife Shirley joined the business, she gave the garments a designer edge, making them ready to take big brands head on. Right from the selection of clothes to deciding the pattern, designing, and stitching, each piece became a signature product under her efficient stewardship.
In 2013, the brand name was changed to N'Style and a whole new product range was added. From lounge wear like pyjamas, capri, and designer nighties, the brand now had actresses like Lakshmy Gopalaswamy and Kaniha as its ambassadors.
"Apart from the manufacturing unit at Piravom, the garments are stitched by women tailors who work from homes," says Benny. "The material to be stitched, along with accessories like zips, hooks, laces etc are packed into individual units and sent to over 500 household in Piravom every morning. The design is also given. The next day, the stitched garments are collected back, packed and send off to shops across Kerala," says Shirley, explaining the successful business model they have been following.
Around 5000 nighties are produced every day in this manner while the monthly production hovers around a lakh. The official nightie-makers of Kerala are not satisfied though. "The truth is, there is a huge demand for nighties and casual wear in Kerala which is not met," says Benny. The couple is all set to start a new factory in Ahemmdebad, where the labour cost is much less and good quality cotton is easily available for cheaper rates.