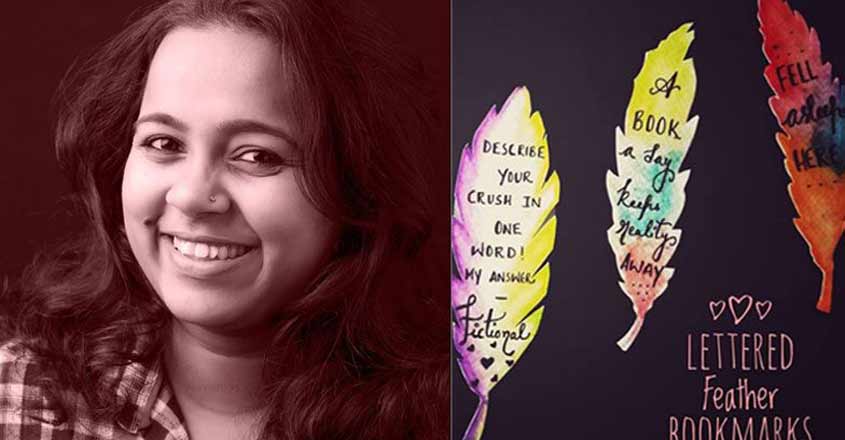 Anyone who stumbles on Athira Radhan's Facebook Page titled 'Little Things' would be surprised at the ease and beauty of it all. The handmade bookmarks made by Athira will make you want to buy books just so that you have a reason to stock up on these slender pieces of art. You can also get them personalised by sending your requirements to the budding entrepreneur, whose line of handmade bookmarks designed for Pendulum Books is already selling in the USA.
A hobby from the blue
So how did she come up with this brilliant little idea? Athira says it was pure serendipity. One fine day, she was playing around with bits and pieces of leftover coloured paper her little sister had used for a school project. After some scribbling and colouring, she thought the paper looked pretty. She cut them into strips that looked like a bunch of cute bookmarks. Curious to find out what others thought about her impromptu art, she made some more and posted the pictures on Facebook. Her friends responded with enthusiastic comments. One particular response caught her eye – 'are these for sale'? "Looking back, I think of that as the point where Little Things took birth as an idea," says Athira.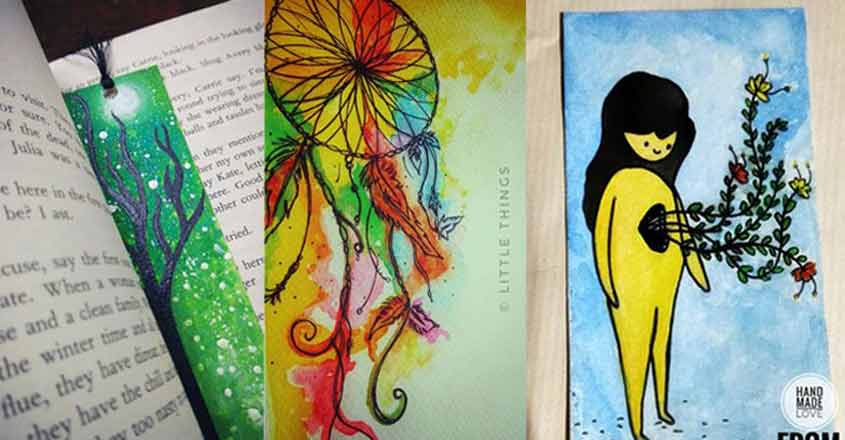 Little details that make the big difference
Arriving at the name was as not much of a task, it came to her as spontaneously as the artful strips of paper, says Athira. The little beauties were quick to gather fans on Facebook. With their cute drawings, artfully written wordings, and the bright colours, they stole hearts with ease. Even those who weren't big time book readers bought them up for the love of handcrafted art. Her FB page soon started filling up with pre-orders for customized bookmarks meant as gifts for birthdays and anniversaries.
"So it just took off from there, just like that. I started getting regular orders for personalized bookmarks. So, they are now mostly made to order. I try to make each card special," says Athira.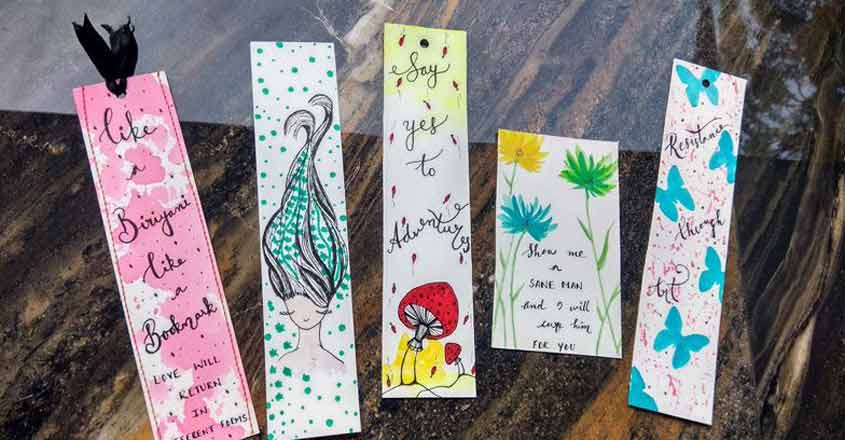 The most appealing aspect about Little Things is perhaps this attention to details. And of course, the 'handmade' tag they carry. Every little thing on sale is cut, drawn, painted, and embellished with handwritten notes by Athira.
The take-off
Athira was in for a surprise when the handmade bookmarks caught the eye of the publishing house, Pendulum Books. The bookmarks she sells to the company are sold along with their books in India and in the USA. The universally appealing concepts expressed in the drawings and messages are helping Little Things find a solid fanbase everywhere.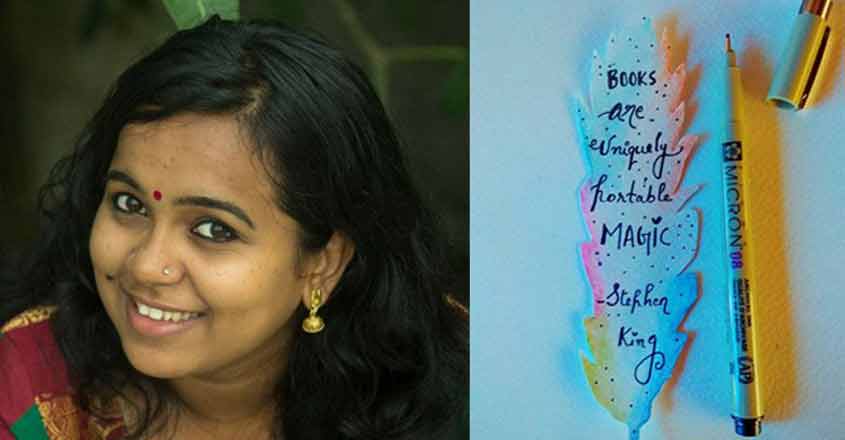 Bookmarks with quotes of authors like Khalil Gibran, Stephen King and the like, one-liners on books, literature, movies, film stars, womanhood, nature and socialist revolution seem to be among the favourite picks of the ever growing customers of Little Things. Bookmarks with water colour paintings and drawings in pastel shades also have a huge fan following. The flight of the bookmarks to stardom has inspired Athira to add handmade greeting cards to her collection.
"I am getting a lot of orders for winter/holiday special cards this season. I am also enjoying designing simple and unique wedding cards," says Athira.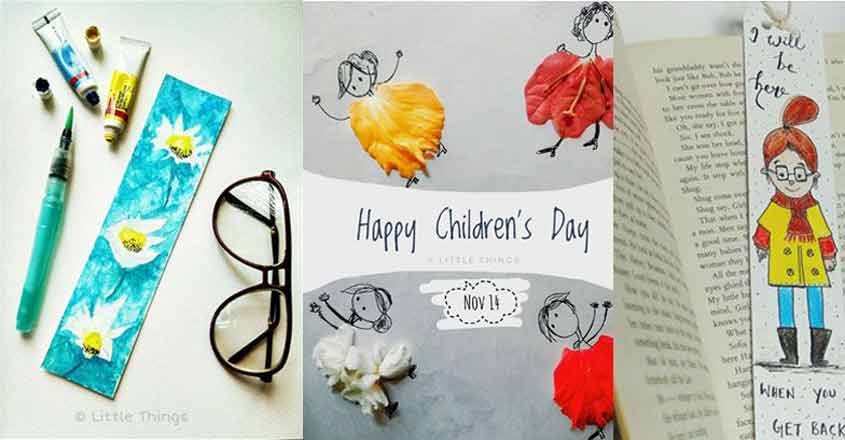 Celebrity fans
Among the fans of Little Things on Faceboook are actors Tovino Thomas, Rajisha Vijayan and Kavitha Nair. "It's inspiring to get appreciated by talented people like them. Their encouraging words make me want to do better," she smiles.
Bookmarking the B.Ed textbooks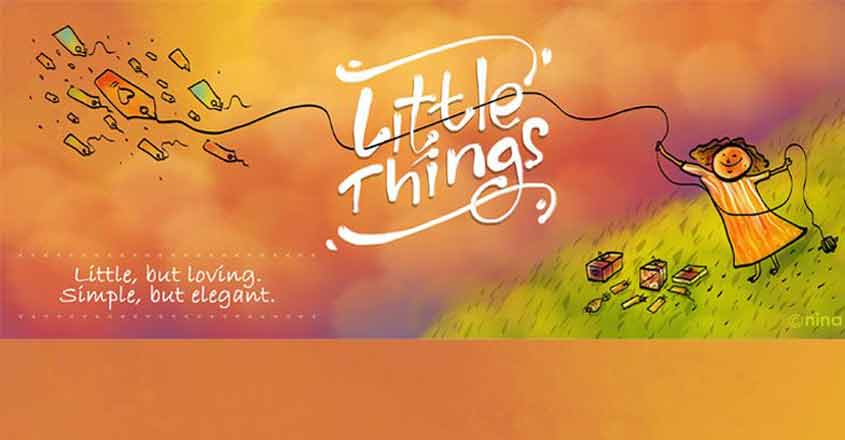 Athira is doing her second year B.Ed at Crescent B.Ed College in Kannur, her hometown. Bookmark making takes up a lot of time, but she is managing to juggle studies and her passion quite well, says Athira. "It does take up a lot of time and I sometimes struggle to divide my time between studies and completing orders for cards. During peak seasons like this – with Christams and the holidays round the corner – I have to work extra hard to finish pending orders. But despite all that, it gives me a lot of joy to be doing what I love," she grins.
Daughter of theatre artists Radhan Kannapuram and Mini Radhan, Athira lives with her parents and younger sister Arathi in Cherukunnu, Kannur.