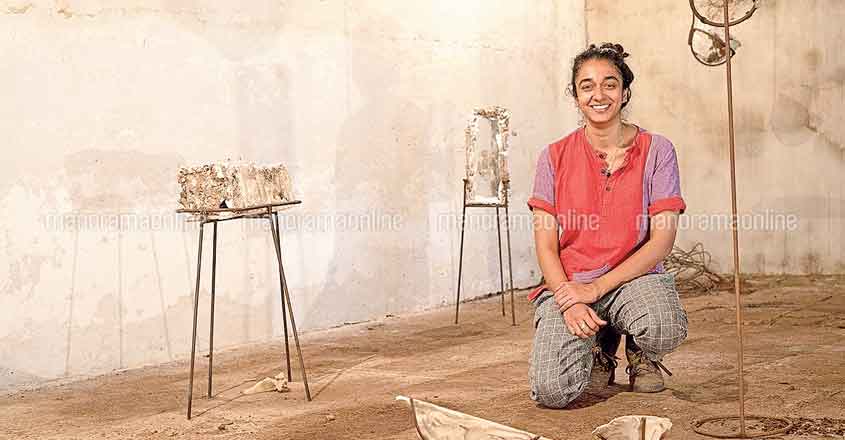 A young artist, hailing from Kannur, is garnering praise at the ongoing Kochi-Muziriz Biennale at Fort Kochi. The installation by Veda Thozhoor Kolleri is drawing attention at the fourth edition of the art extravaganza, in which 94 artists from 31 countries are taking part.

Veda (28) is the daughter of noted sculptor Valsan Korma Kolleri, who is a native of Patyam, Koothuparamba in Kannur. The young artist was brought up in Chennai.
Rigor Mortis
Veda's installation titled 'Rigor Mortis' has found a prominent place among the works by renowned artists. This unique installation is a combination of video clips, photographs, writings, and other articles. She has even used organic materials which are on the verge of decay. Leaves, bones, and remnants of old trees have become part of her incredible artistic expression. The inspiration for the installation came from her many trips as a student in Uttar Pradesh, where she happened to know more about organic materials. Videos, photography and light illusions merge with perfect harmony in this artwork.
Family
Veda was introduced into the world of art by her parents. Her father Valsan Koorma Kolleri is a renowned sculptor and her mother Vasudha Thozhoor is a teacher of fine arts. After completing her graduation in anthropology from St. Xavier's College in Mumbai, Veda holds a diploma in designing from the Srishti School of Design and Technology, Bengaluru.
It was last year that Veda completed her masters degree in fine arts from Dadri University. Aspects of anthropology, too, can be perceived in her installation at the Biennale. Veda is currently preparing for her higher studies in fine arts, in Lebanon.