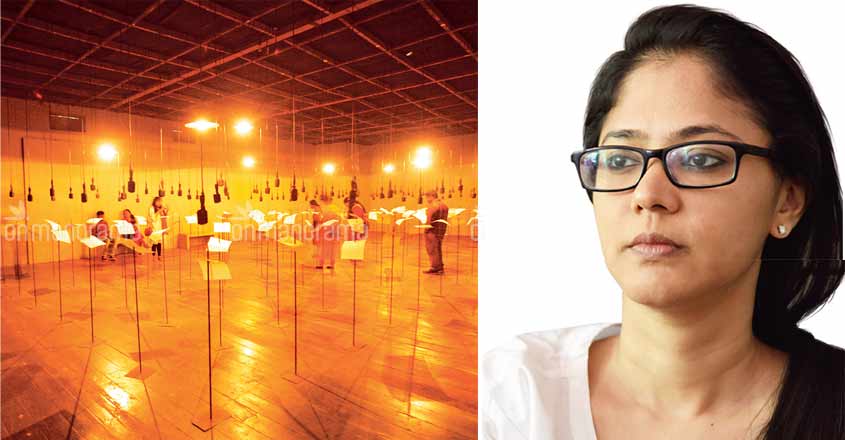 The Kochi-Muziris Biennale that opened its doors to the public this December lines up an amazing array of art works from thirty one countries. More than ninety works of art awaits the viewers pouring in each day, unveiling the brave new frontiers of artistic expression.
The country's largest art exposition steals the limelight this year by lining up the highest numbers of women in its short history. The 4th KMB can boast of a whopping sixty percent of women artists. And, not to mention the fact that the curator of this edition is a woman.
Anita Dubey, the first female curator of the KMB was busy with her responsibilities at Pepper House, one of the Biennale venues in Fort Kochi. "This is a dream ! A space where an amazing array of women artists from the Guerilla Girls to the weaver woman from Kerala brush shoulders with each other,' said Dubey briefly, before plunging into her hectic responsibilities.
In this series, four of the women artists who are present at the 4th KMB each one flaunting their own distinctive ideas and approaches talk about their art and life. Here's Shilpa Gupta talking about her work:
Voice of the poets from the prison - Shilpa Gupta
Shilpa Gupta's works are like the uninvited guest who barges into your drawing room and refuses to leave. By the time you finish your tour, they'd have taken a firm foothold in your heart.
Imagine 100 microphones hanging down from the ceiling… and shreds of poetry flowing out of them…here, 100 poets who were sent to prison are reading out their own lines. The lines are scribbled in pieces of papers stuck below the microphones… Standing in that dim light, the letters shut down in the prisons would pierce through your eyes. Just close your eyes, and you can listen to their breaths. So intense is Shilpa Gupta's installation in the Aspinwall House.
"These poets were imprisoned for their writings or for their political standpoints. The lines of each poet is heard at first through a single microphone, then repeated through the remaining 99 microphones. The languages change each thirty minutes. English, Spanish, Arabic, Russian, Azeri and Hindi are used. The installation is titled, 'For, In Your Tongue, I Cannot Fit – 100 Poets.' The title is based on a poem by the 14th century Azarbaijani poet Nessimi," Shilpa was speaking of her installation. The poems are scribbled on pieces of paper stuck upon bars resembling the prison.
Though Shilpa had completed her BFA in 1997, it took her ten years to become a full-time artist. "I was born in an ordinary middle-class Mumbai household. I didn't have to think twice before selecting a career in the arts, but my family needed some convincing. Even while working as a graphic designer, my mind was not there. Now I'm a full-time artist and a full-time mother of a seven-year-old. My husband works in the field of architecture."
Shilpa has conducted exhibitions in different parts of the world. For her, the best moments of the artistic career happens when her works of art are appreciated by the ordinary people who are hardly exposed to any sort of visual art. "Let me recall something that happened in Havana," she says. "It was a wall painting with the title, 'There is No Border Here.' It carried the lines painted in the shape of a flag, beginning, "I tried very hard to cut the sky in half. One for my lover and one for me. But the sky kept moving and the clouds from his territory came to mine. " After all it's the borders that give rise to flags. Seeing this work, a woman came and hugged me with tear-strewn eyes. Such moments do give immense happiness."