Kalamani does not feel tired even when she is breaking rocks at the bottom of deep wells. Her life had been as hard as these black rocks. She had been breaking rocks with her own will power and probably because of that, she was never cowed down by the hardships of life. Backing her up to the hilt was 'Kudumbashree,' the women collective.
It was 'Kudumbashree' which stood behind her while she resumed and completed her education; and saw her through her stints with acting, writing and directing stage plays. The progress Kalamani had made in her life is a true reflection of what 'Kudumbashree' had achieved for the women in the twenty years of its existence.
Kalamani (41) of Pambadi house, Poongode, near Kalikavu in Malappuram district has many addresses. The women may know her as Kudumbasree's drama artist. Kalamani is part of most of the dramas staged by 'Rangasree', a Kudumbashree enterprise-as the writer, actor or the director. The dramas written by her from her own experiences bring the Kudumbashree women to tears.
Schooling
Kalamani could study only till the 5th standard. She accompanied her parents, both working with a circus, along with her younger siblings. With such an itinerant lifestyle, the schooling turned pretty much like a broken pencil. When the children grew up, Parangodan discontinued circus and became a casual labourer. Vishwanathan, a local who also worked in circus married Kalamani.
Having stopped dabbling in circus, Vishwanathan started working as a labourer breaking rocks at the bottom of wells. He undertook the dangerous job of placing the explosives on the rocks and setting up the ignition before climbing out of the well. A severe crisis faced the family when Vishwanathan became sick and unfit for work due to the frequent exposure to the dust and gases from the explosives. Kalamani found a way out. She learnt the technique of breaking rocks using compressors from her husband and herself went down the wells to do the job.
Kalamani did not flinch no matter how deep the wells were. She fearlessly went up and down the wells setting the explosives on the rocks. Even a small error was life threatening, but Kalamani did not balk. Life spread around her like an ocean. Aishwarya and Ashwin, her children were growing up. She had to educate them. She wanted to build her own house. Responsibilities were many.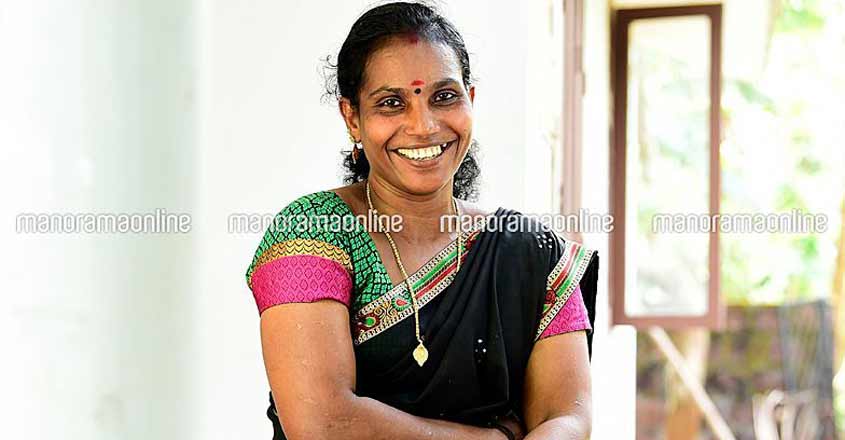 To Kudumbashree
Kalamani joined Kudumbashree in 2002. A teacher working in an Anganwadi at Pallissery in Malappuram introduced her to Kudumbashree. Initially, she had concerns on whether she could spare time for both Kudumbashree and her job. The Anganwadi teacher relentlessly pushed her by encouraging her spirit to take up any initiative. The teacher designated her to look after the affairs of their ward.
As Kudumbashree diversified its activities, Kalamani felt undereducated. She was convinced that her old 5th grade was not good enough. That was how she wrote and passed the 7th grade equivalency exams. Thus charged up, she wanted to do more. When Aishwarya, her daughter reached the 10th grade, she said to her mother. "Let us write the 10th grade examination together". That year, Kalamani wrote the 10th grade equivalency exams. It was Vishwanathan who took the mother and daughter to the examination centre. He supported everything Kalamani stood for. The mother and the daughter both got five A+ grades in the examination.
Diversifying to the field of art was a crucial step forward on the Kudumbashree's path. New horizons opened up when Kudumbashree workers took up art along with the more traditional engagements like making eatables, farming and cattle rearing.
When 'Rangasree', the drama wing of Kudumbashree conducted a state level competition, the troupes from Malappuram and Kannur did a drama jointly. The heroine of the drama titled 'Sanghadhwani' made everyone cry. 'Sanghadhwani' was the story of a young girl who had daringly escaped from the clutches of flesh trade after her husband, marrying her at a young age, tried to sell her in an alien land. The drama's theme highlighted the lives of 15 women. The girl was the main character. It was Kalamani and her friends who wrote the drama based on the lives of people from real life.
'Sanghadhwani' was staged at many locations. Opportunities beckoned Kudumbashree for staging short-plays. These short-plays were functionally for propagating government schemes. Kalamani scripted and directed all the dramas of 'Rangasree Theatres' of Malappuram. Kalamani also acted in all roles. She did both male and female characters.
Once a subject is given, she scripts the drama in half an hour. Rich in experience, Kalamani finds it easy to get stories and characters. She learnt about dramas from 'Nireeksha', Thiruvananthapuram. Kalamani said it was Rajarajeshwari and Sudhi Devayani of 'Nireeksha' who encouraged her writing skills. There is a 10-member drama troupe under the Malappuram District Mission. Kalamani does all the scripting and directing for their dramas. Hemalatha, the district coordinator supports Kalamani wholeheartedly.
It was during her drama activities for Kudumbashree that she got a call from 'Kasturba', a professional drama troupe from Edavanna. Till now, Kalamani has acted in three professional dramas. She also did the role of 'Jhansi Rani' in a music album directed by Pramod Payyannur.
Building houses
It is Kudumbashree which undertakes housing projects under Government's Life Mission scheme. Kalamani is now training for house construction. She has already learnt marking, concreting, erecting structures etc. Her target now is to get contracts for construction. The next target after that is her daughter's wedding. After that she wants to stop running around and focus fully on art. Kudumbashree advised Kalamani to open out. She did exactly that. That was when she realized the vastness of this world and the opportunities it offered. For the past 20 years, this is the vision of all women of Kudumbashree. Kalamani is just one among them.