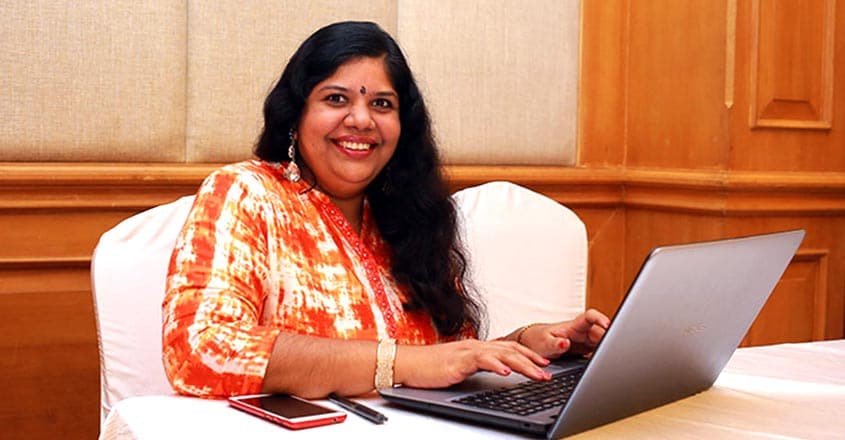 Content writing, search engine optimization, marketing automation and behavioural marketing may give many people the jitters, but not for homemaker Sunu. This entrepreneur is scaling new heights with her firm 'Get Found Online', at Vyttila in Ernakulam, after foraying into digital marketing - the new gen business segment.
Why this business line?
Sunu jumped into this segment after being fully aware of the risks and challenges involved as she had previous experience in digital marketing. She had the self-confidence to make it happen after completing some projects for a tourism company. Sunu started to get work from various firms and that's when she thought of starting a business venture whereby she could also provide employment to many people.
The main attraction of this business idea is that anyone, especially women, can make money, no matter where you are. Moreover, this venture can help in empowering women.
It is to be noted that digital marketing may not be handy for all companies, and there are ways and means to identify the firms that can ride on digital marketing to pocket more profit. This can help in avoiding unnecessary spending in digital marketing.
Main sectors - tourism and IT
Sunu has more clients from the tourism and IT sectors as these two segments need the support of digital marketing. Hotel booking and maintenance of blogs are done for the tourism industry.
Marketing automation means providing various offers to people while they are using the search engine, and this is quite apt for the tourism sector.
The software companies too present lot of opportunities as many software packages and software tools are marketed in this field. Moreover, content updation and marketing automation are also required. Sunu gets projects from IT companies based out of Kochi Infopark, and European firms.
Sunu's clientele includes international humanitarian aid organizations, and her firm would help them to get more donations.
Through Search Engine Optimization (SEO), Sunu ensures that her client's details catch the eye of the person using the Google search engine. 'Get Found Online' provides SEO services to all companies and special tools are imperative to make optimization effective.
Another important feature of this business venture is the flexibility of working hours. One can work from anywhere, even while travelling, and the payment is made without any delay. There is also an opportunity to get acquainted with the latest technology, and women can definitely excel in this field.
A computer and net connection
A computer and quality internet connections are the basics needed to start this venture. Besides Sunu, a five-member team is involved in the firm's operations. More people were roped in as the number of projects increased with time.
The firm has a small office, and the five employees would be working from their places of choice. The work, which has to be completed on time, is allotted with the help of the software, SLACK. The team includes graphic designer, B.Tech engineers and content writer (holding PG in English literature). Sunu's husband George Kurian is also part of the company. Though Sunu had to initially face some setbacks, the firm is now logging a yearly income of Rs 15 lakhs to Rs 20 lakhs.
The main challenges are the occasional dearth of projects, volatility in the value of rupee, advances in technology and the whole gamut of different service taxes.
Future plans
Sunu is writing a book, in which the opportunities in the field of digital marketing are documented, for women entrepreneurs. The theme of the book is that woman can work from anywhere. She is also planning to impart entrepreneurial training to women.