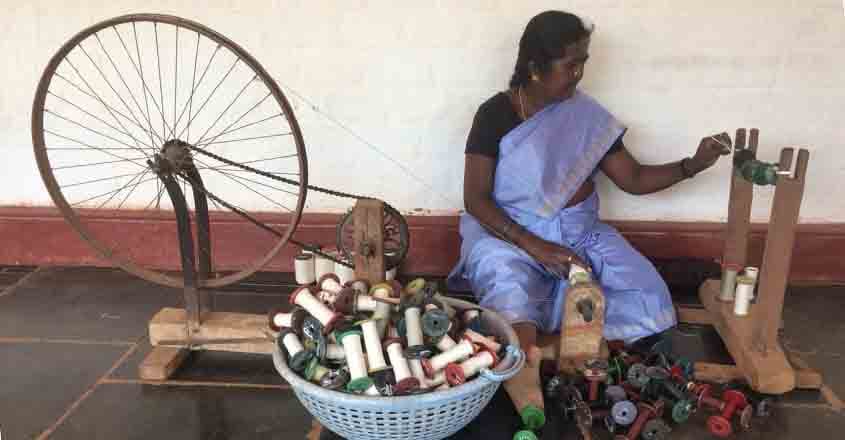 I do regard spinning and weaving as a necessary part of any national system of education. - Mahatma Gandhi
Keeping the great soul's words at the heart of its working principles, Charaka teaches weaving and other associated skills to anybody willing to learn, irrespective of caste, age, or gender. Amidst the throng of capitalist ventures in the fabric industry, stands a Gandhian model organisation that has priorities beyond monetary profits: upkeeping the handloom tradition, safeguarding the environment, and empowering rural women.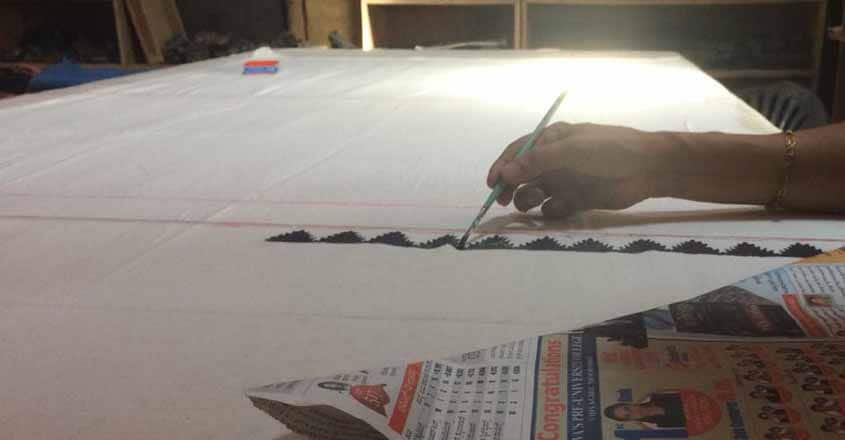 Nestled in the village of Heggodu, Karnataka, Charaka is a multi-purpose cooperative society chiefly administered by women. It promotes indigenous techniques for handloom weaving and also promotes and preserves traditional village art and practices. Functional since 1994, Charaka was an alternative answer to a pressing concern of intense agricultural activities in the area which was taking a toll on the environment. Charaka initially met with opposition from the landowners who were losing labourers who preferred to work with Charaka due to better working conditions.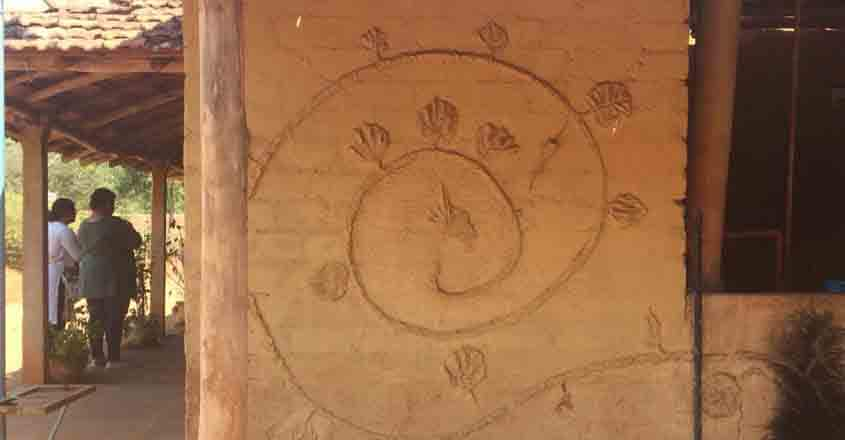 From its humble beginnings with no more than two looms and sewing machines, today Charaka has become one of the largest producers of naturally dyed handloom fabric in the country and employs over 700 workers, predominantly women. The organisation does not use any machinery or chemicals. By using handlooms that require manual labour, Charaka ensures maximum employment unlike capitalist ventures which are trying to reduce manual labour employed by switching to power looms. Spearheaded by Prasanna, an alumnus of National School of Drama, a true Gandhian activist, the products are available across stores under the brand DESI.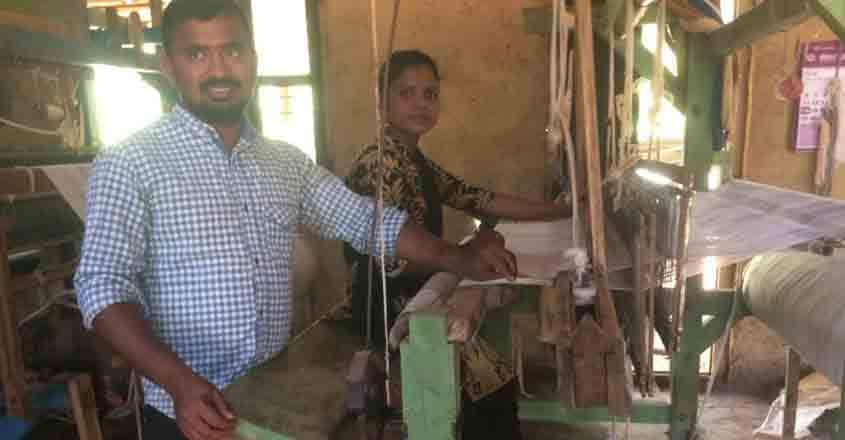 "It is the idea behind Charaka that should be promoted; Charaka should merely remain a model for the country. If it expands as a brand across it will manifest into a symbol of capitalism, the very system that it chooses to stay away from," says Prasanna, a critical voice against capitalism. He focused his efforts on putting Gandhian thoughts into practice, and has achieved success in many areas through Charaka.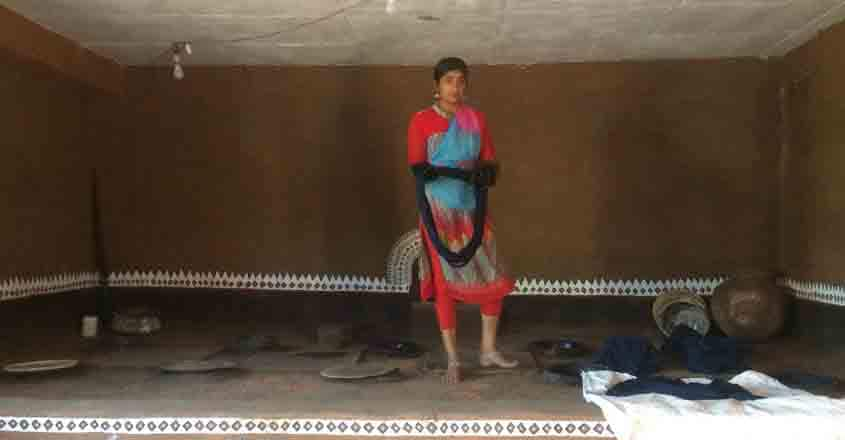 "The community-based working environment is very encouraging and the absence of bureaucracy ensures fair treatment to all," highlights Dr Chenni, Head of Manasa Center for Contemporary Cultural Studies, who has been closely associated with Charaka. Charaka is administered by its women employees who decide on their own pay and incentives. Working hours are flexible and they get paid depending on the number of goods they produce. "Production here also demands the skills, creativity and intelligence of the women who hence find themselves valued and useful unlike in a monotonous factory production unit," says Dr Chenni.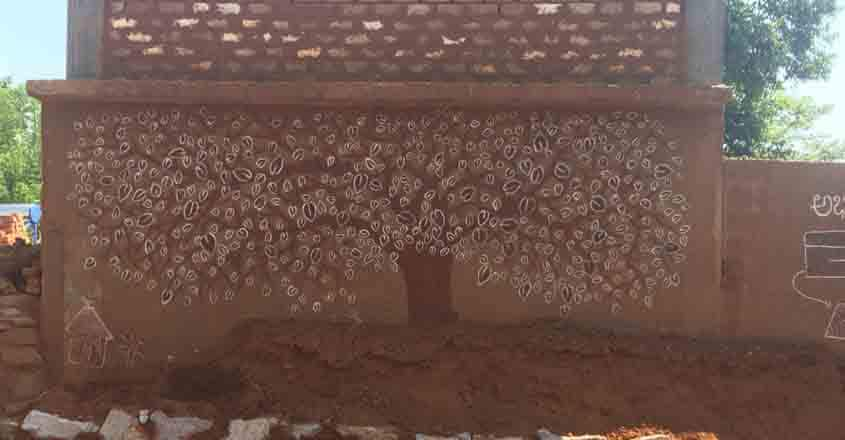 Many women also prefer Charaka as the payment here is more regular and higher compared to other places. Few women get past basic schooling and most remain unemployed or have to work as domestic helps, a work considered demeaning. Charaka's objective was to employ these women and invited artists to train them. The economic empowerment of the rural womenfolk have also enabled them to get freedom at their homes, enabling them to partake in decision making and also allowing them their own individual spaces.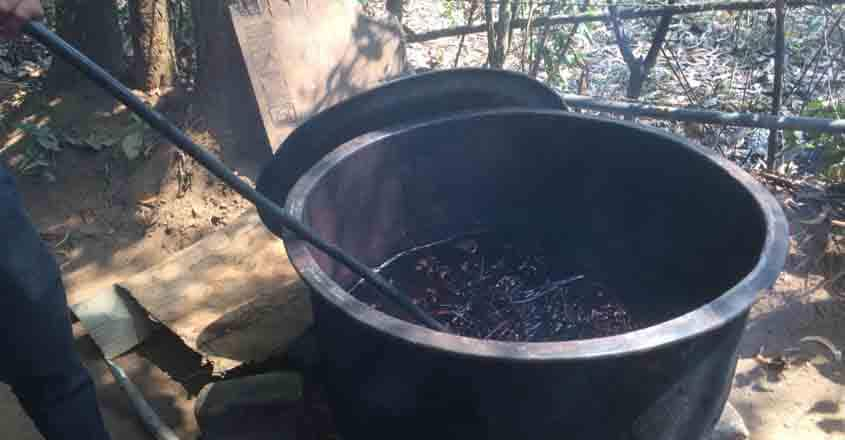 Shramjeevi Ashram is the main centre of Charaka where all activities of the handloom trade (spinning, weaving, dyeing, tailoring, embroidery) are practised under one roof. However, for those women who cannot commute to the Ashram, individual smaller units have been established in the vicinity.
While Charaka would have been happy to adopt the traditional barter system for trade, the capitalist model has been so well entrenched that it is difficult to carve a niche for any other method, however familiar it might be. "Remaining in market was a compromise that was inevitable to put the project in motion as we had to procure wages for the employees. Today the problem is that money is flowing out of the village but is not coming back. It is to reverse this one-sided flow that we had to open stores through DESI in cities and towns," affirms Prasanna. The employees themselves could not buy the products until Charaka was established enough to offer goods at a discounted rate.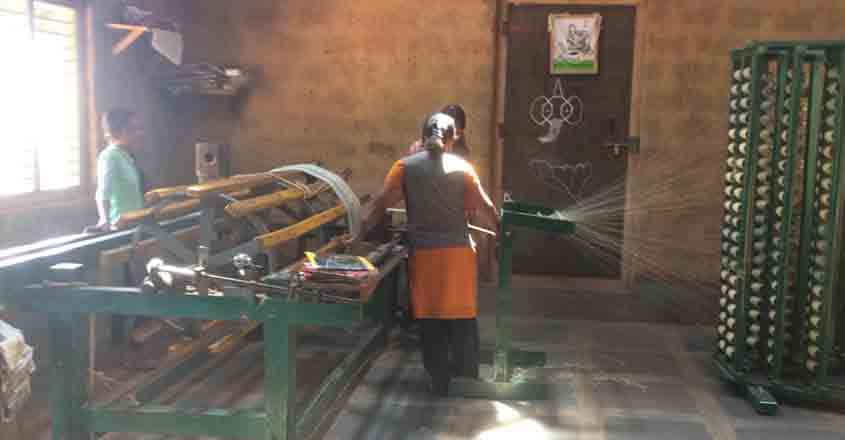 The ideal situation is wherein goods are consumed in the same place where it is produced and production should be equivalent to the demand. But capitalism has ensured excess production which again made industries merely profit oriented. "The problem with today's economy is excesses. We are bombarded with advertisements and products. Even gods are shown with excess emotions -- Hanuman is a strict brahmachari with complete control over his senses, yet he is shown today with excess rage." Prasanna is referring to the saffron-hued, infuriated Hanuman image popularised by BJP's Hindutva adherents.
The enterprise also prides in its environment friendly means of production. Natural substances are used to make the dyes and thus even the waste materials are put to use. Dyes are produced from substances like areca nut and pomegranates. Indigo cakes are preserved with lime in vats kept under a huge platform that is lined by earth and sheep dung, which act as good incubation for the indigo. The traditional art form of Hase art is also drawn across the center on walls and accessories thus reviving and promoting the indigenous art.
Shells of the areca nuts are used as fuel which again ensures no waste is generated.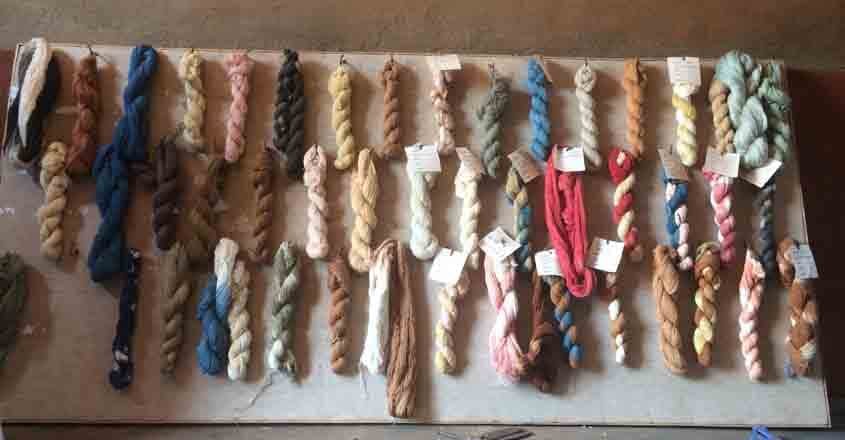 Even the leftover cloth pieces are used to make smaller articles like quilts, wall hangings, pillow covers, and rugs. Special stone arrangements, and treating procedures using lime and orange peels are being experimented upon to treat the dyed water to purify it before allowing it to percolate, thus removing whatever little impurities that may have been left behind.
Charaka's success gives a bright ray of hope that the market will not be completely taken over by capitalism. However, its biggest success will be when inventive minds with a will to protect the interests of rural community adapt its model to establish new centers across the country. After all that is Charaka's greatest vision!
(With inputs from Kanchi Shah, researcher at Charaka)