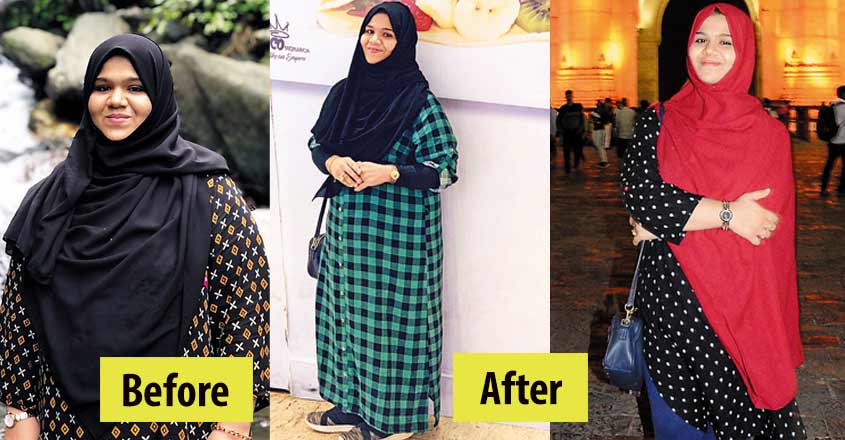 "Three months from now, you will thank yourself," read the screen saver message of Kozhikode native Sajna Abdul Ohab. And she only has herself to thank for shedding nearly 30kg. A strict diet plan and regular exercise routine helped her slash her weight from 99kg to 70kg.
Being on the heavier side of the weighing scale was no pleasant experience and she had to endure several taunts even from her dear ones.
Recollecting some of those not-so-happy experiences, Sajna said: ""I used to often visit my husband who is in the Gulf. When I get into the flight, I was not able to even put on the seat belt. I had been a chubby kid. And my mother often said that I was like her mom and that the weight would not reduce.
"However, now my mother says - You can cut down on weight if you want to, right?" Sajna said with a smile.
Not all fruits are good
"I weighed around 106kg when I was pregnant. After delivery, I dropped to 99kg. However, even after following strenuous diet my weight did not reduce beyond 97kg. I only had fruits and vegetables, and still the weight scale did not show any leniency.
"After an exhausting day, I mostly ate fruits that are laden with sugar. These only help in increasing the calories. Then I started to pick and choose low-calorie vegetables and fruits," she said.
"I had to put a stop on mangoes, jackfruits and bananas. All the calories we need in one day is contained in a single mango. And what if you eat dates on top of it?," she asked.
"Then my brother, who had been going to the gym, urged me to join him. I also started working out at the gym," she added.
"I focussed on cardio exercises such as running, hill run, sprint and jumping for one hour. Cardio exercises are good to tuck in your pot belly. A different exercise for each day. Running is good for the body," she explained.
Diet plan
"I also started following a diet plan. I drink one glass of water first thing in the morning. I ensure that I drink four litres of water by 8pm. Rice and wheat dishes were a strict no-no. My menus mostly comprised fish, chicken, beef, and low-calorie vegetables," she explained.
"The dishes were made in the traditional manner. I have boiled egg and vegetables for breakfast. Lunch will include non-veg dishes. First, I started eating breakfast within 7am, then it became 6am and finally 5am!
"Once the diet plan also kicked in, the weight dropped to 84kg. Even my husband lost 10kg by merely following a diet plan. As he is tall, the weight loss was evident. But since I am only 5ft, the weight loss did not seem to have altered my physique much. Then people started telling my husband to advise 'someone else' on losing weight,' Sajna recollected.
'I shall succeed'
"Then the weight hit a constant and there seemed no way to reduce it. However, my trainer consoled me that it was due to the muscle fat and that my body was getting more sturdy. I also have two cheat days in a week, when I eat all that I want," Sajna added.
Sajna has moved in with her husband in the Gulf, where she is continuing with her diet/exercise plan. She goes for a one-hour walk every day.
As per Sajna's height, she should only weigh 50kg.
"This weight loss is also an answer to those who have chided me over my physique. I was able to achieve this much. I am sure I will succeed in my goal," said a confident Sajna.
Secret tips
Eat low-calorie vegetables/fruits.
Choose exercises that will increase your heat beat.
Drink four litres of water to keep your hunger under check.
When you feel hungry, eat couple of cashew nuts or badam and drink one glass of water.
Dinner should be had before 5pm.
Instead of continuously following a diet plan, take a break and start again.