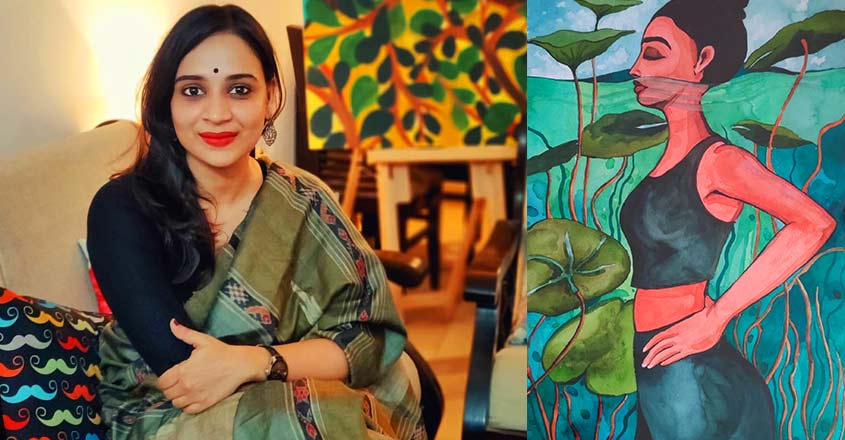 Art, literature and music offer opportunities to express one's innermost thoughts. When a person who is employed in a totally different profession engages in these artistic pursuits, the intensity of expression would be deeper. A collection of such art works was on display at Amethyst The Folly Hall at White Road in Chennai. The artist behind the paintings is Nandini R Nair and the show has been titled 'Small talks - voices to be heard'.
The paintings highlight the attraction women hold as well as their deep feelings. The steadfastness that women can adopt and the warmth that they can display are also dealt with in Nandini's works.
A civil service officer belonging to the Indian Revenue Service (IRS), Nandini does not mention this fact in the brochure for the painting exhibition. However, people who watch Malayalam films would recognize Nandini as the girl who danced with a glass in the movie 'Thanmatra'.
Many emotions of women
Nandini started painting since a young age; however, she decided to create a set of paintings on a single topic only two-three years ago. "My works over the last one year have been included in this exhibition. Being a woman, I naturally finalized women as the subject of my exhibition. Moreover, the experiences, realities and insights I have gained as a person over the period have all influenced my works. So when I pondered over the subject for the exhibition, a series of women's faces appeared in my mind. I decided to depict them on canvas and other media," explains the artist.
While growing up, Nandini enjoyed considerable freedom. "But when I reflected on how I was treated as a woman during all these years, I arrived at new realizations. I recognized that there was deeper meaning in those experiences. In addition, there were a lot of deep thoughts that women would like to express but keep under wraps. I felt that paintings are the ideal media to bring those emotions into the open. All the thoughts that built up within me had acquired a coherent shape and I felt the urge to translate them into paintings," says Nandini.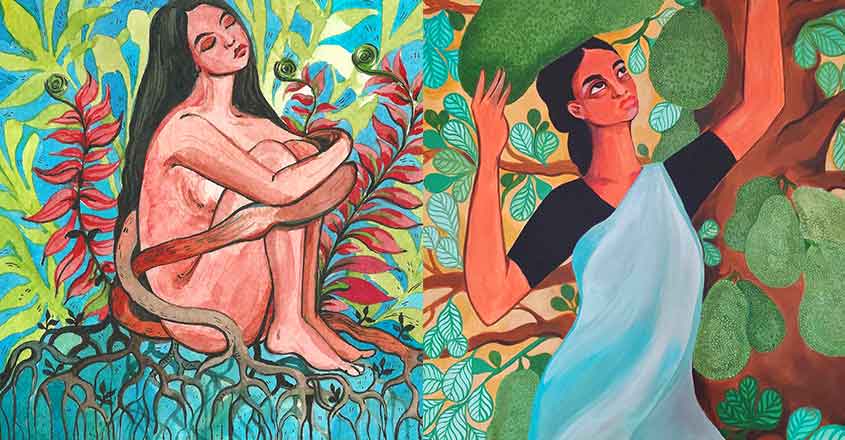 Initially, Nandini depicted the character 'Rachiyamma' created by novelist Uroob and 'Thadaka' of Vayalar and other offbeat paintings. "When a painting has the character of a literary work as its subject, deep study and research are needed. But as I wanted to continue painting without a break, I suspended work on such art and focused on creating artwork that reflected my thoughts," reveals the artist.
Water colours and acrylic paintings as well as an installation are part of the exhibition.
How Nandini ventured into art
Having studied at Rajagiri School in Kochi and living at a place where art and cultural interventions were part of the daily life, Nandini's artistic talents were recognized early by M P Manoj, a drawing teacher. "He was my first Guru. Soon I was a regular at the art workshops led by legends like M V Devan, C N Karunakaran, T Kaladharan and Asanthan," she says.
At age 15, Nandini organized her first painting exhibition. She also won the first prize at the state school youth festival and inter-university art festival. "It was a period when I realized that art was the ideal medium to communicate my thoughts," she says.
Nandini remembers a special incident from those days. "It was during a workshop organized by Kaladharan sir. While we were doing something - I don't now really remember what it was - I said loudly and firmly that it was not the way the thing should be done. M V Devan sir was also present at the workshop at that time. He heard what I had said and called me near. He asked me whether it was the way one should express an opinion. I felt afraid and kept quiet. Then Devan sir told me quietly that it was indeed the right way to voice your thoughts. Never hesitate to say aloud what you consider as true, he said," recalls Nandini.
She was also active in the cultural collective of Prof. Chandradasan named Mazhavillu and Lokadharmi Theatre. This experience helped Nandini to learn theatre and also perform on stage.
"Each person would be influenced by the people whom he or she may have interacted with and the groups they were involved in. From these associations, we learn many new things and also are shaped by them. One will never be able to remain silent then. All these factors played a role in deciding the theme of my exhibition," says Nandini.
An IRS officer, Nandini makes no mention of this fact at the exhibition. She explains why. "There is no connection at all between IRS and art. I love my job at the Revenue Service, where I learn many new things all the time. But my identity as an artist should be independent and so I do not refer to my employment at the exhibition. Moreover, my job exerts no influence on the paintings. I am in the same position as any other artist. I am now on a different platform," according to Nandini.
Acting career
Nandini had a role in 'Thanmatra' and 'Da Thadiya'. She was also a regular presence on the stage. But she gave it all up.
"Acting is like living a dream. Though I acted in Thanmatra and Da Thadiya, I never felt confident facing the camera. There was an apprehension about how everything would turn out. But I love to act in dramas. Both theatre and painting allow you to achieve perfection. This process gives me much satisfaction. So I maintain a touch with both even now. All these pursuits have given me joy since childhood. However, it is Civil Service that has been my ambition as a profession," says Nandini.
The path to civil service
Even as a schoolgirl, Nandini wanted to join the civil service. However, it became a career goal only later when she won a state-level painting contest. On the occasion, Malayala Manorama published an interview with Nandini. One question she was asked was on her ambition. "I replied that it was civil service. But when I saw it on the newspaper, I thought that everyone had now read about it and I should start preparations for civil service exams in earnest," remembers Nandini.
After completing her degree course in Economics, Nandini joined Loyola College in Chennai. While doing her post-graduation, Nandini was active on the theatre and art scene, which affected classes. However, after post-graduation, Nandini dedicated one year to civil service training and cleared the exams the next year.
Art and profession
According to Nandini, civil service is a world of rules and hierarchies. "When you are part of it, these factors have to be followed. As a civil service officer, you can express some opinions but not others. Art offers me an opportunity to express what I cannot speak about as a civil service personnel. Moreover, paintings help me tackle the stress and distress that are part of the job," she says.
However, pursuing art and the job together is not an easy task. "But I love painting late into the night. As it gives me much peace of mind, I don't consider balancing my work and passion as a bother," opines Nandini.
Her dreams
During an exhibition, several paintings created by the artist while in different moods are presented before the public. The visitors at the exhibition too would be a varied crowd. "Chennai is a place where art and culture thrive. Events related to these creative fields attract a large audience in the city. But the reception of the people cannot be predicted. Sometimes they love art made quickly. Even then, I dream about creating a greater body of paintings and holding more exhibitions," says Nandini.
An IRS officer of the 2013 batch, Nandini has been posted in Chennai for the last three years. Active in the theatre, dance and art scenes since a young age, she has won several honours, including a scholarship from the Central Cultural and Tourism Department. Nandini also took part in a theatre festival organized by UNESCO. Other stages where she has performed include Bharat Rang Mahotsav of National School of Drama and Soorya Festival. Her paintings were included in 'Manavamaithri sangamam', an exhibition organized by Lalitha Kala Akademy. Nandini has learnt Bharatanatyam from Syamala Surendran and Mohiniyattam from Kalamandalam Kshemavathy. She has also performed these dance forms at several major events.
Vishnu V, an Indian Administrative Services (IAS) officer, is Nandini's spouse.