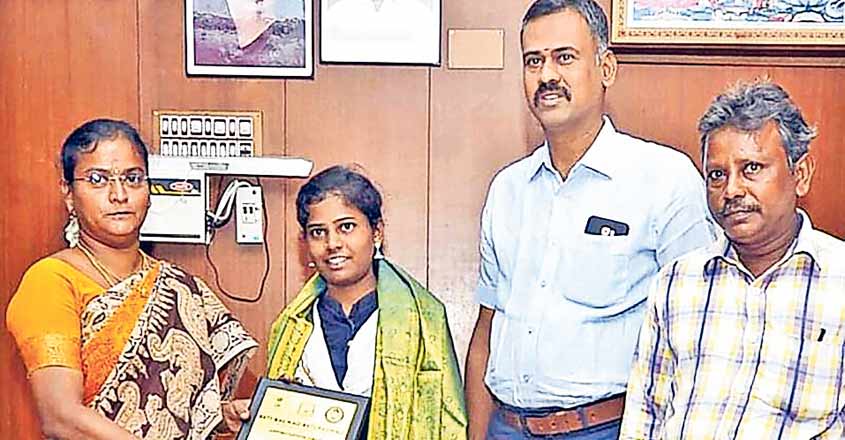 Chennai: Tamil Nadu has to catch up with neighbouring Kerala on several social parameters, including its attitude to the girl child. Infanticides are still rife in certain pockets of the Tamil Nadu and as in the case of North Indian society, the birth of a girl is regretted.
A girl, who was born as the fourth daughter of farm workers Ashokan-Gauri at Narayanapuram in Thiruvallur district of Tamil Nadu, was named Vendaam, meaning 'no' or 'no need' in Tamil. (In North India too girls are literally named with names similar to Vendam's.)
Ashokan and Gauri were expecting the birth of a boy child after three daughters. But when the fourth child also turned out to be a girl, the disillusioned parents named her Vendaam, showing their dislike in the name itself.
However, destiny had other plans for the little girl and the child is now the pride of her whole village. Vendaam, who completed her B Tech degree, has been recruited by a private Japanese firm with an annual salary of Rs 22 lakh.
The Thiruvallur collector has named Vendaam as the brand ambassador for the girl children's welfare.
However, Vendaam's family members said that they never showed any dislike towards the child, unlike her name denotes. It was as per Vendaam's wishes she was allowed to pursue Electronics and Communications Engineering. As Vendaam learned the Japanese language too, she got the coveted job via campus recruitment.
Ashokan is proud of his daughter."We need our dear daughter. Girl children are not a burden, but a blessing," he said as he wiped tears of joy off his face.
However, Vendaam said that her name had put her through some bitter experiences. She was always taunted by her fellow students at the school. When her agony grew, Ashokan tried to get her name changed but as he did not have the time to run after the numerous procedures, he abandoned the attempt.
But the little girl soon realised that there wasn't much in a name. She then quit worrying about it and concentrated on her studies. Vendaam said that she harboured no ill feelings towards her parents because of the name. "They only have love towards me, then and now. Other people's taunts and the complaints by elders in the family pressurised them to name me so," Vendaam said.