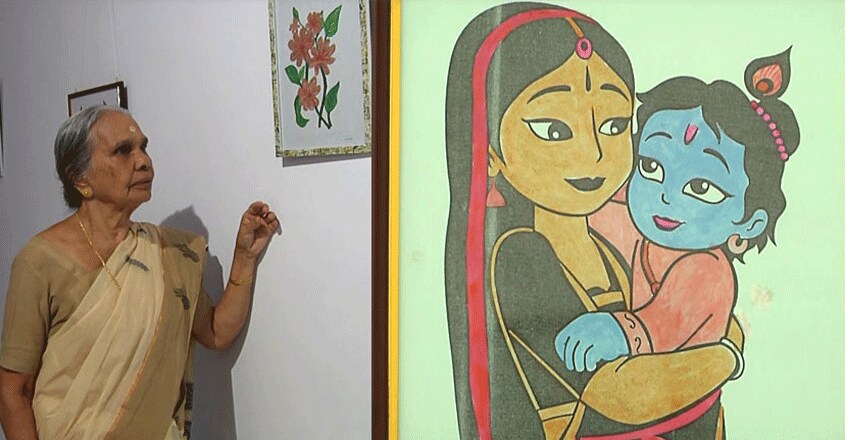 Even though she is 77 years of age, a person taking a look at the experimental paintings created by Valsala Narayanan would feel that she is just a teen. Valsala conducted her first painting exhibition at Lalitha Kala Akademi Hall in Thrissur from July 18.

Valsala loved colours and lines from a young age. After her wedding, Valsala shifted to Kolkata along with her husband Sankaranarayanan. Being a housewife, she had plenty of free time there and to overcome boredom, Valsala started experimenting with colours.
She started by extracting various powdered colours from old clothes and creating paintings. She later dabbled with sawdust, tea dust, rice powder, and several other colours in powdered form.
Her children soon grew up and Valsala had to devote more time for their studies. During this period, she gave an interval to her artistic pursuits. Finally, when her children grew up and grandchildren also were born, Valsala resumed her hobby when she was 60 years of age.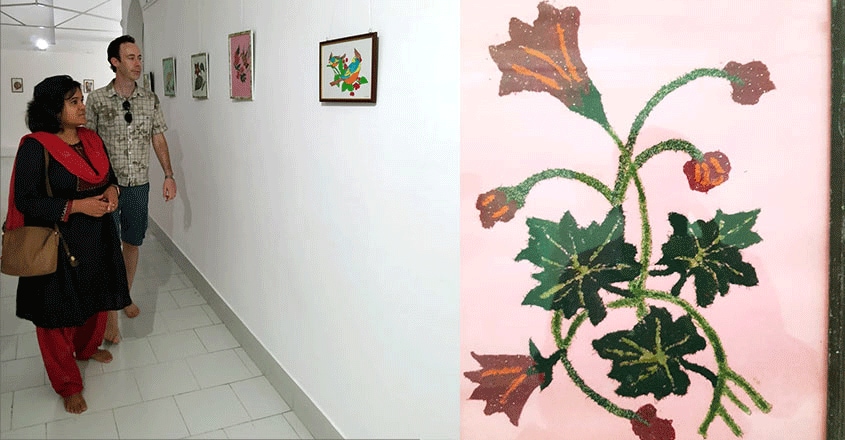 Valsala either makes a line drawing or takes an outline print on which she applies coloured powder. All kinds of shades in the form of dust go into the creation of Valsala's art. They include even coffee powder and seeds of flowering plants. Earlier, Valsala had the habit of presenting her works of art as gifts to other people during their birthdays and for house-warming ceremonies.
Now residing at Panavanna near Cherpulassery in Palakkad district, Valsala makes it a point to offer prayers at Guruvayur Temple without fail every month. On one such visit to Guruvayur, Valsala spoke to an acquaintance who sold sculptures and pictures at a stall outside the shrine. He then expressed the desire to see Valsala's paintings. During the next visit to the temple, Valsala took some of her creations with her. After looking at Valsala's works, the stall keeper suggested that she hold an exhibition.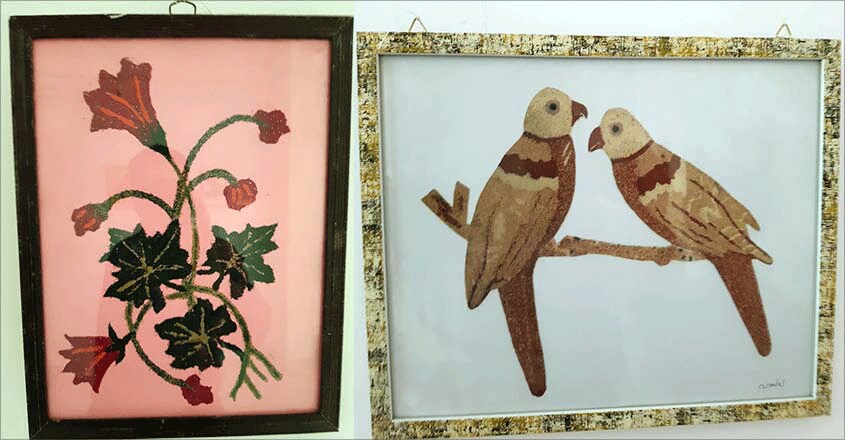 The show at Lalitha Kala Akademi was arranged with the help of Vinod Kanneri, a teacher at Fine Arts College, Thrissur and a relative of Valsala.
A person who never likes to be idle, Valsala is active all the time and engages in following her passion for art. In her endeavours, Valsala has the full support of her children and grandchildren. Three of her children, Baby, Prasanna, and Sudha, are retired teachers while Suresh works in Abu Dhabi.