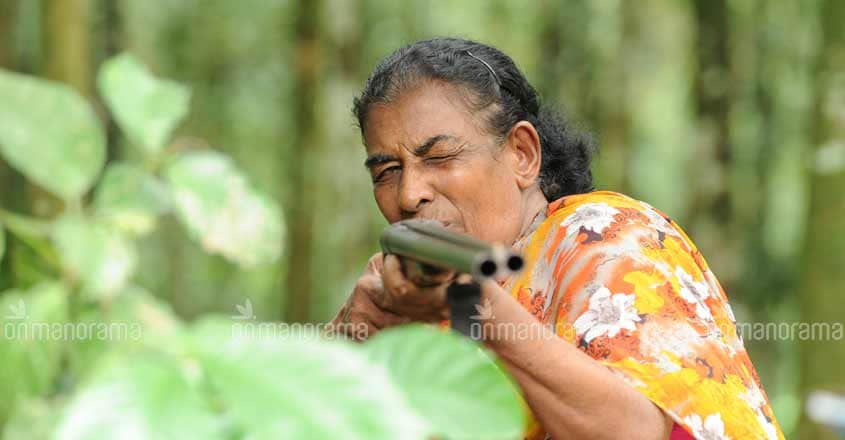 Kottayam: Kerala's first woman hunter Kuttiyamma, 87, is no more. 'Shikkari Kuttiyamma', whose real name was Thresya Thomas, had shot dead hundreds of wild animals.
Incidentally, she had taken the gun to hunt in order to save the life of her brother. Kuttiyamma had joined a convent in Raichur, Karnataka to be ordained as a nun when a bison attacked her brother Pappachan in Kerala, leaving him gravely injured. Though he was admitted to a hospital, the family could not pay the bills. However, the hospital authorities said that instead of money, meat of wild animals would suffice as payment.
Kuttiyamma rushed to Kerala and ventured into the forest along with her younger brother Tomy to hunt. Deep in the woods they saw a bison which Kuttiyamma felled with a single shot. The bison weighed 800kg but it was cut into pieces and given to the hospital authorities. The saga of Kuttiyamma, the hunter, was born.
Hailing from Edamattom in Pala, Kuttiyamma discontinued her studies due to poverty in 1958. She settled in Marayur along with her father Thomman and brothers Vakkachan and Pappachan in 1963. Later, they also bought 20 acres of land at Churulippetty in Chinnar.
Kuttiyamma later married Thomas, who belonged to Sri Lanka. He was a friend of her brothers. From then on, the couple went on hunting trips together.
People from other places heard that Kuttiyamma would protect them from wild elephants in Chinnar forest and began settling there. Soon, Churulippetty village came into being with 42 families in 82 acres.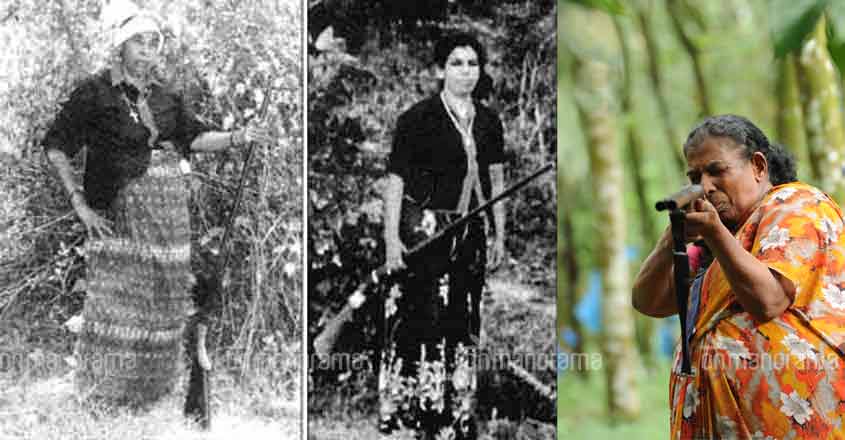 However, the hunting of wild animals came to the notice of the government and a decision was taken to evict Kuttiyamma and the other villagers. At that time, Kuttiyamma owned 17 acres of land. The government took over her land in 1993 promising monetary compensation. However, an error in the gazette notification led to delay in payment and no villager left the dwellings.
Kuttiyamma decided to call hunting a day and fight a legal battle. She approached the High Court in 2005 pointing out that no compensation was paid. In January 2006, the court ordered payment of Rs 45 lakh including interest to Kuttiyamma. Still, she received only Rs 29 lakh. Kuttiyamma moved the court again and in 2013, she received the full amount.
Subsequently, the first woman hunter left the forest and shifted to Anakkallu in Kanjirappally. She distributed her property to her son and his children. Taking up social work, advancing age did not deter her from fighting for her causes. She often visited her Churulippetty, the village she had helped set up, and offered service to its residents.
The funeral prayers for Kuttiyamma would take place at her house in Kappad and the burial at St Antony's church cemetery, Anakkallu. Her husband Thomas Chacko had died earlier. Kuttiyamma is survived by son V T Joseph (Babu) of Matha Organic and daughter-in-law Sherly, belonging to Mathathipparambil family, Marayur.