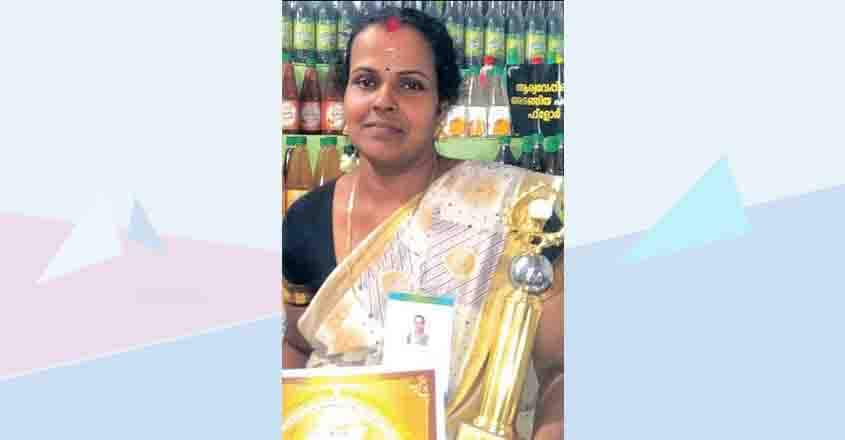 Kochi: Santhi Ragunanthanan did not nurture any dreams of being an entrepreneur. All this woman wanted out to do was to help her husband, who had suffered huge losses in his business. But she did not have any money to start a venture on her own, instead had a liability of Rs 1 crore. She could also not find anyone to support her. Who would support a family already reeling under debt?

But Santhi did not let any of this come her way. And the woman from the small village of Krishnapuram in Kerala's Thrissur district started her first venture in 2002 by selling five litres of coconut oil that she had prepared by infusing with herbs. She had inherited the rare knowledge about herbal plants and their goodness from her grandfather, who was a 'Sidha vaidhyan' (traditional medicine practitioner). Seventeen years after she ventured out to sell coconut oil on a cycle, Santhi Ragunanthanan is the owner of Santhi Herbal Products that has an annual turnover of nearly Rs 1 crore.
After the herbal coconut oil found many takers, she realised the interest people had in natural products that were free of adulterants. As people went back to Santhi for the oil, she came up with another product - a soap made of Ramacham and badam. That also was a runaway hit.
"The soap helps in increasing the softness and shine of skin. It also helps to maintain the natural coolness. Therefore, the demand was huge," Santhi explained.
As her customer base kept increasing, she registered Santhi Herbal Products as a company. Her oil - Shirosanthi Herbal Oil - hit the market along with the mud soap.
Around 200 products of the Santhi Herbal Products are available in the market. She was also able to get patent for two of her products. One was for the mud soap, while the other was for the daily fresh gooseberry sambaram.
Mavila tooth powder, hibiscus squash, gooseberry juice (added with jaggery), and karukka brahmi special jam are some of her other products.
Santhi earlier prepared all the products at her home. Recently, she started the company's manufacturing unit at Haritha Nagar.
Santhi Herbal products now reach every district of Kerala and even outside the state. Santhi is now trying to find a market abroad as well. Her husband Ragunanthanan is into wholesale business of vegetables in Thrissur. Her children are Gokul and Rahul.