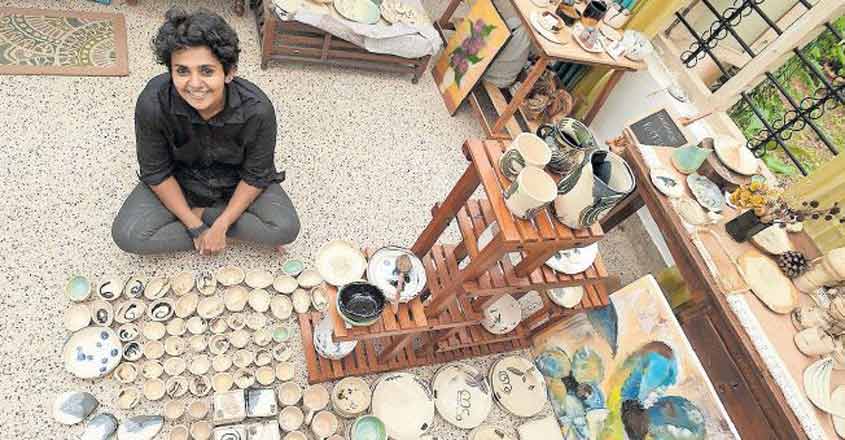 Anu Varghese Cheeran was interested in drawing and painting while a student at Chinmaya School in Thrissur. She later travelled to National Institute of Design in Ahmedabad to study Industrial Design but an offbeat career path led her to be a leading ceramic pottery designer in Kerala. She now runs her own firm 'The Little Goldfish' that designs customized cups and other pottery items for a variety of customers.
After her Industrial Design course, Anu joined a reputed multinational company engaged in leather designing. At that time, her parents were searching for a match for her and Anu came down to Thrissur. It was then that the youngster became interested in ceramic pottery designing.
She started by making items of clay like teacups and flowerpots. A studio with all facilities, including firing the clay objects, was soon set up at her house in Poonkunnam.
After her creations attracted the attention of people thanks to Instagram, Anu took part in camps and exhibitions at Mumbai and Puducherry, which made her a noted figure in ceramic designing.
These days, Anu has her hands full. "I design cups and other utensils for restaurants and other institutions. While some hotels want big cups, others are interested in very small ones as each eatery serves different amounts of tea and coffee," explains the young designer.
She also has customers who order pottery items to be presented as gifts. "They ask me to create very unique vessels. Others want some names to be inscribed on the pottery. In fact, receiving a pottery item as gift is considered a great honour in many places abroad," explains Anu.
In addition, some top resorts ask Anu to design flowerpots for them. Other want specially designed utensils to adorn the front verandah or drawing area of their homes.
Demand for her work is so high that Anu never accepts urgent orders. Moreover, she charges a significantly high amount for specially created pottery. "There are high chances for the clay items to break when baking. This necessitates much patience while working on pottery. So I supply my products only to people who are willing to wait," she says.
After a clay object is kept in the oven to fire at 1,200 degrees Centigrade, there would be suspense. "Until pottery is taken out and cooled, one cannot be certain whether it has come out well," she points out.
An entire vessel can be spoilt with a single defect, adds Anu.
Even though she has chosen a rare profession, Anu is happy. "Apart from the long list of orders, the satisfaction pottery-making gives me is immense. There is a unique pleasure in turning an object in the mind into a real piece made of clay with one's own hands," she opines.
When enquiries regarding her creations mounted, Anu decided to give basic lessons in pottery-making. "My students include people of all ages. There as children aged 10 years as well as senior citizens of 70," she says.
"Techies form an important section of my students. They say engaging in ceramic pottery-making for two days is a great stress reliever," reveals Anu.
A large number of Anu's students now use their own creations for daily use.
Daughter of Cheeran Varghese, an advocate, and Mini Varghese, Anu can be contacted on phone number 9495619498.